---
Sitting down, Jesus called the Twelve and said,

"Anyone who wants to be first must be the very last, and the servant of all."
- from Sunday's scripture, Mark 9:35
---
Monday.
•

Bethel/ACOB Worship Team Meeting, 7:15pm
Tuesday.
•
Josh's Birthday!
•
Iglesia de Restauracion Pacto Eterno, 7-9 pm
Wednesday.
•
Brethren Voices, 11 am
•
ACOB Office Hours

, 4-5:30 pm
•
Yoga
, 5:45 pm - 6:40 pm in the fellowship hall
•
Bell Choir Practice, 7 pm
Thursday.
•
Rich's Birthday!
•
Breakfast Bunch, 8 am at City Diner
•
ACOB Office Hours,
9-11 am
•
Kaizen Karate, 6:30 pm in fellowship hall
•
Community Choir Practice, 7:30 pm at AFUMC
•
Shredding 4 Hunger, 10 am - 1 pm
•
Andy's Organ Practice, 9 am - 1 pm
•
AFUMC Paint Night, 2 pm
•
Iglesia de Restauracion Pacto Eterno, 5-9 pm
•
Bethel UCC, 9:30 am
•
Sunday School
, 9:45 am
•
Outdoor Worship
, 11 am
•
ACOB Office Hours

,
1-3 pm
• Cambodian Alliance Evangelical Church, 1-4 pm
•
Iglesia de Restauracion Pacto Eterno, 5-9 pm in Fellowship Hall
• Brethren Voices, 6:30 pm
Mon., 10/1 - Church Board Meeting, 7:15pm
Sun., 10/7 - Bell Choir Playing, 11am
Fri., 10/12 - 13 - Mid-Atlantic District Conference, Manassas CoB
Sat., 10/13 -

CROP Walk


Sun., 10/14 - Community Choir Singing, 11 am
Mon., 10/29 - Executive Committee Meeting, 7:15pm
Sat., 11/3 - Soup + Pie Bazaar + Yard Sale


Sun., 11/4 - Daylight Savings Time ends
---
Outdoor Worship
| This
Sunday, September 30, 11 am
Dress comfortably for the weather, as we join together in the side yard for worship. Chairs from the social hall will be arranged outside, but you are also welcome to bring a lawn chair from home. Campfire refreshments to follow. Contact Debbie with questions.
2019 Calendars | Donate in the Office Hallway
Our Service Ministry Team noticed an early donation of 2019 Calendars for Sunrise. If you are already starting to receive calendars for next year and know you will not need them, please save them to drop off in the hallway basket for our neighbors at Sunrise Senior Living. Contact Marcia with questions.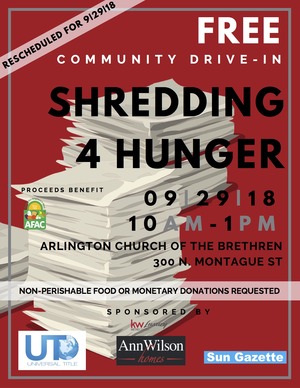 Shredding 4 Hunger | Saturday, September 29, 10 am-1 pm
Because of early storm predictions our annual shredding event was rescheduled for the last Saturday in September. Help spread the word and plan to come. Bring your personal documents to shred in exchange for a non-perishable food item or monetary donation to the Arlington Food Assistance Center (AFAC). Volunteer to help answer questions, direct the flow of traffic, or to keep track of participation and donations. Contact Karolina with questions or to make a commitment to help.

AFAC Cereal Collection | Update
So far we have delivered 224 boxes of cereal and $284.35 to Arlington Food Assistance Center (AFAC) this year. Everyone has been generous on such a consistent basis to help meet this special need.

AFUMC Paint Night | Sat., Sept. 29, 2 pm
Join our community partners for a monthly paint night. $20 covers the canvas, paint and instruction. Snacks and inspiring music are provided. Come and let God's talents work through you. Contact the office to be in touch with Leslie at AFUMC with questions.

Medical Supply Drive | Throughout September
Help our Service Ministry Team collect medical supplies for the Lybrook Community. Marlene is a Native American nurse on the reservation who helps with simple procedures and must pay for all medical supplies herself. Sign up in the narthex to purchase needed items including wash basins, diabetic socks, gauze pads (2x2 and 4x4), alcohol swabs, medical gloves and antibiotic hand wipes. Monetary donations can also be made for the team to purchase remaining supplies. This service project is in lieu of the fall school kit drive. Please donate by the end of the month. Contact Lisa with questions.
Yoga | 6-Week Class Beginning Wednesday, September 26, 5:45 pm
Beginning Wednesday, September 26 and continuing each Wednesday through October 31, a gentle yoga class we will offered in the Arlington Church of the Brethren fellowship hall. Time: 5:45 - 6:40. (Please come to the first class at 5:30.) Cost: $9.00 per session. Contact instructor Penny Spinney at 703-548-1882 or at
contessashome@gmail.com
with questions or to sign up.
Child Care | Volunteer during Worship
Please sign-up to care for the children in the nursery during the worship hour. New volunteers are needed and would be very appreciated. All volunteers must meet insurance safety requirements. Please connect with Suzanne in the office if you are unsure of your eligibility.
CROP Walk | Donate + Save the Date
This 5K/10K walk is part of a nationwide network of Hunger Walks sponsored by Church World Service to
raise funds to provide sustainable self-help and development, disaster relief, and refugee assistance around the world.
Click here
to donate and ask others to pitch in too. Then, plan to walk the morning of Saturday, October 13. Contact Marcia with questions.
Fall Church Work Day | Saturday, October 27, 2018
Contribute to making our church look welcoming and enjoy fellowship while you work. We'll be working from 9 am to noon. Projects are available for all ages and all levels of activity and you can choose whether to work inside or outside. Contact Warren with questions.
---
New!
Brethren Voices | A Look at What's Happening in D.C.
This episode features Jerry O'Donnell, who serves as the Communications Director and Senior Advisor to Congresswoman, Grace Napolitano of California's 32nd Congressional District and Nathan Hosler, of the Washington City Church of the Brethren. Besides being a "free minister," Nathan serves in the Church of the Brethren Office of Peace Building and Policy which involves the witness actions of the greater church with the elected officials on the local level as well as Washington D.C. Current episodes air in Arlington on Comcast channel 69 and Verizon-FIOS channel 38.
https://youtu.be/75AaHaLdt3w
---
Matt, Kerrick + Alyssa

, new contributors to the Dunker Punks Podcast

Mary

, Marcia's friend, ongoing health concerns post-surgery

Jan

, Robyn's sister, in rehabilitation after kidney injury

Robyn + Gary's family

, their youngest son's family with two small children travelling to China

Ralph

, hospitalized last weekend

Wayne

, Donna's uncle,

hospitalized for heart problems at age 92

Children separated from their families

, for full reunification and healing for each child

Jacque

, continues to feel weak following intense chemo treatments

Prison Hunger Strike

, concluded last Sunday, that we continue to advocate for humane treatment of all

Carole

, who is making progress walking with her prosthesis
Keep in your ongoing prayers:

Steve Shuss, Minnie Simmons, Carolyn Studd



* P

rayer concerns will ordinarily be listed for four weeks. If you would like one to be kept on or added back in, please let the office know. Names in bold are new to the list or updated this week.
---
Worship.
This Sunday, we celebrated Unity Worship with Bethel UCC, Cambodian Alliance Evangelical Church, and Iglesia Restauracion Pacto Eterno, in celebration of the International Day of Prayer for Peace. You'll hear scripture read in three languages and a first-person interpretation of the scripture from Pastor Christy.

Listen to the sermon podcast here:
http://bit.ly/ACOBMessage92318