"We are blessed and we know it, and we surely want to show it. We are blessed. Jesus tells us, pass it on."

-

from yesterday's Moments for Children
---
Mon
Tuesday

.
•
Iglesia de Restauracion Pacto Eterno, 7-9pm
Wednesday.
•
Brethren Voices,

11am

,
more details
• Handbell Choir Rehearsal,
7-8pm
•

Funeral for Theresa McCary,

4pm with meal to follow, more details
•

Young Adult Gathering

, 6:30pm
•
Simple Living Weekend, at Brethren Woods, more details
•
Centering Prayer, 10:30am
Sunday

.
•
Sunday School,
9:45am
•
Brethren Voices,

6:30pm

,
more details

Wed., 11/22 - Community Thanksgiving Service at ACoB, 7pm

---
More Details.
e a
Simplify: A Simple Living Weekend | November 10-11, Brethren Woods Camp
Simple Living has been a core Brethren value since our earliest days as a denomination. But what does it mean to live simply in a busy, modern, 21st century world? What does it mean for us, for our relationship with God, and for the Earth? Join inspiring practitioners and experts on simple living as they offer practical, engaging, and hands-on workshops and experiences to help us consider what simple living looks like for us today. We'll have opportunities for worship, fellowship, and great food. More information here.
More Details |
arlingtoncob.org/calendar
For more information on neighboring church, denomination and non-profit events listed, check the calendar at the above link or contact the office.
---
Advocate, Volunteer + Give.
McCary Funeral Meal | Friday, November 10
A Celebration of Life for Theresa McCary will be held on

Friday, Nov. 10

at Murphy's Funeral Home,
4510 Wilson Blvd. Arlington
at 4 pm. Visitation time with the family will precede the service (at 3) and a meal will follow (approximately

5pm

) at the church.
Debbie M., Deacon Chair, is organizing the meal. Please let her know what you can bring, deliver, or if you can be there to help set-up, serve, or clean-up the meal.
---
Media.
Dunker Punks Podcast |
http://bit.ly/churchtoo
As a hashtag around the conversation of sexual assault circulates, Dunker Punks Podcast finds a voice in it. In this episode, Jen Jensen and Emmy Goering create a conversation about sexual violence and challenge the church to take a role in rejecting rape culture.

Type in the case sensitive url to listen on the showpage or subscribe on iTunes.

Listen by clicking the above link or subscribing on
iTunes
.
Worship Audio |

Online
Listen again to this week's sermon, catch a sermon from a Sunday you were out or peruse the archives. Each Sunday message along with a selection of hymns and readings is posted online or subscribe on iTunes.


Brethren Voices | Brethren Peace Message Captivates Venezuela, Spain, Rwanda
Brethren Voices is the TV show featuring what Brethren do as a matter of our faith. The episode for November features Jay Wittmeyer, Executive Director of Global Mission and Service for the Church of the Brethren. Watch online now! Watch in Arlington on Comcast 69/Verizon-FIOS 38 on Sundays at 6:30 pm, Wednesdays at 11 am.


New! #BlessedBreak | http://bit.ly/BlessedBreak73

This week's video continues our remembrance of All Saints' Day with a tune from songwriter Peter Mayer and Psalm 24.

---
Family and friends of Theresa M.,

after her passing last week

John Dettra

,

physical therapy for his back

Alma,

following the passing of her sister, Edna

Judy, Alma's neice,

following the death of her mother a week before her wedding

Hermella

, Amy's neighbor, an 11 year old with seizures

Charles Tuck,

Hazel's son, with brain cancer

The Weimer Family,

following the loss of Nancy's mother, Charlotte

Victims of California wildfires,

in the wake of lost homes and family members

Mrs. Shawn Hiepson

,

healing breast cancer

Birgitta D. and daughter Sophia

Carole C.

,

continuing health recovery

Church of the Brethren in Nigeria (EYN)

, including 113 girls still captive
Keep in your ongoing prayers:
Erin Julca, Steve Shuss, Minnie Simmons, Carolyn Studds

Note:
Prayer concerns will ordinarily be listed for four weeks. If you would like one to be kept on or added back in, please let the office know. Names in bold are new to the list or updated this week.
---
On this All Saint's Sunday, we remembered the saints we've lost, and Pastor Nancy's sermon reminded us of the ways that we are all both saints and sinners – that our complicated humanity is a beautiful part of God's creation.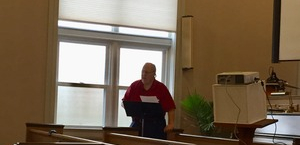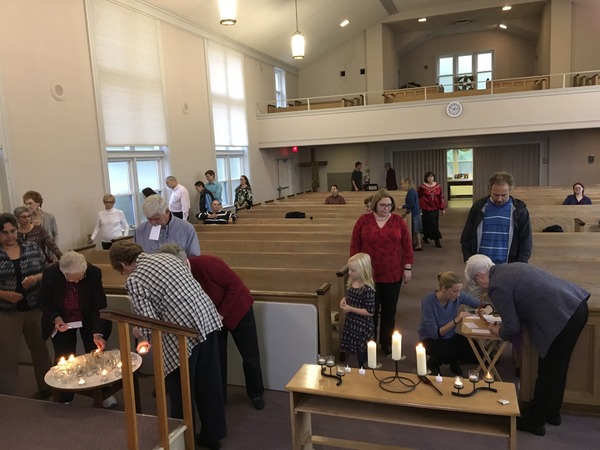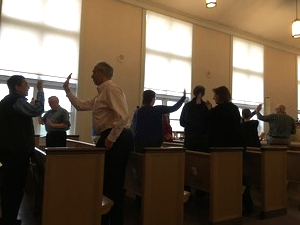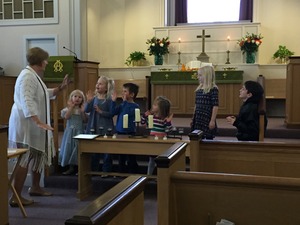 ---
Dedicating Maple Jane: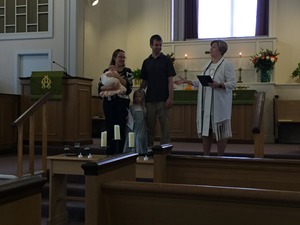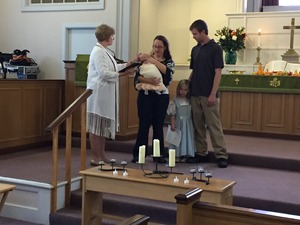 Remembering our saints: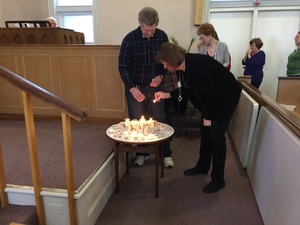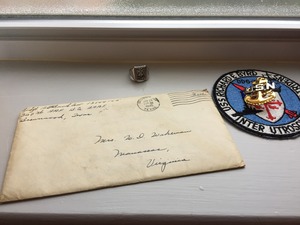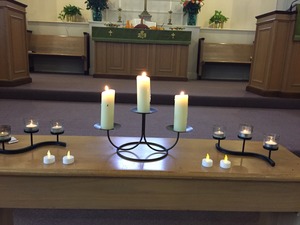 Fun from the Bazaar: