You are a generation of children who are growing up and will take over the world. We want to protect the soil, trees, and water so we can hand them over to you in good shape and you can protect and take care of them for the next generation. So, we add your names to the worship center. You are a reminder to us to take care of the Earth.
From Yesterday's Message for the Children at Heart
---
• Shepherd's Spring Holiday Banquet, noon,

more details



Tuesday

.
•

On Earth Peace Post-Election Organizing, 12:30 pm,

more details




•

Iglesia de Restauracion Pacto Eterno, 7-9 pm



•

Brethren Voices

, 11 am,

more details




•

Yoga

, 5:45 pm,

more details




•

Handbell Choir Practice

, 7 pm



Thursday

.

• Breakfast Bunch

, 8 am at Bently's (6654 Arlington Blvd.)


•

Congregational Life Ministries Webinar, 2:30 pm,

more details


•

Kaizen Karate, 6:30 pm


• No Community Choir Practice
Saturday

.
• Iglesia de Restauracion Pacto Eterno, 5-9 pm
Sunday

.

•

Bell Choir Playing

, 11 am
•

Refreshments after Worship

, noon in library


•

Brethren Voices, 6:30 pm,

more details



Sat., Dec. 24 -

Christmas Eve Service

, 6:45 pm,
more details
Sun., Dec. 25 - Christmas Worship at AFUMC, 10 am *Note Earlier Time
Sun., Jan. 1 - Camp Mardela Parade, 5:45 pm,
more details
Sat., Jan. 1 - Volunteer at AFAC, 8:30 am
Sun., Jan 8 - Big Bulletin Distributed
Sun., Jan. 8 -

Soup + Pie Meeting

, noon
Fri., Jan. 13 -

ACOB Young Adults Gathering

, 6:30 pm
Thurs., Jan. 19 - Congregational Life Ministries Webinar, 2:30 pm,
more details
Sat., Jan. 21 - Cub Scouts' Pinewood Derby
Mon., Jan. 30 - Executive Committee Meeting, 7:30 pm
Fri.-Sat., March 24 - 25 - All Church Retreat, at Shepherd's Spring *Note New Date
Beginner Yoga |
This Wed., Dec. 7, 5:45 pm
Join others in the fellowship hall for simple, gentle beginner yoga, especially designed to include folks 55+. Wednesday night yoga will continue throughout December. Saturday morning yoga on the 2nd and 4th Saturdays will resume in January. $9.00 per session. Contact Pastor Nancy with questions.

Christmas Eve Worship | Next Sat., Dec. 24, 6:45 pm
Come enjoy beautiful harp music by John on Christmas Eve as we gather for our annual candlelight service. Worship will begin at 7 pm and will include communion.

Creation Care Survey | http://bit.ly/CreationCareSurvey
The study committee created at the 2016 Annual Conference—in response to a query that challenges us to respond more fully to the '91 and '01 resolutions on climate change—is seeking feedback on supporting congregations and individuals to take action. Follow the link to fill out the survey that takes less than 5 minutes.

Ouli App | Download by this Wed., Dec. 14 + $2 will be Donated to AFAC
Download the Ouli neighborhood guide app on your apple or android phone by Wednesday, December 14 and Ouli will donate $2 to AFAC's Give Hope Against Hunger Campaign. It's an easy way to shop local, eat local and support the community.

Big Bulletin | Submit Articles through Wed., Jan 4
The next Big Bulletin newsletter will distributed on Sun., Jan. 8. Please submit articles to the office by the Wednesday before.

Office Hours | No Saturday Hours this Week
Suzanne will be out of the office this Saturday, so please send bulletin announcements and prayer requests to the office by Wednesday evening as able this week.

Ecumenical Advocacy Days | April 21-24, 2017
Registration is now open for the annual national gathering of Christians for just and peaceful policy. This year's theme is, "Confronting Chaos, Forging Community: Challenging Racism, Materialism and Militarization." Save the date and register here: http://bit.ly/EAD2017

More Details | arlingtoncob.org/calendar
For more information on neighboring church and non-profit events listed, check the calendar at the above link or contact the office.
---
Volunteer + Donate.
Calendar Drive | Through the End of the Year
Help us collect 2017 wall calendars for the Sunrise Retirement Community. Put them in the basket in the hallway. We'll donate them to Sunrise before the new year. They are much appreciated by the residents. Contact
Marcia
with questions.
Worship Audio |

Online
Listen again to this week's sermon, catch a sermon from a Sunday you were out or peruse the archives. Each Sunday message along with a selection of hymns and readings is posted online or subscribe on iTunes.

Dunker Punks Podcast | New Podcast! http://bit.ly/DPP_Episode20
The Office of Public Witness returns for a Part 2 in "Sacred Land." Hear the history behind the history being made at Standing Rock as Emmy Goering interviews Joel West Williams of the Native Rights Fund. Listen by clicking the above link or subscribing on
iTunes
.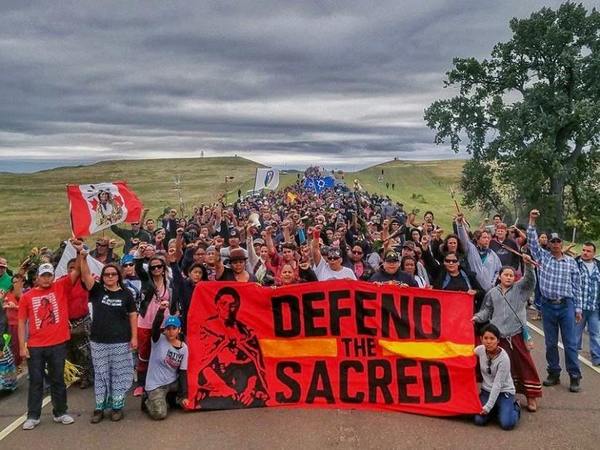 ---
Pray. Call. Write. Give.
Charles Tuck,

Hazel's son, cat scan this week to assess health

Nancy Marion

, friend of Chris + Shelley, for peaceful and painless release from this world

Families of 25 Killed at St. Peter's Coptic Orthodox Church in Cairo

, killed during worship yesterday

Jaden Chao Reals + Family

, Robyn + Gary's newest grandson, prayers of thanksgiving and blessings for the healthy baby boy born 11/27 at 8.2 lbs

Marion

, has been quite ill

Dot Fravel

, Dee's mom, back in the hospital being treated for fluid-filled lungs

Carol Smith

, Going to Nigeria to help start a preschool

Gene Hagenberger

, District Exec, struggling with sickness

Rida

, Friend of Gary S., facing challenges of corrpution and deception at his work in the Middle East

Susan + Family

, Silena's superviser, whose father John passed away after battling cancer​

​

Julie

, yoga group member, continued pain after gallblader surgery

​

Pastor Mike

, continuing to deal with liver failure and awaiting transplant

Jummai Paul

, kidnapped Chibok girl and 195 others

Church of the Brethren in Nigeria (EYN)
Keep in your ongoing prayers:
Dorothy Fravel (Dee's mom), Theresa McCary, Erin Julca, Steve Shuss, Elizabeth Smucker, Carolyn Studds

Note:
Prayer concerns will ordinarily be listed for four weeks. If you would like one to be kept on or added back in, please let the office know. Names in bold are new to the list or updated this week.
---
Worship Notes.
When the way seems barren, remember that God excels at making a way out of no way. Farmers have long known our life and destiny are tied to the health of the soil, but much of that wisdom has been lost. Soil is the source of life in Genesis and is full of life, billions of microorganisms in each gram. Do you experience joy with your hands in the dirt or feet in the sand? We are powerfully connected to the Earth. At Christmas, we celebrate the birth of Jesus, a child of God and our renewal of hope born on Earth.
L

isten to yesterday's sermon here
:
http://bit.ly/ACoBMessage11Dec16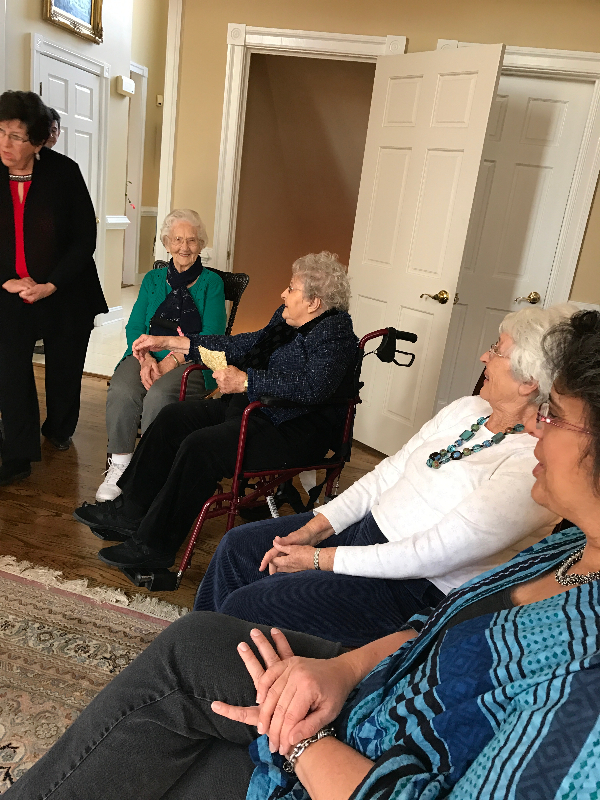 Saturday, a large group of her ACOB friends helped Theresa celebrate her 103rd birthday!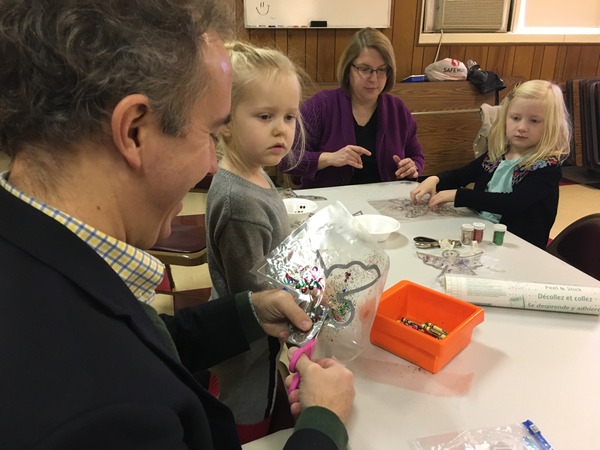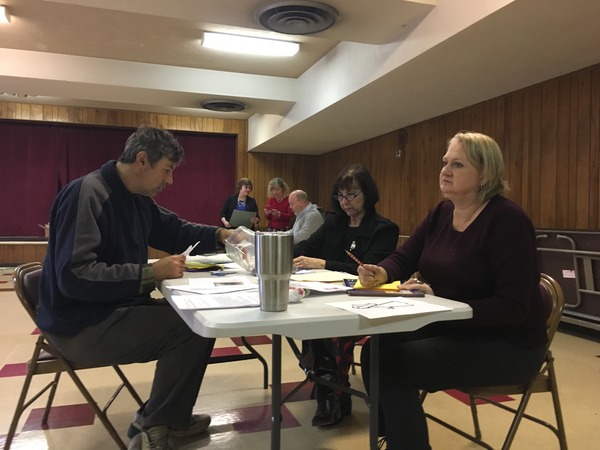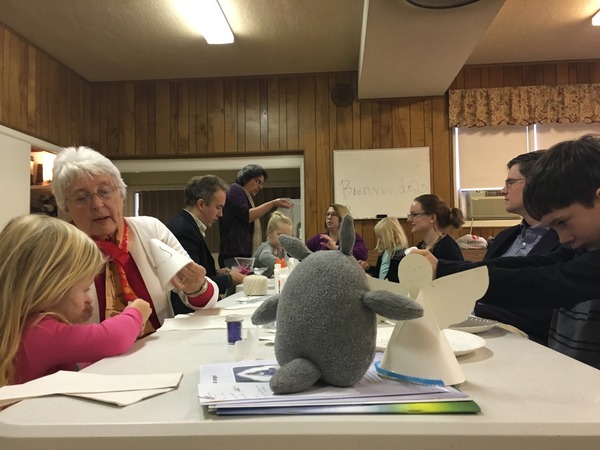 Our intergenerational Big Sunday School celebrated angels for the Christmas season.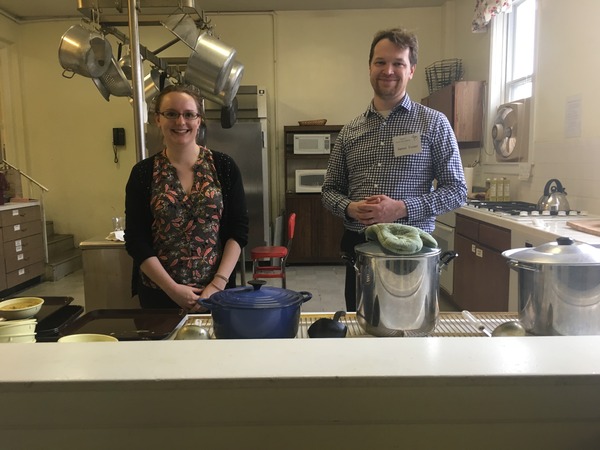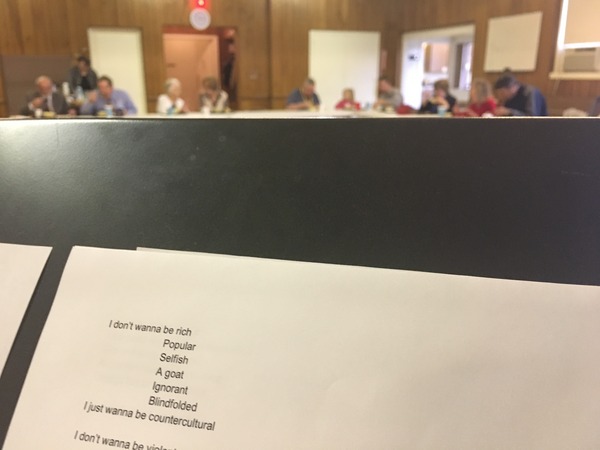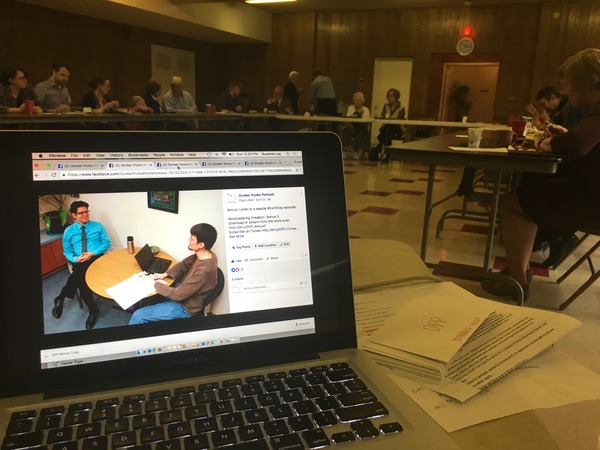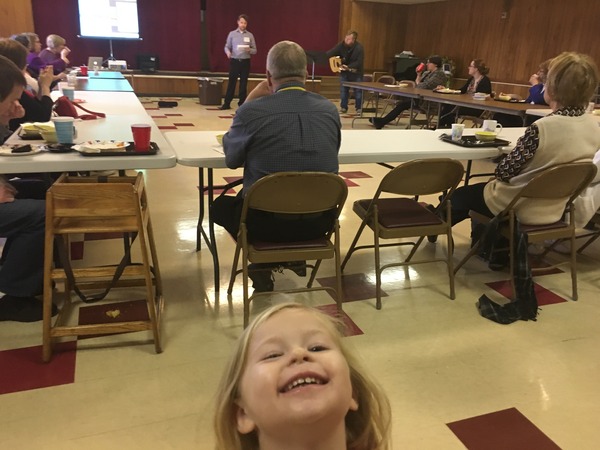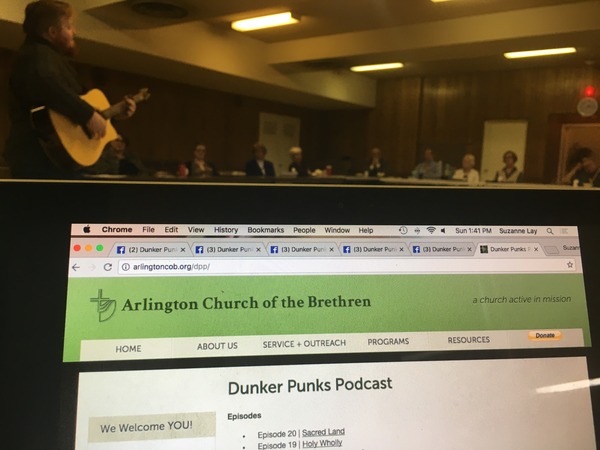 YeserYesterday after worship our young adults hosted a lunch in the style of their regular meet-ups
to share about and seek support for the Dunker Punks Podcast ministry.
---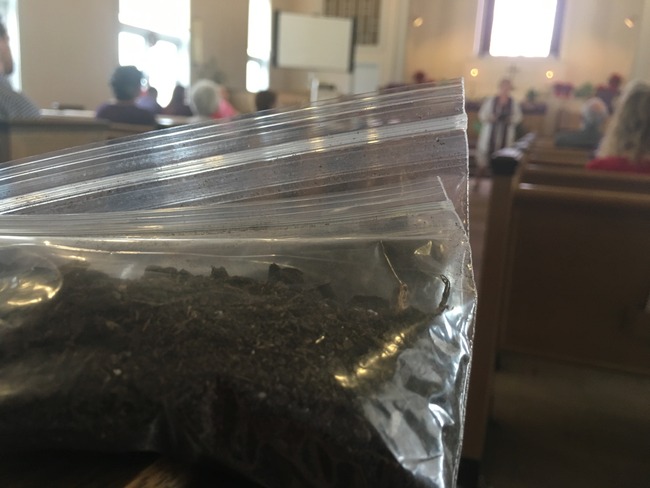 We can be joyful today, no matter what news of the world swirls around us, because we are centered in the creator of heaven and earth. The ground on which we walk, the water that fills our world, the air we need for life are all part of the breath of life from God.
From yesterday's Call to Worship