"Give us courage when we must decide how to act in the face of violence. Give us strength when fear wants to crawl inside our hearts. Help us hear the angels sing again of peace and each time we hear the story of Christ's birth, we will be inspired to work for peace and justice again."

-

from yesterday's Pastoral Prayer
---
Mo
Monday.
•
Worship Team Meeting, with Bethel UCC, 7-8pm
Tuesday

.
•
Iglesia de Restauracion Pacto Eterno, 7-9pm
Wednesday.
•
Brethren Voices,

11am

,
more details
•
Handbell Choir Practice, 7:00 pm
Thursday.
•
Community Choir Practice, 7:30 pm at AFUMC
Saturday.
•
Centering Prayer

, 11:30am-12:30pm
•
Fellowship Hall Rental, 12-4pm
Sunday

.
•
Sunday School, 9:45am
•
Bell Choir During Worship
•
Brethren Voices,

6:30pm

,
more details

Sun., 12/24 - Christmas Eve Harp Music & Service, 7pm (music at 6:45)
Sun., 12/31 - Community Worship at AFUMC, 11am
Sun., 1/7 - Pastor Nancy's Final Sunday

---
More Details.
More Details |
arlingtoncob.org/calendar
For more information on neighboring church, denomination and non-profit events listed, check the calendar at the above link or contact the office.
---
Advocate, Volunteer + Give.
Christmas Eve Offering

| Dec. 24, 7pm
This year's offering will be donated to
New Community Project
, a small organization with a big goal - to change the world by changing the way we relate to the planet and its people. We offer resources that challenge us, experiences that change us and a community that gives us hope.
Blood Drive Pledge
|

June 23, 2018
A local mom's group is organizing a blood drive at our church this summer. They plan to have a children's room so pairs of caregivers can take turns giving blood. They need 50 pledges to secure the date with the Red Cross. Please save the date and sign up to give blood whether or not you plan to bring kids. Contact Suzanne with questions or if you'd like to volunteer in the children's room. Pledge here:
http://www.signupgenius.com/go/508044ba5ae23a4fb6-blood
---
Media.
New!
Dunker Punks Podcast |
http://bit.ly/fearofinite
Emmett Witkovsky-Eldred, a host of the Dunker Punks Podcast, speaks with Reverend Tim Smith of the organization Center of Life about his work in the area of economic equality. This podcast addresses the overarching question of how it can be possible for everyone to have enough.
Type in the case sensitive url to listen on the showpage or subscribe on iTunes. Listen by clicking the above link or subscribing on
iTunes
.
Worship Audio |

Online
Listen again to this week's sermon, catch a sermon from a Sunday you were out or peruse the archives. Each Sunday message along with a selection of hymns and readings is posted online or subscribe on iTunes.


Brethren Voices | Passion for Practical Peacemaking
Brethren Voices is the TV show featuring what Brethren do as a matter of our faith. The episode for November features Samuel K. Sarpiya, 2018 Annual Conference Moderator of the Church of the Brethren. Samuel first had contact with the Brethren as a young man in Nigeria. He remembered that the EYN Church of the Brethren was very accepting of others and "they made really good peanut butter.". Watch online now! Watch in Arlington on Comcast 69/Verizon-FIOS 38 on Sundays at 6:30 pm, Wednesdays at 11 am.


New! #BlessedBreak | http://bit.ly/BlessedBreak78

This week's video offers perspective on Peace, the theme of this second week of Advent. How are you making peace?

---
Ralph,

hospitalized for infections

Chip

, heart surgery on Friday

Donna Fields,

cataract surgery on Tuesday

Co-worker of Leslie

, looking for a safe living situation

Andy Price,

vision difficulties

Karolina Walkin

,

pain from neurological difficulties

Hayden Hargenrader,

Shelley's 18mo. old cousin, suffering seizures & strep throat

Carole C.

, at Manor Care, recovering from surgery

Family and friends of Theresa M.,

after her passing last week

Hermella

, Amy's neighbor, an 11 year old with seizures

Charles Tuck,

Hazel's son, with brain cancer

The Weimer Family,

following the loss of Nancy's mother, Charlotte

Church of the Brethren in Nigeria (EYN)

, including 113 girls still captive
Keep in your ongoing prayers:
Erin Julca, Steve Shuss, Minnie Simmons, Carolyn Studds

Note:
Prayer concerns will ordinarily be listed for four weeks. If you would like one to be kept on or added back in, please let the office know. Names in bold are new to the list or updated this week.
---
On the Second Sunday of Advent, a sermon about peacemaking – what it meant for Brethren in history and what it might mean for us, today.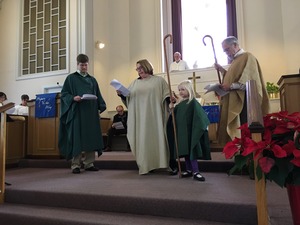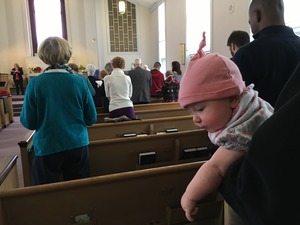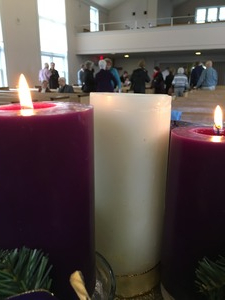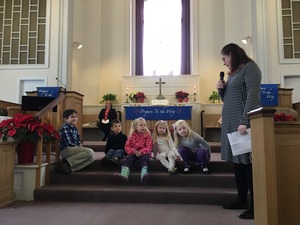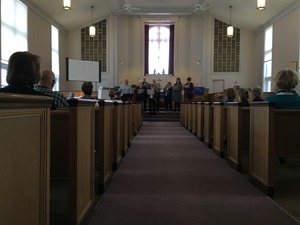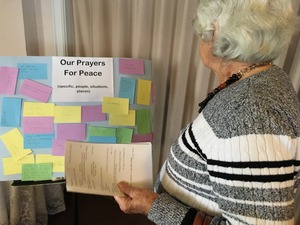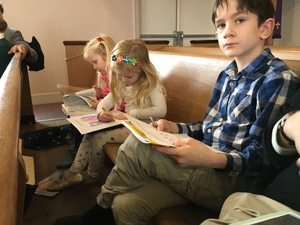 ---
More Pictures.
we
On Friday, young adults gathered for a meal and fellowship: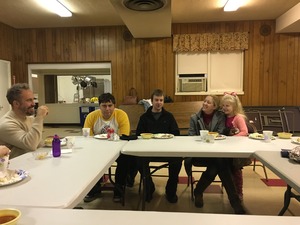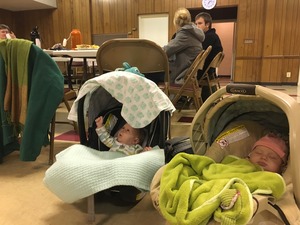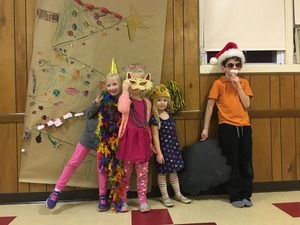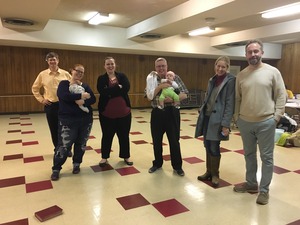 Yesterday was Big Sunday - and everyone learned about the journey of the wise people together.