St. Stephen's Hosts the Board of Trustees
On Saturday, June 2nd, St. Stephen's hosted the Diocesan Board of Trustees meeting. These meetings are held quarterly and in different churches in the diocese. This was a wonderful opportunity for us to let the Board see and hear about St. Stephen's!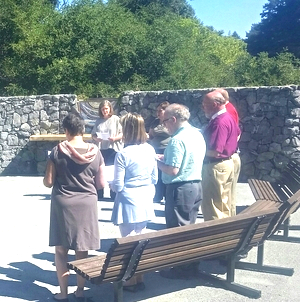 The Board took advantage of the beautiful day and enjoyed their opening worship in the Outdoor Sacred Space. As hosts, Deacon Kate and I provided lunch. During lunch, Kate and I spoke about St. Stephen's focus on our connections to the wider community. We do this through Service, such as the Food Pantry and Saturday Table; through Advocacy, such as the Women's March, the March against Gun Violence, and our Corner Rally for Love; and through our Land/Spirituality, letting the Board know that nature is very important to us and our spirituality. We spoke of the Outdoor Sacred Space, Taize, and our plans for the Labyrinth and the Food Forest. We spoke of our desire to bring the community in, not close them out. After speaking to the Board, we took them on a tour of the property. They were extremely interested in our plans for the land and were pleased to hear about our first Sunrise Service on Easter morning in the Outdoor Sacred Space. After returning to the Parish Hall, Bishop Beisner commented that St. Stephen's is an example of a parish with great vitality and spoke of churches not having to be large to have "great vitality".

At the close of the day, as the Board was preparing to leave, one of the Board members commented that if he didn't already have a church, he would attend St. Stephen's. Imagine my surprise when he then told me he is a Rector of his own church! What a wonderful compliment to the St. Stephen's community and the work that we do. As we have said before, we are small but mighty!

~Senior Warden, Carole Ward
______________________________
We're Having a Garden Party
Come to the church

on Saturday

morning,

June 23rd

from 9 to 12. Our main task is to spread mulch, so wheelbarrows, if you have one, and shovels are good things to bring with you. Weeding, ivy removal, and general clean up are on the agenda. The more hands we have on deck, the more we'll get done. Refreshments and snacks will be provided. Questions? Please contact Junior Warden, Jan S.
______________________________
Outdoor Sacred Space Shade Structure Sunday Share
On Sunday, June 24th during coffee hour, Christy will give a brief update to the congregation about the plans for a shade structure for the OSS.
______________________________
Dear friends,

In early July, I'll be having surgery on both knees. It's a big surgery, and will be a big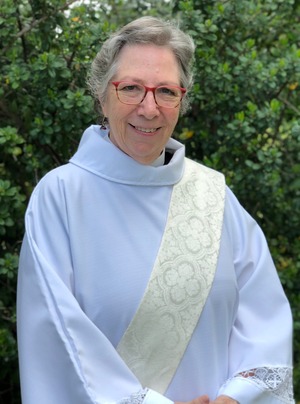 blessing when I am all healed up and ready to walk, hike, dance, swim and serve! The recovery time is likely to be a couple of months, and I hope to be in your prayers that I will have patience in this time of enforced quiet. Most of you know that being patient is not one of my strengths!

Thinking about being gone for a while makes me think about how proud I am of how the St. Stephen's Welcome Movement and the Mercy and Justice efforts work, and how they are growing. The Welcome Table and the modeling of conscious welcoming are evidence that this congregation knows what is important. I don't anticipate anything more needing to be done in this area while I'm gone. Mercy and Justice programs and energy are wonderful as well, humming right along. If you have questions or concerns, you can bring them to Priscilla Johnstone (the M&J coordinator), and if she's not available, to Christy.

St. Stephen's is such a blessing in my life. You are all held in grateful prayer.
Deacon Kate
______________________________

Sunday Worship in the Outdoor Sacred Space
9am for June & July
We'll provide the beautiful spot in God's creation and the parasol (haven't you always wanted an excuse to use a parasol!?), you bring:
Hat

Sunglasses

Sunblock

Water
...and together we'll worship our God in the beauty of holiness!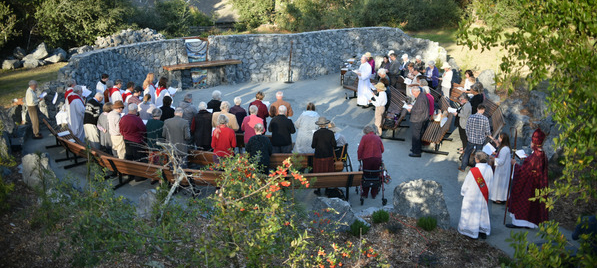 ______________________________
We would like to announce the formation of a new commitment-free choir to sing for our outdoor services this summer: The Incognito Summer Singers. The group will meet in June and July,
on Sunday

morning 45 minutes before the service to learn the chants and hymns for that day. The singers will not vest and will sit with the congregation.

Everyone is welcome, even if you can only make it once. You do not need to read music. Please come check it out if you're interested in becoming more familiar with the Taize chants and other music we use in our summer worship.
______________________________
Deanery Cycle of Prayer
As Christians and Episcopalians in the Diocese of Northern California, we're invited to pray for other parishes in our deanery. Each parish is named and prayed for in rotation. During the month of June, St. John's, Petaluma, asks for prayers "for the formation of their Strategic Planning Team, and for a year of blessed conversation that opens up new paths of spiritual growth and mission."
______________________________
Sign up for the Diocesan E-News
An easy way to keep abreast of the news around the Diocese of Northern California is to subscribe to its newsletter, which is delivered to your inbox on most Tuesday afternoons. You can subscribe on the diocesesan website, www.norcalepiscopal.org, by clicking on the button under CONNECT WITH US, and providing them with your name and email. If you access your email by phone, you can text EDNC to 28828 and sign up by replying with your email. Subscribe today!

Help for Judy Park - After undergoing two surgeries she is now recovering at home. For now we are providing dinner three evenings per week. If you would like to help out in this way, you can sign up Meal Train here.

Housing Needed
Long time parishioner Mark Robison is in need of housing. Seeking a 2-3 bedroom home in the Sonoma County area starting immediately. Contact Mark directly at 799-8584.

Events Committee Coordinator - Seeking a lead person to oversee our community events such as the Easter egg hunt, advent wreath making, and summer fun night along with coffee hour potlucks and receptions. The Coordinator overseee the committee which meets at least once a year to divide up the events of the year. This division is then sent to our parish administrator who works with the folks in charge of each event to make sure announcements are run, space is reserved, etc. Additionally, the coordinator oversees scheduling volunteers for potlucks and receptions. Please speak to Christy for more information.
Book & Brunch Club - The June selection is Anne Tyler's A Spool of Blue Thread, described briefly: "The Whitshanks are one of those families that radiate an indefinable kind of specialness, but like all families, their stories reveal only part of the picture: Abby and Red and their four grown children have accumulated not only tender moments, laughter, and celebrations, but also jealousies, disappointments, and carefully guarded secrets. From Red's parents, newly arrived in Baltimore in the 1920s, to the grandchildren carrying the Whitshank legacy boisterously into the twenty-first century, here are four generations of lives unfolding in and around the sprawling, lovingly worn house that has always been their anchor." The book club will meet Thursday, June 28th from 11am to 1pm in the Parish Hall.
Church Yoga Practice - In the St. Stephen's Sanctuary, weekly on Thursdays (except 3rd Thursday) from 5:30 - 6:30PM by Jean Farmer. Through the practice of meditation, chant and asanas (postures) we are able to quiet the mind a bit and increase flexibility and balance. This is a beginning class that is open to all levels of experience. Free will offering.
______________________________