Can you host coffee hour this week?
Please consider hosting coffee hour Sunday, September 16th.
Contact the office to let us know!
______________________________
TEMENOS 2018-19
Cosmos, Creation & God: An Exploration
J
an Slaby and Pat Moore will be co-mentoring a new class beginning October 3. This class combines formative readings and other "texts" with a transformational process called "theological reflection." Its overall purpose is to encourage a deeper understanding of and richer relationship with God and to help each participant clarify her or his own faith journey. This year's focus is on cosmology, creation and the divine: it will explore current understandings of the cosmos, science and faith, the evolution of life on earth, the place of humanity in that life, human vocation and relationship with the earth—and our understanding of God in all of this. And, we only have 8 months to do this!!
The class will meet on Wed. mornings at St. Stephen's from 9:15 until 11:45.

We will meet throughout the year, from October through May (with breaks from Dec 26 through Jan 2)

The texts covered will include books, essays, videos, and podcasts.

We will occasionally have a guest teacher.

The cost of the class will be whatever the texts cost, a modest fee for copying costs,

and we share the cost of providing modest stipends to guest speakers.
Temenos is not a bible study, nor is it a "drop in when I feel like it" class. It requires a year-long commitment to show up each Wednesday (with illness and trips away excepted). It also requires a willingness to seriously engage with the texts and to bring your own experience to the conversation. It is essential that you have access to the web and the ability to view youtube videos and listen to podcasts.

Please see Jan Slaby or call her (707 874-9082), if you wish more information and want to join the class. We will need to know by Sept 23, as class size is limited.
______________________________
Sunday Share -- Garden Entryway
Under the approval of Rev. Christy and the Vestry, the Land Stewardship Committee will begin the Entryway, the first stage of the Seed to Soul Project.

The Entryway is a welcoming gateway to our Seed to Soul Garden for St. Stephen's and the larger community. Our hope is that this gateway, will be welcoming to all that come onto this land and that each person is able to get a little more in touch with the gifts of this land as it nurtures the soul. We will be using environmentally friendly materials for this project: wood from Jenner Headlands donated from their "Fuel Reduction Program" and stones that were not used in the the Outdoor Sacred Space.

Let's come together as a community during coffee hour on Sunday, September 23rd and learn about the Entryway plans, hear about the environmental materials and bless this stage of the plans.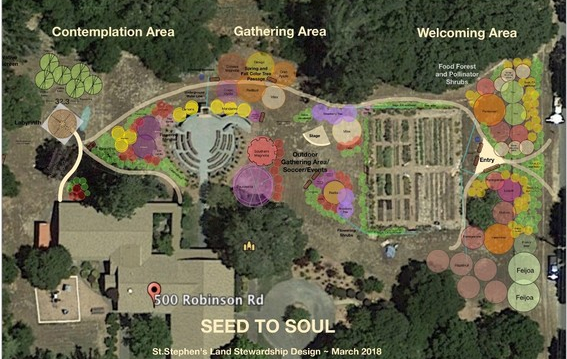 ______________________________
Deanery Convocation

Convocations are deanery-organized workshops that allow for pre-Convention discussions, centered around topics such as budget, apportionment, elections and more. It is especially important that all clergy, delegates and alternates attend a Convocation to become familiar with the resolutions and nominees. The Russian River Convocation will be held October 20th, at Church of the Incarnation in Santa Rosa, 10 am—12 pm.
______________________________

Lillian Wrote a Book!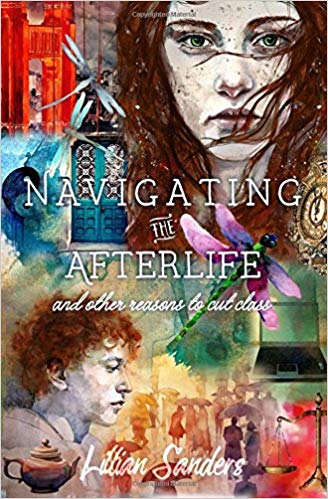 Ninth grader and St. Stephen's member and Acolyte,
Lillian Sanders has been writing a novel for the past 18 months with some help from her dad, Nick and mom, Erika. Her book tells a fast-paced adventure story of teenagers, Greek gods, and other monsters. After multiple drafts and plenty of editing help from mentors, Navigating the Afterlife and Other Reasons to Cut Class is done and proudly for sale on Amazon.com. The book is suitable for readers 12 and up.
______________________________
Wednesday Night Bible Study

The online ChurchNext platform is offering 3 new "live" Bible classes that can be taken from any location with Internet access. The 6-week courses are taught by these experts:

Heretics in Good Company with Scott Gunn and Melody Shobe

The Bible and Racial Justice with Kelly Brown Douglas

The Bible and Evangelism with Marcus Halley

Classes are live begining September 12th from 8-9 pm EST (5-6 pm Pacific time), and are $9 a month with your ChurchNext subscription. ChurchNext is a ministry of Forward Movement and provides affordable Chrisitan education for people everywhere. Sign up here!
______________________________

Church Yoga --

Tuesdays

5:30-6:30 pm.

This is a beginning practice. Yoga

offers the benefit of

increased

physical flexibility, balance and strength.
Book and Brunch Club -- "

In

Mozart's Starling

, Lynda Lynn Haupt explores the unlikely and remarkable bond between one of history's most cherished composers and one of earth's most common birds. The intertwined stories of Mozart's beloved pet and Haupt's own starling provide an unexpected window into human-animal friendships, music, the secret world of starlings, and the nature of creative inspiration. A blend of natural history, biography, and memoir,

Mozart's Starling is a tour de force that awakens a surprising new awareness of our place in the world." The September meeting of the Book & Brunch Club will be in the Parish Hall on Thursday, September 27th, at 11 a.m.

Bishop's Book for Fall 2018 --
| | |
| --- | --- |
| | |
Bishop Barry Beisner has selected "The Book of Joy: Lasting Happiness in a Changing World" as this fall's Bishop's Book. Join us in reading about this conversation on joy by two remarkable spiritual leaders. From authors Archbishop Desmond Tutu and His Holiness the Dalai Lama: "We hope this small book will be an invitation to more joy and more happiness...We are sharing what two friends, from very different worlds, have witnessed and learned in our long lives. We hope you will discover whether what is included here is true by applying it in your own life." Buy the book here. A discussion guide for book groups is forthcoming.
Why Suffering? -- Hear how one of the Church's brightest minds takes on one of humanity's biggest questions in this insightful, thought-provoking course, Why Suffering? It's an ancient question: God is entirely powerful. God is good and does not desire suffering. Complex life inevitably involves frequent suffering. How can we reconcile these three truths with one another? In this class, The Rev. Dr. Ian Markham, Dean and President of Virginia Theological Seminary, discusses possible reasons for suffering and ways to cope with suffering that can help Christians not only endure, but also grow from our experiences with pain. The cost of the course is $10.