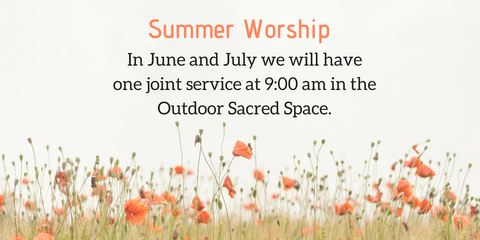 ______________________________
We would like to announce the formation of a new commitment-free choir to sing for our outdoor services this summer: The Incognito Summer Singers. The group will meet

on Sunday

morning 45 minutes before the service to learn the chants and hymns for that day. The singers will not vest and will sit with the congregation. Everyone is welcome, even if you can only make it once. You do not need to read music. Please come check it out if you're interested in becoming more familiar with the Taize chants and other music we use in our summer worship.
______________________________



Changes in Announcements
In an effort to follow best church practices for welcoming newcomers, Christy will be making all announcements at the end of services.

What will this look like?
Announcements will no longer be invited from the congregation during the announcements.

We will begin with a welcome to those visiting our community.

We will pray for birthdays, anniversaries and other life events.

Christy will highlight around three announcements and not read the entire announcement insert.
How will I share information with my church community?
If you have information or an event you'd like to share, please get that information to the church office by Monday.

If an announcement is pertinent to a large portion of the congregation, it will be included in the printed announcements. If it is applicable to a smaller portion of the congregation or regarding an event external to the congregation, it will be included in the e-news.
How will I know what is going on?
Please read the e-news. This goes out weekly. At least skim it to make sure you're aware of everything going on at your church.

Please read the announcements in your bulletin and take them home.
Why are we making this change?
Studies on the best practices of churches show that long announcements are not welcoming to newcomers. It is important that we welcome folks new to our community, that we share a bit about what's going on, and that we then continue our welcome in our fellowship after the service. Long announcements can overwhelm newcomers and often leave them feeling on the outside, as they are unfamiliar with much of what is being discussed.

Our liturgy has a flow as we move from God's word, to being nourished at the Lord's Table, and sent back out into the world. This flow or arc can be shattered by long announcements. It is important that we connect with one another, but when the weight and length of the announcements breaks the flow of our worship, we begin to neglect the primary reason for our gathering.

Most people are only capable of retaining a few announcements.
Please observe and analyze this change to our worship. How does it feel? What do you notice about how you feel as we are sent into the world? Talk to others and inquire about how it feels to them. After living into this change for a while, we will invite your feedback.
______________________________
Saturday Table Share - This Sunday!
Sunday, May 20th, during Coffee Hour, there will be a presentation about Saturday Table.
______________________________
Vestry Sunday Share—May 27th!
Have you ever wondered what the vestry is up to? Come to the Sunday Share on May 27th and find out! We will share our new identity statement and goals for this year and beyond.
______________________________
Thiniking of Vestry and Mission Committee as a Spiritual Gift
By the Rev. Canon Andrea McMillin, Canon to the Ordinary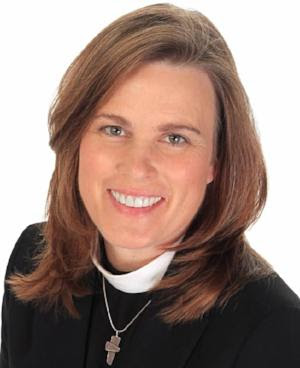 "Have you ever participated in a vestry or mission committee and wondered what our common work would be like if we gathered more as a community of believers, and less like a business meeting?

A part of my work this year has focused on transforming governance meetings into a place of deepening discipleship: where the group gathered has made a commitment to learn about and practice a discipline of the Christian faith, and to engage that discipline together as a primary part of their work of management, finance, leadership, and oversight."
Follow this link to read the full article.
______________________________
Events Committee Coordinator
What: Our events committee oversees our community events such as the Easter egg hunt, advent wreathe making, and summer fun night along with coffee hour potlucks and receptions.

Who: The coordinator oversees this committee.

How: The committee meets at least once a year to divide up the events of the year. This division is then sent to our parish administrator who works with the folks in charge of each event to make sure announcements are run, space is reserved, etc. Additionally, the coordinator oversees scheduling volunteers for potlucks and receptions.

Please speak to Christy for more information.
______________________________



Office Closure
The office will be closed, Mondays May 28th and June 4.
______________________________
Help for Judy Park - After undergoing two surgeries she is now recovering at home. For now we are providing dinner three evenings per week. If you would like to help out in this way, you can sign up Meal Train here.

Great Emergence - Book Study and Soup Supper
Join your church community in discussing Phyllis Tickle's The Great Emergence: How Christianity is Changing and Why from 6-8 pm, May 29th (discussion of Part 3).

Housing Needed - Long time parishioner Mark Robison and his two adult children, Tylor and Heather, are in need of housing. Seeking a 2-3 bedroom home in the Santa Rosa area starting June 1 or sooner. Contact Mark directly at 799-8584.

Hosting Coffee Hour Changes - The instructions for hosting the Sunday coffee hour have been updated. Some things have changed, so please take a moment to read the new instructions which are posted on the bulletin board in the kitchen.

Book & Brunch Club - Kate Moore's nonfiction The Radium Girls: The Dark Story of America's Shining Women. "Written with a sparkling voice and breakneck pace, The Radium Girls fully illuminates the inspiring young women exposed to the "wonder" substance of radium, and their awe-inspiring strength in the face of almost impossible circumstances. Their courage and tenacity led to life-changing regulations, research into nuclear bombing, and ultimately saved hundreds of thousands of lives." Thursday, May 24th, from 11 am to 1 pm in the Parish Hall.

Church Yoga Practice - In the St. Stephen's Sanctuary, weekly on Thursdays (except 3rd Thursday) from 5:30 - 6:30PM by Jean Farmer. Through the practice of meditation, chant and asanas (postures) we are able to quiet the mind a bit and increase flexibility and balance. This is a beginning class that is open to all levels of experience. Free will offering.
Songs of the Heart—Open Dress Rehearsal
Ann Lehmann Carter and Linnea Lee Hill will be having an Open Dress Rehearsal for their Vocal Recital Saturday, May 19, 1:30 pm here at St. Stephen's. You are cordially invited to attend. A reception will follow. The Santa Rosa Junior College sponsored Vocal Recital is the following Wednesday, May 23, at 6:30 pm in the Newman Auditorium, SRJC. Both feature art song and operatic repertoire from Italy, Germany, France, England and America in partnership with the well-known local accompanist, Nancy Hayashibara.
______________________________