Land Stewardship Committee Update: Entryway &
Mulching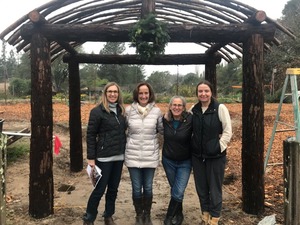 You may have noticed the new entryway being built on Robinson Road as well as lots of wood chips being spread around the land at St. Stephen's and wondered what exactly is going on. We have been rolling out cardboard and covering it with wood chips, a by-product of the pine tree removal and oak tree thinning that was done in the last few months. This process of applying plant material on top of the soil is called mulching. Mulching is important for many reasons. It helps to decrease evaporation from the soil, keeping precious water in the ground, by decreasing the amount of sunlight that reaches it. There are fewer weeds in a mulched area because the weed seeds are not exposed to light, which means less work mowing or pulling weeds. Also, the wood chips eventually break down slowly releasing nutrients into the soil.

The new entry way from Robinson Road consists of stone steps coming up the hillside to a redwood archway that is being built by Two Crows Ecological Design. We hope this not only creates a wonderful entrance for people walking to Church, but also offers a friendly welcome to all members of our community.

Land Stewardship Committee
Kendall Dunnigan, Liza Brickey, Jean Farmer and Erika Sanders
______________________________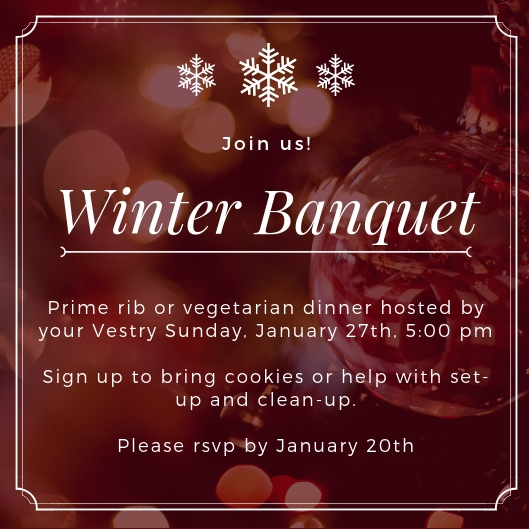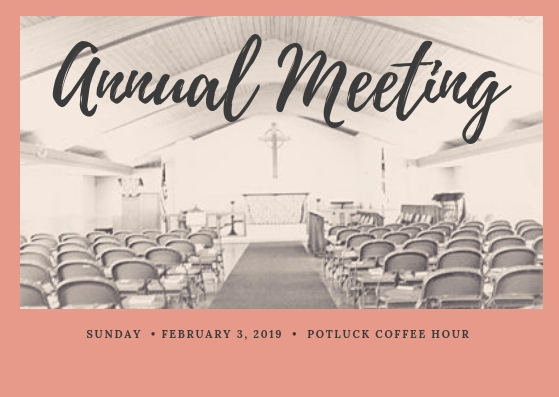 ______________________________
Delegates to Diocesan Convention 2019
The Diocese of Northern California's 2019 Diocesan Convention will be November 7-9 in Sacramento. St. Stephen's needs to elect 4 delegates and 1 alternate at our Annual Meeting in February. Please contact Christy with your interest.
______________________________
Advent Wreath Forms
Please return your advent wreath forms so that we may safely store them away for next year. There will be a designated place during coffee hour, or you may bring yours to the office during regular hours, Mon-Wed 9am-noon.
______________________________


Announcements
Winter Banquet - January 27th @ 5pm --
Please plan to attend our annual prime rib dinner hosted by the Vestry and deliciously prepared by Mark and Paula Bush. It's very important that we know how many to serve, so please sign up on the sheet in church or by contacting the office no later than Sunday, January 20. Include your name and the number in your group, and also select "prime rib" or "vegetarian" for each person in your group.
Winter Banquet Help Needed --
The Vestry would love to have some extra help with the banquet. Please sign up to help set-up or clean-up, or to provide cookies for our dessert. Cookies should be delivered to church the morning of the banquet, January 27. Sign-up sheets are on the back table in the Sanctuary, or you may contact the
office
. Thank You!
American Guild of Organists Concert - Unpublished Organ, Vocal & Instrumental Works of Dr. David N. Johnson. Sunday, January 20th, 2019 at 3 pm, at
Church of the Incarnation,
550 Mendocino Ave. Santa Rosa, CA.
Free - Donations gladly accepted
Brunch & Book Club --
January:
The next meeting of the Book & Brunch Club will be in the Parish Hall on Thursday, Jan 31st at 11 am.
Bishop Visit -- On Sunday, February 17th Bishop Beisner will be visiting St. Stephen's. This will be his last visit to our congregation before he retires next summer. We will hold one joint service at 10am with a potluck afterwards. If you are interested in being confirmed or received into the Episcopal Church, please speak with Christy.