In this issue
M&J Service
Salmon Creek Rest Stop
Deanery Cycle of Prayer Announcements
Recorded Sermons
Summer Recordings on hiatus
Altar Guild
Sophie Beth P.
Maureen M.
Carole W.
__________________________

9:00 a.m.
Eucharistic Minister
David N.

Lectors
Lillian S.
Intercessions
Mary Lou S.
Oblations
Children
Ushers
Jim C.
Kathy F.
Acolyte
Lillian S.
Coffee Ministry
Cecile L.

Healing Ministry
Meg N.
Vestry Greeter
L.
Godly Play
Children in church
_________________________
Reminders for Sunday
Coffee Hour
4th Day in honor of Saturday Table
Candle
Open
Flowers
Open
__________________________
June Birthdays
3 Frances W.
4 Peter L.
4 Jill W.
15 Hilda B.
15 Sophie Beth P.
20 Theo B.
20 Barbara M.
24 Daniel S.
26 Laura B.
29 Meg N.
June Anniversaries
7 Lynda and Howard H.
8 Karen and Clay S.
18 Carole and Marshall W.
Do you have a birthday or anniversary to celebrate? Please let us know, we'd like to add you to our list!

June 15 , 2017
Celebration of St. Stephen's Mercy & Justice
During our Sunday Eucharist service on June 18th, we will be celebrating the way that St. Stephen's reaches out to serve those in need. Recognizing that everything we do in worship and parish life supports our outreach efforts as a community, our worship on that day will focus on our Mercy and Justice programs.

In lieu of a sermon, we'll hear stories from parishioners who are moved and energized by participating in various ministries. This is a chance to find out why people engage in the different projects and efforts available in our parish, and how they feel their spiritual lives are nourished by doing so. Reciting our baptismal vows, we will renew our commitment to know and love our neighbors, and to do God's work in the world. Coffee hour is planned to reflect the spirit of the day. This promises to be a moving and special service!
Salmon Creek Rest Stop 2017!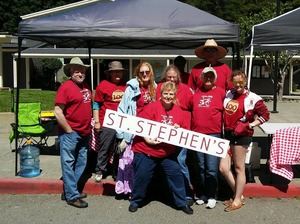 What a good time we had this year crewing the Salmon Creek Rest Stop for the Incarnation 100 Bike Ride!! Our crew, Mollie, Courtney, Carol Rogers, Berenice, Loria, Jan,Ann, Gordon,Peter, Barry, Sue,and Mary Lou, started out with windy conditions at the Salmon Creek School in Freestone, but were soon comforted with Wild Flour Bakery Sticky Buns and Coffee!! Peter, KG6JSI, and his trusty helper Paul, kept us all in radio communication David ,KM6DVH of Incarnation SAG vehicle! The bike riders quickly realized St Stephens had fabulous cooks in their Parish, while dining on: Dolmas, Brie and crackers, Pasta and Assiago cheese. We had 15 fewer riders this year because the markers on the Healdsburg streets got washed out by the rain and those riders got lost never making it to our Rest Stop. We spent time dancing and singing to Ann Carter's fabulous non-stop tape filtering thru a Bose speaker! How wonderful to be working with our "big sister" Incarnation and helping out The Living Room in the Same Day!!!

Blessings,
Carol Lucic
Deanery Cycle of Prayer
You may have heard that we belong to the Russian River deanery - ok, but what's a deanery? To facilitate communication between the Bishop and the people of the diocese, the Episcopal Diocese of Northern California is divided into seven geographical deaneries; our deanery has 13 parishes total.

One way to begin to know about and connect with other local parishes is to know their names and pray for them regularly (the list is available on the Diocesan website). Deacon Mara Arack and I are initiating a Deanery Cycle of Prayer, in which every parish will be praying for a different congregation in our deanery each month. In June, we are praying specifically for St. John's in Petaluma, and for our home church of St. Stephen's. I will let you know each month for which parish we are asked to pray.

Peace,
Kate
Announcements
Summer Worship
In June and July we will have one joint service at 9am in our Outdoor Sacred Space (weather permitting).
Children's Summer Worship
We have had our last Godly Play class and our children will now be joining us in worship for the summer (June 18 through August 13). Although children will be engaged in the service, there might be moments when a short, quiet activity would be helpful. For this reason, we have put together Church Bags for Children - ages 3 and up. The bags (available starting June 25th) will contain a ringed set of Godly Play cards to use to follow the order of service, coloring and puzzle books, clipboard, and crayons. You may pick up a bag from the basket in back (ask an usher). After the service, please put everything back into the bag and return it to the basket, ready for the next week.
Thank You, Godly Play Teachers!
Many thanks to our dedicated Godly Play teachers as they now have the summer off. We appreciate the work you do! Our teachers are: Paula Bush, Elizabeth Herold, Lynda Higson and Jill Wesselkamper. Godly Play will start up again on August 20th.
Flowers and the OSS
During June and July, when we're worshipping outside, we won't have flowers on the outdoor altar. It's pretty hard to compete with Mother Nature. However, we will have a single bouquet on Greg's bench along with the bread and wine. That way the flowers can be seen and enjoyed. Please consider signing up for flowers for one of the upcoming Sundays. This time of year it's especially nice to have garden flowers. Flowers are a lovely way to remember or honor someone or celebrate a special occasion and they add beauty to our worship. If you have any questions, please click here to email me or call, 707-824-8685. Thank you, Mary McAulay
Benefit Concert June 24th!
Please mark your calendars for June 24. We will be having a benefit concert in our new OSS!. The concert is to raise funds for the further development of our OSS and surrounding area. Specifically, we are looking at the addition of a shade structure over the OSS and also the building of a meditative walking Labyrinth as well. The flyer below has the details and there is a flyer on the bulletin board in the Parish hall. I hope you will be able to join us for a fun evening of music and fun!

Marshall Ward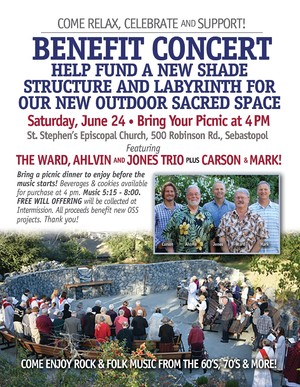 Book & Brunch Club June Book Selection
The book and brunch club will meet on Thursday June 29th in the Parish Hall from 11 a.m. to 1 p.m. Here is the book selected for June's meeting:
No Better Friend: One Man, One Dog, and Their Extraordinary Story of Courage and Survival in WWII by Robert Weintraub.

NO BETTER FRIEND tells the story of Air Force technician Frank Williams and Judy, a purebred pointer, who met in WWII and were POWs in a camp in the Pacific. Judy was loyal, with a keen sense for who was friend and who was foe, and the pair's relationship deepened throughout their captivity. When the prisoners suffered beatings, Judy would interrupt by barking. She survived bombings and other near-death experiences and became a beacon for the men, who saw in her survival a flicker of hope for their own.

Escrip at Oliver's Market
Oliver's Market offers a Community Card and St. Stephen's will now benefit from it. We will receive 3% proceeds when you use the card at checkout. Please register your card this number: 137330585 If you are already using a Community Card, you can have this number added at the store customer service booth. If you don't have a card, you can get one for free from the customer service booth. It's easy, just ask the cashier.

All proceeds for the escrip goes to the Godly Play and nursery at the church. If you have any questions, please see Karen Koenig at the scrip table

on Sunday

. Thank you Ann Carter for finding out about this great offer.
Save-the-date
June 18th
—
Mercy and Justice focused 9am service
Church Library & Rector's Office Open House
On Sunday, July 16th during coffee hour the newly redesigned Church Library and the Rector's new office will hold an open house! Come familiarize yourself with our library and all you could read and see where our rector toils away. A huge thank you to Elizabeth Harold for her work in organizing the library and to Dave and Meg Nalley for their creation of the rector's office!

Christy's Leave
Christy will start maternity leave at the beginning of August. After maternity leave she will take sabattical leave. She plans to be gone 6 months total, returning mid-February. Our senior warden, Carole Ward, will be in charge in her absence. A number of priests will cover Sunday services with the Rev. Dr. LA King covering most Sundays starting in October. Our pastoral care team will be the Revs. Kate Sefton, Harry Allagree, and Rod McAulay.
2018 Holy Land Pilgrimage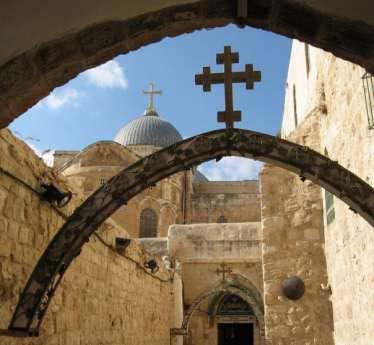 Bishop Beisner and his wife the Rev. Dr. Ann Hallisey
are leading a Holy Land
pilgrimage open to everyone in the Diocese from Jan. 24 - Feb. 3, 2018. The price (including airfare, room, board, and gratuities) is $4,295. To see the brochure click here. All interested should contact
Sandra Littman
.