In this issue:
Welcome Back Rev. Christy
Pancake Supper
Bishop Search Events
Laguna High e-Gallery
Book Club Presents a Check
Announcements
Altar Guild
Lynda H.
Meg N.
Peggy R.
Sanctuary Steward
Jan M.
__________________________

8:00 a.m.
Eucharistic Minister
--
Lector
--
Intercessions
Peggy R.
Usher
Peggy R.

10:00 a.m.
Eucharistic Minister
Peter R.
Lectors
Barry W.
Karen K.
Intercessions
Meg N.
Oblations
Rod & Mary M.
Ushers
Howard H.
Dave N.
Acolyte
Ethan W.
Coffee Ministry
Jan M.
Healing Ministry
Meg N.
Vestry Greeter
Loria R.
Godly Play
Lynda H.

_________________________
Reminders for Sunday
Coffee Hour
Carol L.
Candle
OPEN!
Flowers
Heather C.
__________________________
February Birthdays
2 Ben E.
9 Mary Lou H.
16 Carol L.
19 Kai H.
22 Mark B.
27 Carole W.
February Anniversaries
1 Susan and David S.
Do you have a birthday or anniversary to celebrate? Please let us know, we'd like to add you to our list!

February 7, 2018

Welcome Back Rev. Christy!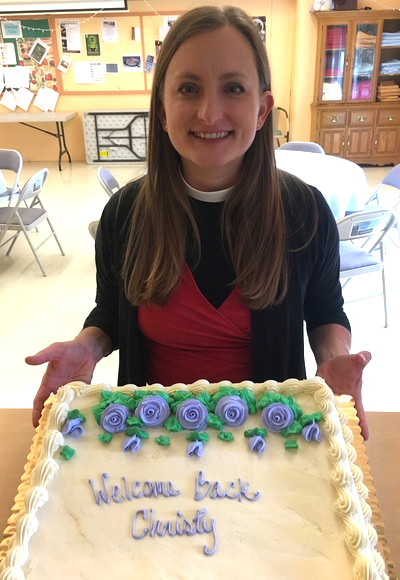 Dear People of St. Stephen's,
It is so good to be back with you! Thank you for the gift of time. It was wonderful to have the combined six months to welcome Gabriel and begin to establish ourselves as a family of four. In my three months of sabbatical, I was able to delve deeply into reading and reflection. I believe these studies will bear fruit in our life together. For more about my time away, listen to last week's sermon and watch for my report for our Annual Meeting.
Again a huge thank you to all who made my leave possible. I am so appreciative!
Pancake Supper - RSVP today!


Tuesday, February 13th is Shrove Tuesday. Please join us for
our annual pancake supper starting at 5:30pm—pancakes, bacon, Mardi Gras mask making and more! Please invite your friends and family and contact the office to let us know you are attending !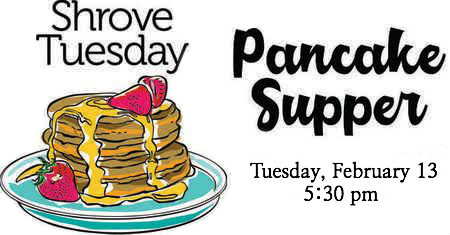 Ash Wednesday Services
February 14th, 12:00 noon and 7:00 pm
Bishop Search Events - Saturday!
Listening Event -

February 10th
- Church of the Incarnation
This year, in place of the annual Congregational Leadership Conferences, the Bishop's Search Committee has set up times to hear publicly from people in the Diocese. Called Listening Events, these

Saturday

gatherings will be held at four locations and are open to all in our diocesan community. You are also welcome to attend more than one of these events. The discussions will begin at

9 a.m.

and end at

noon

. Light refreshments will be served. There is no cost to attend the Listening Events, but registration is required so the Search Committee can plan appropriately.
The format will be round-table discussions based on a set of predetermined questions. The responses to these questions will inform the writing of the diocesan profile. There will be opportunities for lay and clergy attendees to discuss with each other and separately the gifts, strengths and challenges in our diocese. Attendees will also discuss their ideas about what we need to look for in our next bishop. The Search Committee wants to hear what you have to say!
Laguna High e-Gallery
St. Stephen's helps to support this vital art program at Laguna High School, where students can express themselves through their art work. Thanks to St. Stephen's for the art supplies that make this enriched program possible.

Here are some student works from a painting project, possibly for a future show!.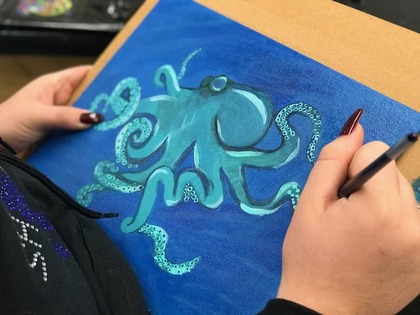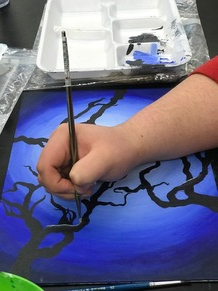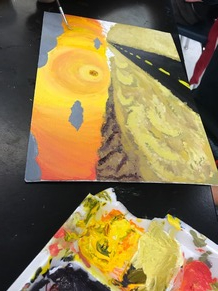 Book Club P
resents Check to Living Room


St. Stephen's Book & Brunch Club members Sally Lee
, Cecile Lusby and Kathy Fong, together with Sebastopol's Mr. Music Jim Corbett, present a $1,000 check to Living Room Executive Director Cheryl Parkinson and server Deborah Phillips. The funds were donated during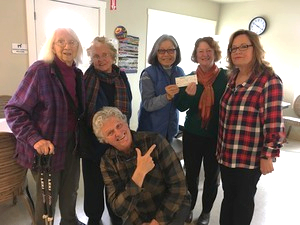 the Sebastopol Women's March on January 20th that was spurred by the Book Club Members and manifested in collaboration with Jim Corbett's Mr. Music Foundation and Peacetown. Over $2,000 was donated to cover the costs of the use of the city square, permits, insurance, porta potties, and honorariums for musicians; and $500 was set aside for next year's march expenses. The balance to Incarnation's The Living Room will provide support services

to homeless women through grants of clothing and other necessities.
Announcements
Annual Meeting --Save the Date!
Our Annual Meeting will be Sunday, February 25th during coffee hour. All are welcome. Coffee hour will be a potluck. Please bring a dish to share!

Church Yoga Practice will be offered in the St. Stephen's Sanctuary, weekly on Thursdays (except 3rd Thursday) from 5:30 - 6:30PM by Jean Farmer. Through the practice of meditation, chant and asanas (postures) we are able to quiet the mind a bit and increase flexibility and balance. This is a beginning class that is open to all levels of experience. Free will offering.

We can Stop the Violence
Basics of Self Defense & Assertiveness Training for all fitness levels~
When: Sunday February 25th @ 1:00PM
Where: Meets at Segal's ATA, 1416 Sonoma Ave., SR
What: A very safe and supportive envirronment
Open to all members of the community. Space is limited~ No cost~ to sign up email santarosaknox@gmail.com

Saturday Table - Winter Assistance - The wet and cold weather has arrived. We are collecting woolen socks, small tarps, and ponchos as well as toiletries such as individual shampoo, toothpaste and toothbrushes to assist our Saturday Table guests during the winter months. Please leave any items in the box in the Parish Hall marked Saturday Table.

Book & Brunch Club - The February selection for the Book And Brunch Club is Viet Thanh Nguyen's The Sympathizer. The meeting will be Thursday, February 22, from 11 am to 1 pm in the Parish Hall.