Grape Creek Project Gets National Recognition for Conservation Success
By Lisa DeBruyckere, CFPF Coordinator and Mary Ann King, Trout Unlimited

The National Fish Habitat Partnership (NFHP) recently announced that a remarkable project on Grape Creek, in the heart of California's Wine Country, to restore and protect habitat for steelhead trout and endangered Coho salmon, has been designated one of 10 "Waters to Watch" for 2013.

Waters to Watch recognizes rivers, creeks, lakes, estuaries and entire watersheds across the country where strategic conservation efforts have yielded significant habitat conservation gains.

The Grape Creek project, conceived and implemented by a partnership of landowners, resource agencies, non-profit conservation groups, private foundations and wine industry representatives, has improved streamflows for salmon and steelhead while ensuring that vineyards have the resourcesto protect wine grapes from frost.

Coho salmon along California's Central coast have experienced a significant decline in population during the past few decades, and are now an endangered species. Steelhead trout populations have also declined dramatically in this region. The primary factors in the decline of these species are loss of habitat, barriers to fish passage, and degradation of water quality.

During cold periods in winter and spring, grape growers often spray a mist of water on their vines to prevent freeze damage to their crop. The mist itself freezes and insulates the shoots. Although this is an effective way of saving grape vines, it also removes much needed water from the creek during critical times for salmon and steelhead, which swim upstream to spawn in winter and spring.

Grape Creek, a tributary to both Dry Creek and the Russian River, began addressing its fish and water use issues in 2008 in response to declines of both fish and streamflows throughout the watershed. With landowner approval and support, monitoring equipment was installed in critical reaches along the creek, and partners worked with landowners to identify their water needs. One of the solutions - install off channel ponds that fill with water during the winter rainy season as well as fans over vineyards that circulate warmer air onto the vines.

"Grape Creek serves as a working model of how a neighborhood can come together to restore, reconnect and sustain wild salmon, steelhead and their watersheds," says Mary Ann King of Trout Unlimited. "Through their commitment and leadership, and with a lot of help from sound science, we've been able to develop solutions that address water and streamflow issues and produce major benefits for fish and water users. In California, that's no small feat."

These off channel ponds and fans, constructed with funding from partner organizations and landowners, have increased the amount of water and fish presence in the creek and reliability for water users.

Surveys of Grape Creek by UC Cooperative Extension/California Sea Grant have found adult and juvenile salmon, confirming that fish rely on the system for all stages of their development.

Grape Creek has met with so much project success that it has created a ripple effect, not only in Sonoma County Wine Country, but in other California coastal watersheds. Similar approaches are currently underway in other watersheds in coastal California, including the Mattole River in Humboldt County, select Russian River tributaries in Sonoma County, Pescadero and San Gregorio creeks in San Mateo County, Little Arthur Creek in Santa Clara County, and Chorro Creek in San Luis Obispo County. Grape Creek and several other streams in the Russian River Valley are garnering attention in other places.

The Russian River watershed has been selected as the National Oceanic and Atmospheric Administration's (NOAA) first Habitat Focus Area as part of the agency-wide Habitat Blueprint effort. Habitat Focus Areas are places where NOAA anticipates pooling its resources and expertise to maximize the conservation of important habitat. In addition, the National Fish and Wildlife Foundation (NFWF) issued its Keystone Initiatives Business Plan for the Russian River watershed in 2009 as one of their 8 fish conservation priorities in the nation. The underlying hypothesis of the initiative is that water for both human and coho salmon can be secured through careful planning and water supply management.

The California Fish Passage Forum, one of 18 nationally recognized fish habitat partnerships, is a consortium of agencies and nonprofit organizations dedicated to protecting and restoring anadromous fish and other aquatic organisms in California by promoting collaboration among public and private sectors for fish passage improvement projects and programs. The Forum helped fund innovative projects with Trout Unlimited and local grape growers and landowners who wanted to help return coho salmon and steelhead to the Russian River and Grape Creek.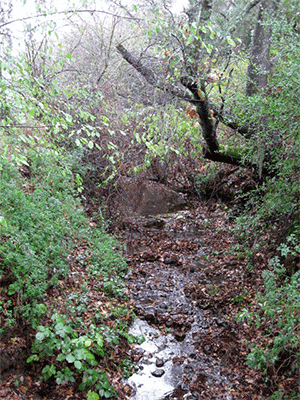 "The efforts to restore fish and their habitats in Grape Creek, the Russian River and other coastal watersheds in California shows how a diverse set of partners can come together to tackle complex problems," said California Fish Passage Forum Coordinator Lisa DeBruyckere.

"The unique collaboration of funding, management and research has fostered an innovative and holistic approach to recovering species, restoring habitats and better balancing the ongoing needs of people and the watersheds they live and work in."
Photo: Grape Creek.
Photo credit: Trout Unlimited.

Enhancing Fish Passage and Habitat
on the Cape Fear River
by
Lindsay Gardner
, SARP
For decades, the upstream migration of fish such as striped bass, American shad, river herring and sturgeon to the places where they spawn (lay eggs) every spring has been impeded by dams and other blockages on the Cape Fear River, once one of the most productive rivers for American shad in North Carolina. Commercial landings are currently 87% below historical estimates due in part to these same stressors, as well as overfishing, pollution, and habitat degradation and loss. The recently released
Cape Fear River Basin Action Plan
, a blueprint for restoring fish access and improving habitat and water quality in North Carolina's largest watershed, is seeking to change this. Developed in 2012 by the
Cape Fear River Partnership
, a coalition of state and federal natural resource agencies, academic entities and private and non-governmental organizations, the Action Plan is putting on the ground restoration and conservation measures in place and improving habitat conditions to ensure the recovery and sustainability of migratory fish populations. It will also assess the community and economic benefits of migratory fish populations on tourism, recreation, fishing and other commercial uses.
A rock arch ramp fishway at Lock and Dam #1 near Riegelwood in Bladen County is expected to improve passage of striped bass, American shad, river herring and sturgeon, to help them reach historic spawning grounds during their spring migrations. The completion of this fishway is the first step in restoring access to historic migratory fish habitat and is expected to achieve a fish passage rate of about 80 percent. Additional work remains to provide fish passage beyond two additional existing lock and dam structures on the river in Bladen County so fish will have unimpeded access to historical spawning grounds located at Smiley Falls near Erwin in Harnett County. Passage at these additional lock and dams is a critical step to restoring migratory fish habitat and a top priority of the Action Plan.
Partners are also addressing other issues affecting fish habitat and recreational use on the Cape Fear River. In 2013, the
Southeast Aquatic Resources Partnership
(SARP) awarded funding through its
NOAA Community-based Restoration Program
(CRP) to
Cape Fear River Watch
(CFRW) and partners, including Dial Cordy and Associates, Inc., to restore fish spawning habitat by placing approximately 1,000 tons of crushed granite in the Cape Fear River below Lock & Dam #2. This project will provide additional spawning habitat for American shad, striped bass, sturgeon and river herring.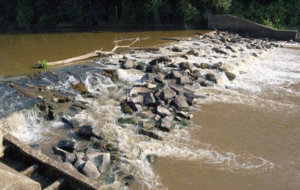 Cape Fear River at Lock & Dam #2.
Photo credit: Mike Wicker, USFWS – NC Coastal Program.
The Cape Fear River was also jointly nominated by SARP and the Atlantic Coastal Fish Habitat Partnership as one of 10 nationally recognized "
10 Waters to Watch
". Kemp Burdette of Cape Fear River Watch emphasizes the value of the river and enhanced fish passage. "If we could enhance this fish passage," he said, "we could be a world-class fishery destination for striped bass, American shad and whatever else wants to migrate up here."
Read the final version of the "
Cape Fear River Basin Action Plan for Migratory Fish
" or visit the
Cape Fear River Partnership
page for more information.
---

ACFHP Endorses
Two Proposed Projects
by Emily Greene

The Atlantic Coastal Fish Habitat Partnership (ACFHP) recently endorsed two project proposals: Restore It and They Will Come: River Herring in the West River (Connecticut) and North River Farms Tidal Marsh Restoration, Final Phase (North Carolina). If funded, these projects would provide benefits to ACFHP priority habitat and address ACFHP protection and restoration objectives.

Restore It and They Will Come:
River Herring in the West River (Connecticut)
A partnership between the Connecticut Department of Environmental Protection, the New Haven Land Trust, and the Connecticut Fund for the Environment/Save the Sound, the proposed project seeks to remove the Pond Lily Dam, restoring upstream habitat and providing benefits for river herring, as well as American eel.

The Pond Lily Dam is a physical barrier limiting the recovery and sustainability of river herring on the West River in New Haven, Connecticut, which is in the Long Island Sound watershed. The proposed project would expand riverine migratory corridor habitat and spawning grounds for river herring - specifically, 2.6 miles of the West River and 76 acres of Konold's Pond - helping to restore their numbers in Long Island Sound and the Atlantic. Removing the dam will also increase velocities in the historic impoundment and decrease water temperature, thereby increasing oxygen levels. It will restore the river to a more natural condition, improve upstream water quality, and enhance the riparian habitat.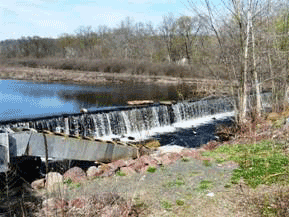 Photo: Pond Lily Dam.
Text and photo provided by the Connecticut Fund for the Environment/Save the Sound.
-----------------------
North River Farms Tidal Marsh Restoration (North Carolina)
A diverse partnership between the Natural Resources Conservation Service, the North Carolina Department of Natural Resources, the North Carolina Coastal Federation, North Carolina State University, Duke University, and a local hunting club, the proposed project seeks to create seven acres of salt marsh and 2,500 feet of tidal creek in Carteret County, North Carolina.

The proposed work is part of a larger restoration project, which involves removing farm land from cultivation and placing it under perpetual conservation easement, and restoring hydrology and habitat. Removing the area from farming will rehydrate the soils and connect the tidal creek and marsh to the original shorelines of Williston Creek and North River. Restoring the hydrology on the farm removes the main source of bacterial contamination, nutrients and sedimentation from historically rich shellfishing beds and creates vital estuarine habitat. The proposed habitat restoration would improve water quality in Williston Creek and the North River by eliminating agricultural drainage into the waters and treating a portion of the agricultural drainage from an adjoining farm.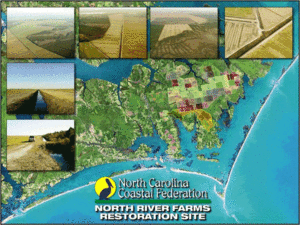 Image: North River Farms Restoration Site.
Text and photo provided by the NC Coastal Federation.

---

Great Land Trust and the Mat-Su Basin Salmon Habitat Partnership Celebrate the Conservation of over 6,000 acres of Coastal Habitat in Upper Knik Arm, Mat-Su Borough, Alaska
Since 2002, as an active member of the Mat-Su Basin Salmon Habitat Partnership, Great Land Trust (GLT) has concentrated much of its conservation efforts on coastal wetlands and estuarine habitats within Upper Knik Arm. This strategic effort has been guided by the 2008 Mat-Su Salmon Partnership Strategic Action Plan. As a result of our focused efforts, GLT and Mat-Su Salmon Partnership partners including the U.S. Fish and Wildlife Service, Alaska Department of Fish and Game, Environmental Protection Agency, National Oceanic and Atmospheric Administration, the Mat-Su Borough, The Conservation Fund, The Nature Conservancy, Pacific Coast Joint Venture, and many others have helped to permanently conserve 8 of the 19 undeveloped estuaries in Upper Knik Arm totaling over 6,000 acres of coastal habitat important for all five species of pacific salmon, Beluga whale, and migratory birds. Conserving estuarine and nearshore habitat is one of GLT's (and the partnership's) top priorities because of their essential importance to salmon.

Click here for a copy of the full article, including the two projects shown below:



Historic O'Brien Creek Estuary
Conservation Easement 2013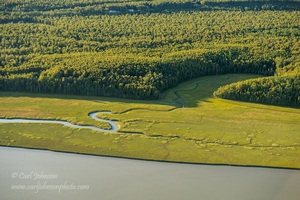 O'Brien Creek Estuary. Photo credit: Carl Johnson.
Fire Creek and Eklutna River Estuary
Conservation Easement 2012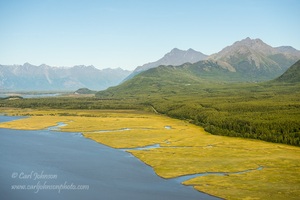 Eklutna River Estuary. Photo credit: Carl Johnson
---
The National Fish Habitat Action Plan
The mission of the National Fish Habitat Action Plan is to protect, restore and enhance the nation's fish and aquatic communities through partnerships.

This mission is achieved by supporting 18 fish habitat partnerships (FHP), mobilizing support, setting goals and measuring progress, and conducting outreach on the importance of fish habitats to our economy, natural resources, and quality of life.

A total of eight FHPs are focused on coastal fish habitat issues. These partnerships include:

---
"Up to 80 percent of the fish that we catch spend at least part of their lives in estuaries."
~ Jim Gerlach