Trash to Treasure:
South Carolina Oysters Thrive on Abandoned Crab Traps
by Lindsay Gardner (SARP) and Dr. Peter Kingsley-Smith (SCDNR)
Abandoned crab traps are a prevalent form of marine debris on South Carolina and other states' scenic coastal shorelines, detracting from their natural beauty and posing an ecological threat to marine and estuarine wildlife.

In 2009, researchers with the South Carolina Department of Natural Resources (SCDNR), led by Associate Marine Scientist, Dr. Peter Kingsley-Smith, developed a project to revitalize abandoned and unwanted crab traps to create oyster reef habitat. With funding from the SARP/NOAA Community-based Restoration Program (CRP), SCDNR gathered information on the abundance and distribution of abandoned crab traps in South Carolina coastal waters.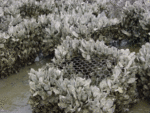 Researchers posted flyers to:
1) inform the public about impacts of abandoned crab traps on the environment; 2) raise awareness about the project;
3) recruit survey participants; and
4) obtain unwanted traps.
A total of 755 crab traps have been collected, with many of these traps having already been used as oyster reef substrate as part of this SARP/NOAA grant and a concurrent State Wildlife Grant-funded project.

By the end of the SARP/NOAA project in December 2012, 285 revitalized crab traps had been deployed as substrate by SCDNR staff to support oyster reef development.

The success of this project in terms of its provision of habitat to a variety of fish, crustaceans and mollusks, confirmed the value of "one man's trash" (abandoned crab traps) as an economical and innovative tool to support oyster reefs and the creation of essential fish habitat. To learn more about the "CONSTRUCT - Creating Oyster Niche Structures Through Restoration Using Crab Traps" project and ongoing work, contact Dr. Peter Kingsley-Smith at 843-953-9840.
NOAA's Office of Habitat Conservation

For information about specific projects, contact the SARP/NOAA Community-based Restoration Program Administrator, Lindsay Gardner at 615-730-8178.
---
PMEP Funds 2013 10 Waters to Watch
Bear River Estuary in Washington
by Lisa DeBruyckere
The Pacific Marine and Estuarine Fish Habitat Partnership nominated, and NFHP selected, Bear River Estuary, part of Willapa Bay National Wildlife Refuge, as a 2013 10 Waters to Watch. In addition, the PMEP is providing financial support to the project in 2013 with NFHP/USFWS funding.
The restoration project will restore 500 acres of high quality estuarine habitat in southern Willapa Bay, benefitting numerous estuarine-dependent species, and supporting local watershed restoration, salmon recovery, and waterfowl management efforts.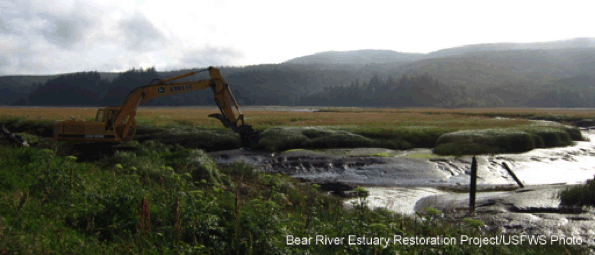 Restoration and enhancement of estuarine habitats will increase the acreage of salt marsh and other habitats, including the tidal creeks, eelgrass beds and channels that furnish young salmon (coho, chum, Chinook and cutthroat trout), with protected feeding areas where they forage and grow before heading out to sea. Lewis and Porter Point streams also provide spawning habitat for cutthroat trout and coho.

Migratory waterfowl, waterbirds, and shorebirds will benefit from the increase in tidal marsh and mudflat habitat. Estuarine areas on the Refuge have annually provided important habitat for over 20,000 migrating ducks, tens of thousands of shorebirds, and 3,000 migrating geese at a time. This type of habitat is essential to sustaining the estimated 2.2 million duck, 400,000 Canada goose, 200,000 brant, and over 2 million shorebird use-days associated with the southern half of Willapa Bay (USFWS 1997).

Check out the PMEP website for more information on this and other projects.