IBC Recognizes Top Independent Distributors and Preferred Suppliers at Its National Meeting in Chicago
The theme of this year's meeting, Play to Win, reaffirmed IBC's commitment to providing its Independent Distributors and Preferred Suppliers with new opportunities for engagement and sales growth.






FOR IMMEDIATE RELEASE
October 14, 2015
East Granby, CT – IBC hosted its annual National Meeting September 26-28, 2015 at the Sheraton Chicago O'Hare Airport Hotel in Rosemont, Ill., for stakeholders in its industrial sales and marketing group. IBC Preferred Suppliers and Independent Distributors from across the country met to make new connections, strengthen existing business relationships, and share best practices for growing their businesses.

Each year during the three-day event, IBC recognizes distributors and suppliers who best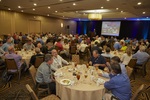 represent the dedication, quality, and standards of excellence that customers have come to expect from members of IBC's sales and marketing group. At the annual Awards & Recognition Luncheon on Sunday, September 27th, IBC honored the following distributors and suppliers for going above and beyond to demonstrate growth and engagement with the IBC network:
2015 Supplier of the Year:Brighton-Best International, Inc (Long Beach, CA); this award recipient is determined by their accumulation of points through the IBC Rewards Program.

2015 Supplier of the Year as Voted by IBC Distributors:North American Tool (South Beloit, IL)

2015 Distributor of the Year:Haggard & Stocking (Indianapolis, IN); this award recipient is determined by their accumulation of points through the IBC Rewards Program.

2015 Distributor of the Year as Voted by IBC Preferred Suppliers: Haggard & Stocking (Indianapolis, IN)

2015 Preferred Supplier Marketing Excellence Award: JPW Industries, Inc. (LaVergne, TN)

2015 ISA Golden Eagle Recognition Award (Suppliers): Jim Carey, Insize USA (Las Vegas, NV)

2015 ISA Golden Eagle Recognition Award (Distributors): Bill Winn, Advanced Industrial Supply (Pocatello, ID)

2015 SAMMY for Support of National Accounts Programs: Jim Fitzgerald, McAuliffe's Industrial (Marysville, OH) for outstanding Independent Distributor contributions in support of IBC's National Accounts Program.

2015 SAMMY for Support of National Accounts Programs: American Hydrostatics, Drew Parikh (Sterling Heights, MI) for outstanding Preferred Supplier contributions in support of IBC's National Accounts Program.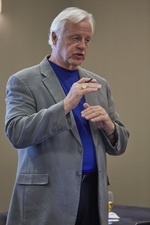 At an invitational event, Distribution Sales Management Expert Dave Kahle kicked off the 2015 IBC National Meeting by leading a sales management seminar. The Kahle Way Seminar gave distributor member attendees valuable strategies for ramping up a sales management program in today's competitive business environment.



Following the seminar, Steve McClatchy, New York Times Bestseller of the book Decide: work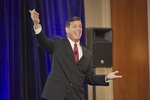 smarter, reduce your stress, and lead by example, delivered a stimulating keynote on the different motivations for self-improvement, leadership vs. management, and time management. The keynote aligned with IBC's overall message of advancing business relationships within the sales and marketing group by placing priority on tasks that help you grow to meet personal and professional goals.

At the event, IBC also introduced enhancements to its rewards program, designed to help members successfully grow market share in today's competitive environment. Ron Nuñez, IBC's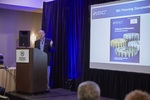 President and COO, extends a special "thank you" to everyone who joined IBC in Rosemont for the organization's 2015 National Meeting, and said the feedback from the event has been outstanding. "The Rewards Program that was launched earlier this year is designed to increase overall engagement between distributors and suppliers. This new program has not only produced more engagement—which was very evident at this year's show—it naturally created targeted discussions with our Platinum and Gold stakeholders, thus creating a whole new level of strategic engagement," said Nuñez.

Shannon Filippelli, IBC's Director of Marketing, introduced and demonstrated the new IBC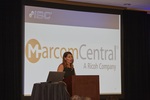 Marketing Resource Center due to launch in Q'1 2016. "The new IBC Marketing Resource Center was incredibly well received by both our Independent Distributor and Preferred Supplier members. This marketing tool, embraced by Fortune 100 companies, will allow our distributor members to become a marketing powerhouse overnight – and provides our Preferred Supplier members with greater visibility in front of end user customers," said Filippelli.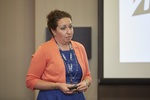 IBC also rolled out program updates for IBC University, the free online training resource for IBC distributor members. "The interest and engagement in IBC University – from both distributors and suppliers has exceeded our expectations," said Carrie DeFelice, IBC's Director of Operations. "A promotion to develop education courses for free in IBC University provides our Preferred Suppliers with an opportunity to get on board with a minimal investment. With over 850 course commitments from IBC distributors, we are eager to help our suppliers get their educational material online."

In addition, IBC rounded out the event with one-on-one meetings, distributor network groups, a distributor booth forum and many opportunities to cultivate business. Preferred Suppliers and Independent Distributors alike achieved notable results as an outcome to their meetings. "IBC was able to open doors for us that we couldn't open for ourselves because of their match making ability," said Tim Nelson, Business Development Manager, Aven. As a result of the 2014 IBC National Meeting, Aven established a relationship with Indianapolis-based IBC Distributor, Haggard & Stocking. Nelson went on to say, "IBC was able to make that connection for us and since then, our sales have skyrocketed." Aven and Haggard & Stocking met again at the 2015 National meeting to discuss plans for future growth.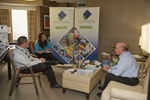 Derek DalPiaz, Director of Channel Development, ORS Nasco, praised the effectiveness of the round robin meetings at the event: "There are a lot of new members to the group, so there are a lot of them that will benefit from what we [ORS Nasco] do. I had a lot of great conversations about that. There's one in particular that we'll be doing a lot of business with."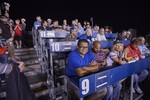 The Sunday evening social event, a mainstay of the National Meeting, took place in Wrigleyville at Beyond the Ivy. To the delight of the attendees, they saw the Chicago Cubs take on the Pittsburg Pirates at home. Enjoying the spectacular view from the rooftop restaurant and bar, guests were able to eat, drink, socialize and enjoy the game—a bucket list item for many involved.

IBC is a dynamic national buying and marketing group for Independent Distributors and manufacturers of industrial, construction, and manufacturing supplies. IBC supports its well-coordinated network with powerful supply chain management technology that produces long-term growth and increased profitability for all our stakeholders. Its network includes over 550 branch locations throughout North America and in parts of Canada and Mexico. Many of these Independent Distributors are family-owned and operated businesses that have spent generations mastering their craft. They reflect the spirit of American entrepreneurism, independence, and a determination to be best in class.

# # #