You are receiving this Newsletter because you have attended Template ceremonies, bought books, DVDs, CDs, sacred geometry or have expressed interest in our work.
Please mark as Safe to receive occasional Template news.
Click to view this email in a browser
NEWSLETTER MARCH 2017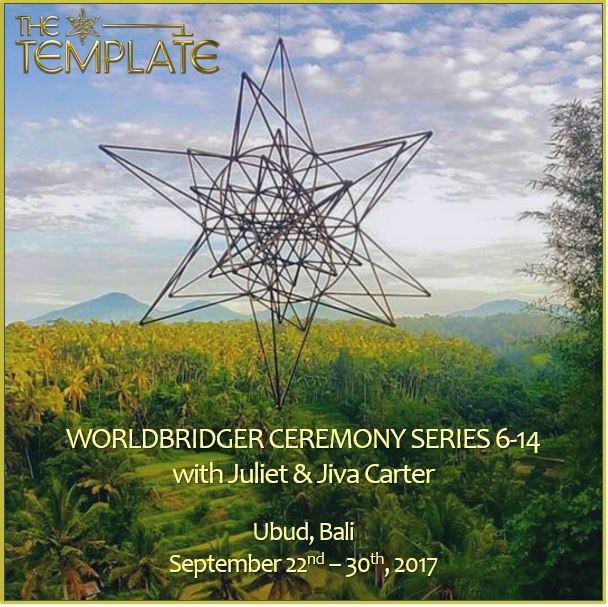 "This is the hardest time to live, but it is also the greatest honor to be alive now, and to be allowed to see this time. There is no other time like now. We should be thankful, for creation did not make weak spirits to live during this time. The old ones say, 'this is the time when the strongest spirits will live through and those who are empty shells, those who have lost the connection, will not survive.' We have become masters of survival - we will survive - it is our prophecy to do so."

We did not come here to suffer the apocalypse: we came to embody the solution. Our spirits strong, we can courageously witness the global deterioration of all governing systems and understand that the destruction adheres to a pattern of an ever-escalating corruption that is consistent with systemic failure. A true space-time reality is embraced within the symbiosis of an ever escalating expansion of complexity. Knowing the distortion is a programmed cycle of degeneration embedded in the matrix, we cease wishing for something better and seize the extraordinary opportunities disguised as loss.

We honor ourselves and our choice to enter this time line, celebrating the deterioration, the decay, as the milestone on the path towards liberation. No longer disempowered by an overwhelming sense of disappointment with a world that doesn't live up to our ideals, we identify our transcendent selves beyond that shallow dream that was never truly ours but fashioned for mortals in a mutant paradigm.

When you open your eyes to the past you can understand the present. You cease to be overwhelmed by the domestic level at which your problems are occurring and see your way to creating a future. To acknowledge the shadow is essential, to allow it to determine your identity and the perimeters of your abilities and the extent of your power is to exist between hope and despair. Let go of them both. There is no other time like now - this is the best time to be here. There has never been a better time to access the portals.

Two questions, when answered, make the labyrinth of the present global insanity easier to navigate. Much of our lives have been built upon a foundation of trust for systems of belief that are being revealed to be fabrications put in place to stop you asking these questions. With every challenge that arises ask yourself...

Who am I? Why am I here?

Each code within each Template Ceremony is designed to create the arena in which you can formulate and answer these questions for yourself.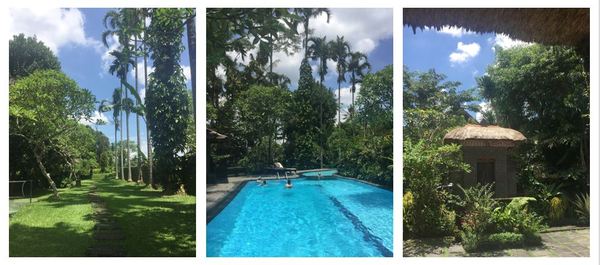 This year the Template Ceremonies are being held in a new venue in Ubud, Bali. It is not far from Melati, where we held Ceremonies last year. The same amenities are easily available plus quite a few more as the venue is in Champuan. There are rooms and cottages available in the area - however, the Ceremony hall is on the grounds of a beautiful hotel with many acres of land to enjoy space, silence and peace in which to unwind and integrate. The rooms are of a high standard and offer the opportunity to spend time with other attendees... or not. This year you may want to consider the benefits of immersing yourself in the Ceremony frequency field for the duration of the course. If so, this place is ideal.
BALI 2017 BOOKING DETAILS
We are glad to annouce the details and the beghinning of official registration for Worldbridger ceremonies 6-14 in Bali, 2017!
TIME & DATE
Friday 22nd September: C6
Saturday 23rd September: C7
Sunday 24th September: C8
Monday 25th September: C9
Tuesday 26th September : C10
Wednesday 27th September: C11
Thursday 28th September: C12
Friday 29th September: C13
Saturday 30th September: C14 [ not confirmed ]



Should the 14th Code be available that Ceremony will take place on the 30th, otherwise that day will be much needed as a period of integration. If you are bookings flights keep in mind the need for extra time in which to integrate... and also to take advantage of the many ways to enjoy this stunning Island.

VENUE
The venue is in the beautiful and extensive grounds of
Ananda Cottages Hotel (

Jl. Campuhan, Ubud)

. The price of a double occupancy room will be 800.000 rupies including breakfast that's approximately [ at todays exchange rate ] $50 USD.
To stay on site please book accomodation through Kadek to receive the Template discount:
dek_wlt@yahoo.com
COST
Each first time ceremony is $

100 USD, repeat FREE!


For this event only, to encourage you to come early, unwind and slip into the rhythm of Ceremony, there will be no charge to repeat Ceremonies.
REGISTRATION
We have a list of participants who have emailed to reserve a space. We invite you to register via deposit now through the
Book and Pay
link.

Make your payments as soon as possible to guarantee your place. After you make your ceremonies and dates choice and click "Send your booking" button, you will be redirected to PayPal payment terminal which will offer you to pay with your PayPal account OR with a card via "Check Out as a Guest" option.
ELIGIBILITY & NEXT CEREMONY 1-5 OPPORTUNITIES
Ceremonies must be done in sequence. To participate you must have done C1-C5(6) previously with an Ambassador. If you have not yet completed ceremonies 1-5 but intend to do so before C6-14, contact your ambassador now to book with them. You will be prompted to fill in the details of Ambassador's name (location and dates) of ceremonies you will do before C6 -14 when you use the
Book and Pay
link.
AUSTRALIA
w/Lorna & Joshua Lafew
Cairns, QLD: April 29-May 2, 2017 (C1-5)
Cairns, QLD: June 24-27, 2017 (C1-5)
Cairns, QLD: August 18-22, 2017 (C1-5)

USA
w/Margo Brooks
Oakland, CA: April 22-23, 2017 (C4-6)
Mount Shasta, CA: May 4-8, 2017 (C1-6)

UK
w/Jennifer Carmen
North London: March 25-26, 2017 (C1-3)
North London: April 13-17, 2017 (C1-6)
North London: June 10-11, 2017 (C1-3)
North London: July 14-16, 2017 (C4-6)
North London: August 9-13, 2017 (C1-6)

w/Claudie Planche
Glastonbury: April 13-17, 2017 (C1-6)
Glastonbury: July 27-31, 2017 (C1-6)
Glastonbury: August 18-20, 2017 (C1-4)
Click for more details for the ceremonies 1-6 around the world