SCHS Newsletter April 23, 2017
Dear BOBCAT Nation,

Mark your calendars with several unique bell schedules taking place in May! These modifications were to made to facilitate the Smarter Balanced Assessments(SBA's) that will be taken by only 11th grade students in English and Mathematics.

Following are the three distinct changes to our regular bell schedules.

Monday, May 15, & Tuesday, May 16: Only 11th grade students report at 7:30 a.m. to their Advisory Class and test until 9:50 a.m. Students in grades 9, 10, and 12 begin the school day at 10:00 a.m. and all students conclude at 2:30 p.m.

Monday, May 22, & Tuesday, May 23: All students report at 7:30 a.m. to their Advisory Class and school ends at 2:30 p.m. Students in grades 9, 10, and 12 will participate in Advisory specific activities.

Wednesday, May 31: There will be no Late Start Wednesday, so school will begin at 7:30 a.m. and end at 2:30 p.m.
Sincerely,

Principal, Sage Creek High School
Volunteers Needed: Thur-Fri 4/27 & 4/28
Parent volunteers are needed to assist with the preparation and execution of the Staff Appreciation Event for all Sage Creek HS Teachers and Staff. The PTSA-sponsored event is to thank the staff for all the do to help our students. The event includes food, beverages, and relaxing spa-like services for our staff.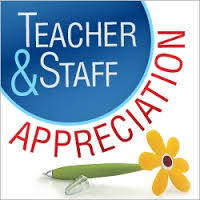 WHERE: SCHS Cafeteria

WHEN:
Thursday, April 27: volunteers from 3:00 - 5:00 pm for preparation.
Friday, April 28: volunteers from 8:00 am - noon for preparation.
Friday, April 28th volunteers from 2:00 pm - 6:00 pm for the event.
(You can volunteer for part of the time too!)
Please click on the Staff Appreciation Volunteer Link to sign up to volunteer for this event and view the specific shift needs.

Please contact Mrs. Eddie Buscher with questions: ebuscher@roadrunner.com
PTSA General Mtg &

Financial Aid Nite

4/26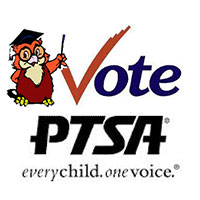 One night for 2 great events: SCHS PTSA General Association Meeting & Financial Aid Night (see Flyer)

Wed., April 26, 2017
6:00-7:30 PM
in SCHS Cafeteria
The Bobcat community is encouraged to attend this brief 4/26 meeting and vote for your 2017-2018 Executive Board Officers (view list of nominees).


Then after the PTSA Meeting, during a special presentation on Financial Aid for College presented by the HEFAR Group, parents can learn important changes to the college financial aid process and how you can maximize your student's opportunities for financial aid!
For complete details go to: sagecreekhs.carlsbadusd.net/PTSA
Genius Project Symposium May 18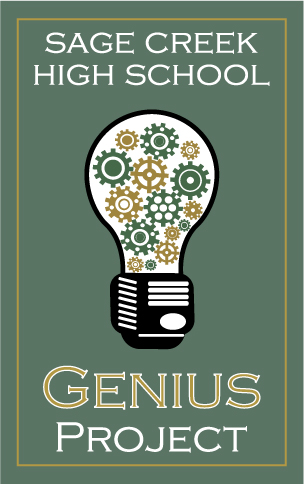 SAVE THE DATE!


SCHS Genius Project Symposium
May 18, 2017
from 6:30-9:00 p.m.
SCHS BOBCAT Arena

What is the Event?
At this exciting symposium, 8 Bobcat Seniors will present their Genius Project TED Talks in a TED-Style Conference.
Speakers will be given cash awards.
Ten-fifteen seniors will be awarded prizes for their project/talk.
Enjoy desserts & drinks
Audience can win opportunity drawings!
*Go to sagecreekhs.carlsbadusd.net/geniusproject for more info.
AP Exam Important Info
Click here to see where to report for each AP subject test and test date.

Click here for directions and parking information to Del Mar Fairground for students who are providing their own transportation.
Special Bell Schedules
May 15, 16, 22, 23, 31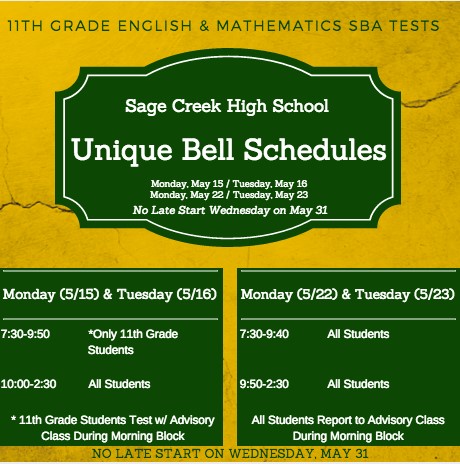 Celebrate Carlsbad Day @ Legoland 4/29
Join Principal Morales and Bobby the Bobcat at LEGOLAND® California on April 29 for only $30! Enjoy the high-energy performances and participate in the Miniland Celebrate Carlsbad Day™ Scavenger Hunt for your chance to win a tour of the Model Shop with three friends and many more prizes! Purchase tickets at www.CarlsbadEd.org! Make sure to purchase your tickets before 5 p.m. on April 28.
CEF College Scholarship
The Carlsbad Educational Foundation (CEF) is awarding a total of eight $1,000 scholarships to seniors from both Carlsbad and Sage Creek High Schools.
CEF scholarships are intended to encourage students to pursue careers in the fields of STEM, Music, or Innovation. Two of the scholarships, sponsored by ViaSat, will be awarded specifically to students who have participated in Science Olympiad.
Application deadline is April 28. Application may be found at
www.CarlsbadEd.org/scholarships
CEF High School Summer Adademy
Earn Advanced credit and enjoy your Summer!
CEF High School Summer Academy for grades 9-12!
June 19-July 27
- Summer courses equivalent to a full school year
- Enrollment is limited register today
- Taught by credentialed teachers & WASC Accredited
- NEW this year: In-Class and Online Curriculum
View CEF Summer School Flyer for more Info
Join SCBobcats on Social Media