18: Band-Orchestra Concert

20: Winter Break Begins

5: Classes Resume

9: Frosted Formal Dance

13: Sage Creek Showcase
for 8th Gr Families

15: PTSA General Assembly Meeting 6 PM

15: Business & Marketing
Career Panel 6 PM

19: No School

23: No School
1st Trimester
2nd Trimester
3rd Trimester
SageCreekPTSA@ gmail.com

Volunteer
J. Cesar Morales, Principal
Bill Lord, Asst. Principal
Eddie Buscher, PTSA Pres.

Staff Directory

School Loop Website

Mission of SCHS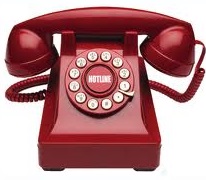 Attendance Hotline
760-331-6670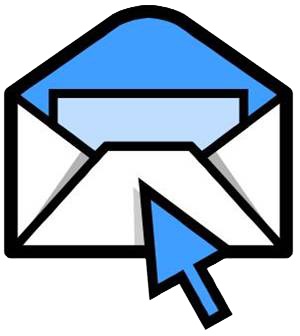 Register additonal email addresses for eBlast newsletter
Click links below before you start shopping & SCHS gets credit:
Superintendent Message

CUSD Website


Dear BOBCAT Nation,

Our staff takes great ownership in ensuring that students are safe on our campus and it is for this reason that we review and practice emergency response drills. This week, staff and students reviewed what Shelter In Place is and how to respond if our campus ever needs to deploy this measure. Additionally, students practiced our new evacuation line up in case we ever need to respond to an on campus emergency that would cause us to gather our students on the athletic field.

Shelter In Place

Shelter in Place calls for students to remain indoors and allows staff and students to move freely within a classroom or enclosed building. This campus status would be activated in a variety of emergency response scenarios: an emergency response scenario near the campus (aircraft crash), a fleeing suspect in the vicinity, an external chemical release or hazardous material spill near campus, and among other situations, an off-site fire.

Organizing During an Emergency Response

Effective today, students will report to their Advisory Teachers in the case of an on-site evacuation to the athletic field or a situation in which all students are taking Shelter in Place in the BOBCAT Arena (gym). Each Advisory Teacher has a designated spot on the athletic field and the BOBCAT Arena. Students walked to the location on the athletic field during this week's Advisory Class and have been using the Advisory assigned seats during this year's pep rallies.

The goal of assigning students and staff locations to report to in case of an evacuation or Shelter in Place in the BOBCAT Arena is to provide parents a single reference point should we ever have to facilitate the reunification process as a result of an emergency response situation.

Please be sure to know who your student's Advisory teacher is.

I appreciate your support in helping us ensure that our students are safe,

Sincerely,
Principal
Sage Creek High School
Finding College Funding - Seminar Notes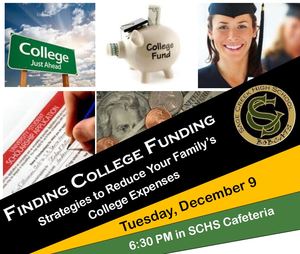 Shop our SCHS Amazon.com Link for the Holidays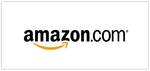 Find great deals and earn money for the Sage Creek PTSA when you shop on Amazon.com through our special portal.

No codes are needed, simply click this unique Amazon.com link for Sage Creek and start shopping!
Frosted Formal - Friday, January 9*

* New date announced by ASB
Sage Creek HS Frosted Formal will be held on Friday, January 9, 2015 from 8-11 PM at Agua Hediona Lagoon's Discovery Center located at 1580 Cannon Road at the corner of Cannon Road and Faraday.
(Please direct questions to ASB.)

Tickets will cost:
Purchase Date
With ASB
Without ASB or guest
Dec 1-5
Dec 8-12
Dec 15-19
Jan 5-9
$20
$25
$30
$35
$35
$40
$45
$50
*Tickets will NOT be available at the door.

Formal attire recommended:
Long Dresses for Ladies & Suits or Tux for Gentlemen

Appetizers and drinks will be available at dance.


Buy Tickets in ASB Student Store Room 1211 or Online:

Dance Agreements Must be Completed with the appropriate signatures for Student (and/or Guest) to Purchase Tickets:
Business & Marketing Career Panel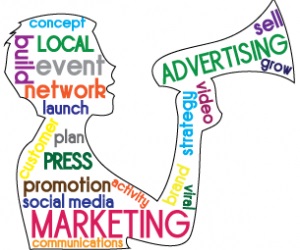 Save the Date: Thursday,
January 15, 2015
Time: 6 PM
Where: SCHS Cafeteria
What: Professionals in the fields of business and marketing will present insider information on careers in their industries.


More information coming soon from the PTSA!
Give Yourself the Gift of a New Thermostat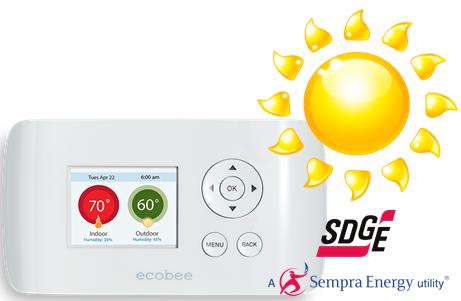 With a special program through SDGE, Bobcat families are eligible for a FREE energy-saving thermostat!
Click here to read more detail
& see if your home qualifies for this great deal that will also give money-back to SCHS PTSA!
Parent

&

Student Volunteers Needed

for

Campus Tours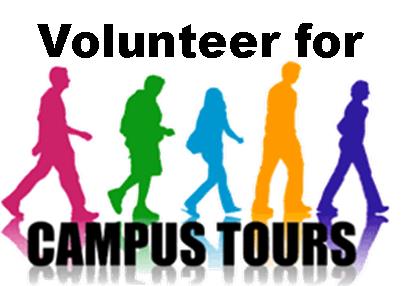 3-5 students and 1-2 parents are needed to join each Campus tour in order to provide our prospective Bobcat families various perspectives about our great school.
►
Click here to sign up as a volunteer
.
The schedule of tour dates is listed below.
Click here
for FAQ about how to sign-up.
Tuesday, Dec 9


Tuesday, Dec16

Thursday, Jan 8
Tuesday, Jan 13
Thursday, Jan 22
Tuesday, Jan 27
Thursday, Jan 29
Volunteer for Jan 9th Frosted Formal
Parent Volunteers are needed for Frosted Formal: Friday, January 9, 2015
Help needed for decorating venue
Volunteers needed at door of dance
Volunteer by emailing Diane <digtrz@roadrunner.com>.