Dear Sage Creek Community,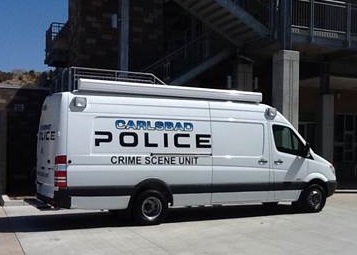 Last week provided a few examples of how we as campus want to stand out from the typical high school experience. Students from our Biomedical Sciences classes had the opportunity to have investigators from the Carlsbad Crime Scene Unit present to the class. The students were given the opportunity check out the Crime Scene Unit vehicle (picture provided), ask questions about crime scenes, and listen to the investigators talk about the science associated with their profession.
Then, during the same day, our great PTSA hosted a career panel focused on medical careers. The event had an audience of over 100 parents and students and was a success because of the great presenters and the coordination on the part of our PTSA!
To round out the Sage Creek experience, students had a great time at our school's first dance. I can truly say that our students know how to have a great time!
I am proud to be a part of the Sage Creek Team and look forward to the many successes that our campus will experience this academic year.
J. César Morales
Principal, Sage Creek High School
---

Reflections Art Contest Entries Due Oct 11
A reminder to our creative Bobcats: The deadline for participating in the PTSA Reflections Art Contest is Friday, October 11 at 3 PM (turn in your work to the SCHS front office).

This year's theme is "Believe, Dream, Inspire." Explore the arts and showcase your creative and artistic talents with several categories:

Dance Choreography • Film Production • Literature •
Music Composition • Photography • Visual Arts
Entry forms and guidelines are available in the SCHS office and at
sagecreekhs.carlsbadusd.net/ptsa
.
All work must be
original.
We'd love to see that amazing Bobcat spirit and have our SCHS students showcase their talents in this national competition. Let's kick-off our inaugural year at SCHS, promoting student creativity!
---
Judges Needed for Reflections Art
Parent and community volunteers are needed to help judge the artwork during the week of October 14-18.
Community service hours will also be available to students that help with the Reflections contest, for more information please contact Laura Panter, PTSA Reflections Chair at
laurapanter99@gmail.com
---
PTSA Membership & Direct Donation Now Available Online!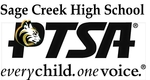 If you haven't had a chance to join the PTSA at Sage Creek, you can now do so easily online, and pay securely via PayPal. Just click the "Join Now" button when you visit us at:
sagecreekhs.carlsbadusd.net/ptsa
.
Your
PTSA membership and donations
help build a strong SCHS Community!
---
Save The Date: Sage Creek High School Dedication Oct 25
Don't miss the Sage Creek High School Dedication ceremony on Friday, October 25 beginning sharply at 9 AM! It
will be focused on celebrating Carlsbad's second great high school and its students.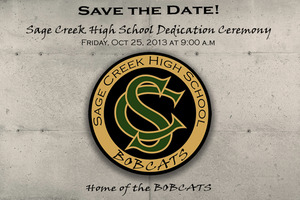 ---
Adult Volunteers Needed for SCHS Dedication Oct 25
---
Campus Tours
Regularly scheduled campus tours begin next Tuesday, October 8. The tours will be led by Mr. Morales or a Sage Creek Leadership Team member and students.

The tours are open to prospective students, community members, and CUSD employees. They will take place every other week and begin promptly at 3:35 p.m.

Please go to the following link to get further information:
sagecreekhs.carlsbadusd.net/tours
---
Students Must Wear Helmets
Attention
parents and students, California Vehicle Code
21212 requires that anyone under 18 wear
a helmet when riding a bicycle, skateboard, scooter, and in-line or roller skates. Mr. Morales will be working with Officer Cobian to assure that all students are following the law.
---
College and Career Fair - Mon Oct 7 6:30 PM @ CHS
It is never too early
to begin to explore college and career options. Carlsbad High School is hosting a College & Career Fair on Monday, October 7 at 6:30 PM. There will be over 100 Colleges and Experts at the event. See you there!
---
"Power of Parents" Presentation on Alcohol & Your Teen: Oct 17

The PTSA is proud to present an important presentation for parents only, delivered by a keynote speaker from Mother's Against Drunk Driving (M.A.D.D.)
WHAT: M.A.D.D.'s Power to Parents Presentation
WHEN: October 17, 2013 at 6:30p.m.

PRESENTATION DETAILS:
Your Teens World:
Finding is or Her Way.

Going Along With a Group.

Short Term Thinking.
What Style Parent Are You?
Authoritarian,

Over protective,

Permissive,

Positive
Starting the Conversation.

What's Holding You back?

Knowing the Facts as You Communicate Your Family's Values.

Enforcing Consequences.

Did you Drink When you were Young?

Talking So Your Teen Will Listen.

Avoiding Potholes.

Strategies That help a Teen Succeed.

5 Reasons That Teens Respect.
Helping Your Teen Make Good Choices:
Dealing with Peer Pressure.

Finding Alternatives to Drinking.

Choosing Friends.

Steering clear of Driving Dangers.

Could Your Teen have a Drinking Problem?
---
Student Volunteer Opportunity
Volunteers are needed along the walk route to be cheerleaders to encourage the walkers during the Saturday Oct 12th Walk Like M.A.D.D. 5K event in Liberty Station's NTC Park.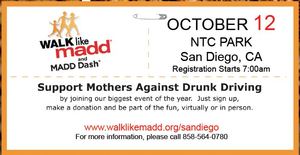 Click here to volunteer.
Below is an overview
of our expectations for student attire. The purpose of defining and enforcing a dress code is to ensure that each SCHS student participates in a positive environment focused on learning and student achievement. The school dress code applies to all school activities, including off-campus activities such as fieldtrips and dances.
Please note that this information can be found on page 27 of our Student Handbook
Examples of unacceptable dress are as follow:
Attire and accessories that advertise, promote, or glamorize any of the following: drugs, alcohol, tobacco products, violence, weapons, or display inappropriate or sexually suggestive language or symbols.

Attire which distracts from the educational goals of the school including, but not limited to: tops that expose the midriff area, crop tops, halter tops, strapless tops, backless tops, bandeaus, tube tops, off the shoulder tops, underwear worn as outer wear and bikini wear is not permitted. The tops worn by both males and females should adequately cover the chest area and not expose breasts, cleavage, or midriff area. Sheer tops do not constitute adequate coverage. Clothing must also be neat, clean, and fit properly.Under garments should not be exposed.

Sagging pants.

Shorts and skirts that do not adequately cover the buttocks area when the student is in both sitting and standing positions. Additionally, shorts and skirts must not be revealing when students are walking on the second or third floors, or when they are walking up and down stairs as they go from class to class.

Attire, articles of clothing, or adornments determined by SCHS administration and/or the Carlsbad Police Department to identify affiliation to any organization, group, or gang associated with or reputed to be involved in criminal activity.

Attire, which includes words, phrases, or pictures that are derogatory regarding ethnic background, national origin, religious belief, gender, gender orientation, or disability, is not permitted.

Jewelry, wallet, and accessories that, in the opinion of the staff, attract undue attention or could pose a threat to the safety of others are not permitted.

Shoes must be worn at all times.
---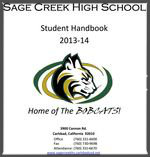 Student Handbook
Please view the Student Handbook by
clicking on the following link
. The handbook contains important information regarding attendance, extra-curricular activities, graduation requirements, and among other things, campus expectations.
---
Bell Schedules / Final Exam Schedules
1st Trimester
Classes: Aug 28-Nov 22
Finals: Nov 20, 21, 22
2nd Trimester
Classes: Dec 2-Mar 7
Finals: Mar 5, 6, 7
3rd Trimester
Classes: Mar 10-June 12
Finals: June 10, 11, 12