SCHS Newsletter Sept 17, 2017
Dear BOBCAT Nation,
The Sage Creek Staff and PTSA teams have consistently joined forces to offer great College & Career Readiness experiences, and to ensure each one of our graduates able to articulate responses to the following 3 questions is paramount:
1. Who am I?
2. Where am I going?
3. How will I get there?
Beginning this month, our Counseling Team initiated college visits from a diverse set of universities.
CLICK HERE to view the presentations available
to students in September. Additionally, our Career Chat series kicks off with a focus on Military Careers this Thursday, September 21, at lunch, hosted by PTSA.
I urge all students to take advantage of these great informational events.
Sincerely,
Principal, Sage Creek High School
Secrets of Success @ SCHS: Seminar 9/19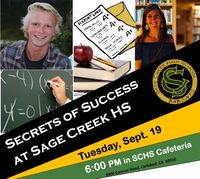 All Bobcat Students and Parents are Invited!
- Tuesday, September 19
- 6:00-7:30 PM in Cafeteria

Students and parents learn first-hand how to navigate & optimize their Sage Creek experience.

Topics include:
• Strategies & Study Skills for Best Results
• Managing the fast pace of the Trimester
• Parent tips on how to best support your student

*View Flyer with Detailed Info about this PTSA Event!

*The event will be preceded by a brief PTSA General Association Meeting. Go to sagecreekhs.carlsbadusd.net/PTSA for details.
PSAT @ SCHS -

Deadline to Register is

9/20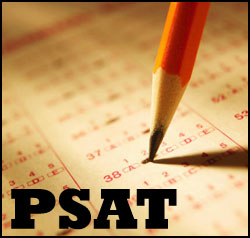 Freshman & Juniors that want to take the PSAT on Wednesday, Oct 11
at SCHS during school need to

Register by Sept 20

.

*

All Sophomores

will be taking the PSAT on Oct 11 at SCHS and are already registered and are paid for through a SCHS-sponsored fund.

Cost: $25 for Juniors and Freshmen

Registration & Payment: Pay with Cash, check or credit card in the ASB Student Store, Room 1211, during lunch on Mon, Wed, & Fri.
**Click here to Register Online now on the SCHS ASB WebStore

View more PSAT info here
Military Career Chat - 9/21 @ Lunch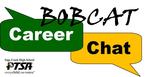 Career Chat on the Military - For Students
Thursday, Sept 21
11:25-11:58 am (during lunch)
Room 3206
Free pizza lunch and drinks!
Learn first-hand from Colonel John J. Wiener of the US Marine Corps about educational requirements, income range, and military job types. View flyer & details at ptsa.sagecreekhs.com.
RSVP Required at ptsa.sagecreekhs.com
*This PTSA-sponsored class is limited to 40 students.
Accepted 101 - Free Info Night on 9/21
Learn how to increase your chances of being accepted into college and all about financial aid at Accepted 101! Click here to learn more about this free information night hosted by Carlsbad Educational Foundation (CEF) on Thursday, September 21 at 6-7 p.m. in the Sage Creek High School Library!
Grill & Chill for Bobcat Students - 9/22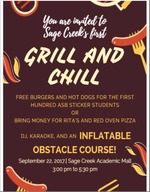 All Bobcat Students are Invited to ASB's "Grill & Chill"
Friday, September 22, 2017
3:00-5:30
In the SCHS Academic Mall
Free Burgers & Hot Dogs for first 100 ASB Sticker Students
Bring $$ for RIta's and Red Oven Pizza
Enjoy DJ, Karaoke, & Inflatable Obstacle Course!
Submit Info for School Directory by 9/22
Today: Submit your contact information for the SCHS School Directory published by PTSA!





►►

To submit your info, logon through our secure link at

sagecreekhs.carlsbadusd.net/schooldirectory

►► Deadline extended to

Friday, Sept 22, 2017

.





The directory puts all of the key info at your fingertips, from the school calendar, bell schedule, to contact information, and more! The School Directory is available to all PTSA members for FREE both in hard copy & digitally, or can be purchased for $20 each
Student Cover Art for Directory Due 9/22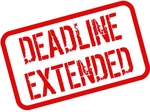 Student artists, photographers, and digital artists are encouraged to enter our Cover Art contest, to have the opportunity to have your work proudly displayed on the cover of our school directory!

Download a Cover Art Entry form here.

►► New Deadline is Friday, Sept 22, 2017.

For questions about the PTSA-produced School Directory, contact: sagecreekptsa@gmail.com
Get Bobcat Shout-Out in School Directory



When you purchase a Bobcat Shout-Out for the School Directory, you get to submit 25-45 words (& a photo if you want) to shout out a message of congratulations, good-luck our encouragement to your student, your team, or your teacher!

►► Deadline is Friday, Sept 22, 2017.

View details on the Shout-Out Flyer or go directly to the online order form at sagecreekptsa.membershiptoolkit.com
Cooking Class for Students - 9/28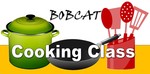 Thursday, Sept 28, 2017
From 3:00-5:00 PM
Room: 3207
RSVP at
ptsa.sagecreekhs.com
In this hands-on cooking class taught by Certified Dietician, Anne Metzger, students will work with raw and prepared ingredients, meats and vegetables, to create a delicious, Vietnamese-style Chicken Sandwiches (banh mi). Afterward, students get to keep the recipe and they can impress family and friends when they recreate the delicious dish.
*This PTSA-sponsored class is Limited to 12 students.
PTSA Member Perk - Discount SAT Prep
College Success Network offers a $15 Discount
to all Members of SCHS PTSA**!

The following 2 separate Saturday SAT Prep Events at the Dove Library are eligible for the disount (view flyer):
September 23, from 9 a.m. to 12 p.m.:SAT Reading & Writing Workshop to work on difficult passages and essay improvement
September 30, from 1-5 p.m., SAT Boot Camp, which is an intense, four-hour crash course touching on all areas of the SAT.
Pre-registration is necessary. Register at www.CollegeSuccessNetwork.com. Call (619) 713-0806 for
questions, or e-mail coach@CollegeSuccessNetwork.com.
Student Leadership Council -
Apply by 9/25

Join the CEF Student Leadership Council today! Build lifelong leadership skills, learn about nonprofits in your community and meet professionals from some of the largest and most successful businesses in Carlsbad!

Learn more today by visiting
CarlsbadEd.org
for an application.
Deadline to apply has been extended to Sept 25!
Earn $ for SCHS thru Everyday Shopping
Learn exactly how you can earn money for SCHS through your every day shopping at sagecreekhs.carlsbadusd.net/fundraising

Benefit Mobile Phone App
Download & use the Benefit App during checkout at 100s of retail stores or online and a percentage of your purchase is donated to SCHS PTSA!



Ralph's Reward Card can be linked to SCHS with Ralph's Community Contribution Program, and Ralph's will donate 1-4% of purchases to SCHS PTSA. Must re-regsiter your card every Sept.



​Amazon.com Shopping Rewards
To shop and earn money for SCHS PTSA using Amazon.com, simply access Amazon through this specially encoded link: Amazon.com for SCHS PTSA
SAT Prep Bootcamp - Sept 30 & Oct 1

SAT Bootcamp at Sage Creek HS is coming up on Saturday, Sept. 30 & Sunday, Oct 1 (both days 9am-1pm)!

These momentum-building weekend seminars by Catalyst Prep give students the insight and confidence they need on the day of the test. Students take home self-study materials for sustained practice right up until the test. Tuition for each Bootcamp is just $175.

Enroll Here: catalystprep.com/bootcamp_su or call us at 800-235-0056
Cafe Bobcat - VAPA Fundraiser 10/6
Cafe Bobcat will be Friday, October 6th in the cafeteria! We will sing, dance, laugh, and announce the winter musical! Halloween costumes encouraged. $5 donation suggested.
Get the Book Now & Save the Date: 10/19
SCHS PTSA is continuing with its very popular
Bobcat Parent-Staff Book Club!

Thursday, October 19 from 6:30-7:30 is our next meeting

Start reading the book now:
Grit: The Power of Passion and Perseverance
by Angela Duckworth (click book title above to order)
More info at sagecreekhs.carlsbadusd.net/bookclub


College Apps Academy for Seniors

Join the Carlsbad Educational Foundation (CEF) for their College Apps Academy to learn more about looming UC, Cal State and Common App deadlines and how to get into the school of your dreams! Visit www.carlsbaded.org/college-apps-academy to register today, or for more info about this program that runs on Thursdays at 2:45 in SCHS Library.
Science Olympiad - Get Involved
Want to share your love of science, math, or engineering? Carlsbad Educational Foundation (CEF) has an opportunity for you! Join Science Olympiad - a national program that promotes learning through hands-on, competitive, and fun science and math events. To learn more about it, check out the attached links: For (students/parents) and (coaching/volunteer opportunities). If you have any questions or would like to discuss coaching opportunities, please contact Karen Lopez at karen@carlsbaded.org.