Dear Bobcat Nation,

We have some exciting events taking place this month and I look forward to a great attendance at each one of them.

Thursday, May 1st:

PTSA is coordinating a Summer Job and Volunteer Fair during the lunch period on Thursday. Local businesses will be showcasing paid and unpaid opportunities for our students.

Saturday, May 3rd:

Join us Saturday, May 3 for our Music for Hope concert. Co-sponsored by the Sage Creek ASB and The Mitchell Thorp Foundation, the event will bring our Carlsbad community together to enjoy three Carlsbad musicians for the benefit of raising funds for Kassandra Longoria, a CUSD high school student and cancer fighter. Read details below.

Thursday, May 29th:

The Sage Creek Nation will come together for our second annual Sage Creek Showcase. This will be a great opportunity for our inaugural Sage Creek families to come together with our incoming Bobcat Families. Please read more below.
Go Bobcats!
J. César Morales
Proud Principal, Sage Creek High School
Music for Hope Concert: May 3 @ 5 PM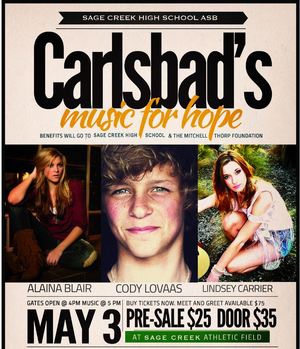 SCHS ASB is hosting a benefit concert with the Mitchell Thorp Foundation on Saturday, May 3, 2014 at 5 PM on SCHS athletic field (gates open at 4 p.m).
The event will help raise funds for Kassandra Longoria, who is a CUSD student with non-Hodgkins Lymphoma.
Click here
to watch a CHSTV Video about the concert (go to minute 7 of the clip).
The concert features Carlsbad performers:
Alaina Blair, Cody Lovass and Lindsey Carrier.
Click here
to buy tickets.
Pre-Sale $25, Door $35
Meet and Greet available for $75.
There will be food, a silent auction, and many activities to be enjoyed by your entire family!
Summer Job & Volunteer Fair for Students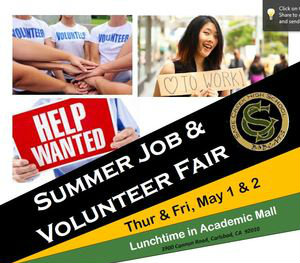 The SCHS PTSA is coordinating an On-Campus Job & Volunteer Fair where students can learn about summer opportunities.

Does your student want to make some extra money this summer or volunteer to complete their required community service hours for school?
Thursday, May 1
During Lunchtime in the Academic Mall
Students can stop by our Job & Volunteer Fair to meet with employers from places like Park & Rec, the library, Baskin-Robbins, Chick-Fil-A, Nonprofit agencies, and many more!
Please contact Mimi Kim at mimi@oliveusfarms.com for questions.
Sage Creek Showcase: Thurs, May 29
Establishing community is a huge part of how we do things on campus, so, at the SCHS Showcase, we look forward to our growing community enjoying an evening together of ...
student performances,
walking through our new classrooms, and
concluding the night with a team picture on our athletic field.
More details will be communicated in the upcoming weeks.
The second annual SCHS Showcase will be a great opportunity for our inaugural Sage Creek families to come together with our incoming Bobcat Families!
Theater Performance: Thur, May 8
Hear ye, hear ye!
Join in the merriment at
SCHS's
Shakespeare in the Park
at
Sage Creek Lawn
Thursday, May 8, 5:30-7:30 pm
Admission is Free
For your entertainment we will have refreshments, souvenirs, and face painting for a small fee.
Performances by Sage Creek High School's Theatre students :
Twelfth Night, Richard III, Hamlet, The Tempest, a Midsummer Night's Dream and more!
Bring your blankets and lawn chairs!
Bobcat Athletics Report
4-3 (W) - Boys Freshman Baseball vs. Mission Vista on 4/24/2014
13-5 (L) - Boys Varsity Tennis @ Escondido on 4/24/2014

View all Bobcat teams' scores on MaxPreps.com
Dine-4-Kids:

Exclusive Restaurant Coupons
Dine-4-Kinds, The Exclusive Restaurant Coupon Booklet is for sale for $10.00 at the SCHS Student Store.

Proceeds will help ASB fund ASB activities, lunch time activities, pep rallies, dances, special events, awards, retreats for leadership, conferences.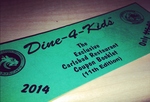 Some Restaurants Included:
Hennessey's
The Daily News
Hunter STeak House
Dini's Bistro
Fresco Trattoria & Bar
Mas Fina Cantina
Pollos Maria
Linda's Yogurt
Pronto's
Oversea's
Grand Deli
Community Service Opportunities
Calavera Hills Elementary is looking for volunteers for their "Spring Carnival Fiesta" on May 2nd from 2:30 p.m. to 8:00 p.m. in the middle school gym. Please call Jeanie Townsend at 760.271.2090 or e-mail her at Townsend.jeannie@gmail.com to sign up.

Jefferson Elementary is looking for volunteers for their "Multicultural Festival" on May 17th. Contact Jennifer Harris at 760-412-0585 or email at Jennifer_harris05@yahoo.com
CEF High School Summer Academy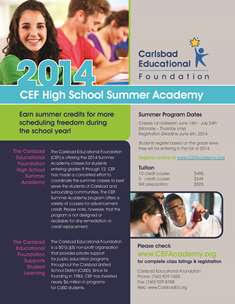 Registration is now open for the Carlsbad Education Foundation's High School Summer Academy.

Information and registration details on all CEF programs can be accessed at:

www.CEFAcademy.org