Dear Bobcat Families,

Our first day of school is almost here. Please read the information below to learn important detals about the following:
J. César Morales
Principal, Sage Creek High School
---

Student Orientation - Tues Aug 27
All students are invited to participate in our Student Orientation on Tuesday, August 27 from 8 a.m. to 12 p.m. Please plan to arrive at least 10 minutes early. For lunch, students will have pizza, salad, and dessert.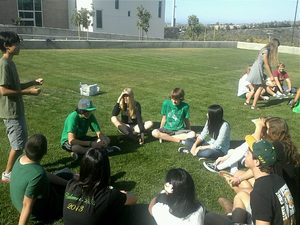 It is not a typical Orientation. Ours is led by the Bobcat Link Crew students. There will be fun challenges and competitions among the Advisory classes. Our hope is to get 100% of all students attending!
Please view the Traffic Flow map below to ensure a smooth and safe drop off.
---
Parent Meet & Greet - Tues Aug 27
Parents are encouraged to participate in the Meet-and-Greet scheduled from 8:00 a.m. to 8:30 a.m. in the cafeteria on Tues, Aug 27.
---
First Day of School Schedule - Wed Aug 28
School will begin at 7:30 a.m. on Wednesday, August 28. We ask that students arrive early so that we can begin our activities promptly at 7:30 a.m. with a Pep Rally in our Bobcat Arena (gymnasium). Students will then follow our regular Late Start Wednesday Schedule.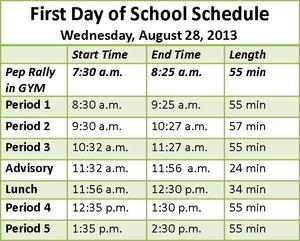 ---
Drop Off & Parking Information
Parents, please be sure that you are using turn-about as a drop off area only and please park in one of our parking lots when you are going to exit your car for a period of time. View the map below for parking details.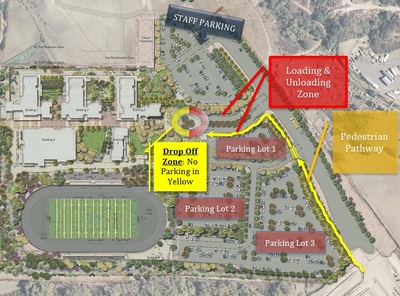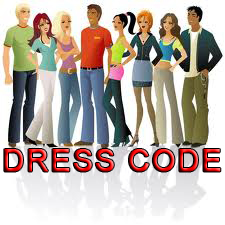 The purpose of defining and enforcing a dress code is to ensure that each Sage Creek High School student participates in a positive environment focused on learning and student achievement. The school dress code applies to all school activities, including fieldtrips and dances.
Examples of unacceptable dress are as follow:
Attire and accessories that advertise, promote, or glamorize any of the following: drugs, alcohol, tobacco products, violence, weapons, or display inappropriate or sexually suggestive language or symbols.

Attire which distracts from the educational goals of the school including, but not limited to: tops that expose the midriff area, crop tops, halter tops, strapless tops, backless tops, bandeaus, tube tops, off the shoulder tops, underwear worn as outer wear and bikini wear is not permitted. The tops worn by both males and females should adequately cover the chest area and not expose breasts, cleavage, or midriff area. Sheer tops do not constitute adequate coverage. Clothing must also be neat, clean, and fit properly.

Sagging pants.

Shorts and skirts that do not adequately cover the buttocks area when the student is in both sitting and standing positions. Additionally, shorts and skirts must not be revealing when students are walking on the second or third floors, or when they are walking up and down stairs as they go from class to class.

Attire, articles of clothing, or adornments determined by SCHS administration and/or the Carlsbad Police Department to identify affiliation to any organization, group, or gang associated with or reputed to be involved in criminal activity.

Attire, which includes words, phrases, or pictures that are derogatory regarding ethnic background, national origin, religious belief, gender, gender orientation, or disability, is not permitted.

Jewelry, wallet, and accessories that, in the opinion of the staff, attract undue attention or could pose a threat to the safety of others are not permitted.
Shoes must be worn at all times.
---
School Site Council Seeks Parents
SCHS is seeking four parents to volunteer and serve on our School Site Council. The School Site Council (SSC) is a committee made up of school administrators, teachers, staff, parents and students. Members are elected by their peers to serve on the School Site Council for 2 years.
Responsibilities include approving restricted funds of the school budget, providing input on the development and effectiveness of the School Plan, making suggestions for improving the school climate, and receiving updates on various activities taking place on our campus.
Who can be a parent representative on the School Site Council?
Any parent/guardian of a student at Sage Creek who is not an employee at the school

Any parent/guardian who can commit to regular meetings

Any parent/guardian interested in being involved with school decisions
There will be a total of four School Site Council meetings during the 2013-14 academic year.
Please complete the following online survey and feel free to contact Mr. Morales at 760-331-6699 if you have any questions.
Elections will be held on Thursday, September 5, during Back to School Night.
If you are interested in becoming a SSC member, please provide your information in the
online form
.