Dear Bobcat Nation,

The Sage Creek Leadership Team recently refined what it means to be a Sage Creek High School graduate. While fully acknowledging that the outcomes are as much a journey as a destination, the team will use the graduate profile as a target of what students should know and be able to do as Sage Creek High School graduates.

The graduate profile acronym was inspired by the Sage Creek mascot, the BOBCATS, and is anchored in two critical domains: how students behave and the skills they possess.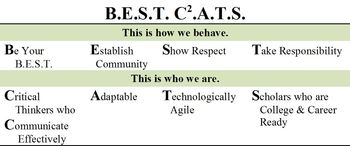 Go Bobcats!

J. César Morales
Proud Principal, Sage Creek High School
Cyber Safety Seminar


Wednesday, Apr. 2 @ 6 PM

Location:
SCHS Cafeteria
Evening's Agenda:
6:00 PM:
PTSA General Assembly Meeting
that includes an election of the 2014-2015 PTSA Board of Executive Officers (
click here
to see slate of Nominee's).
Click here
to view meeting agenda. All PTSA members are encouraged to attend.
6:30 PM:
Cyber Safety & Digital Trends Presentation
by
Jon Moffat
of Cyber Education Consulting.
View flyer
.

LEARN ABOUT UP-TO-DATE TRENDS IN TECHNOLOGY:
Learn about cyber tricks and scams and how to respond.
Learn about some of the latest phone apps that could put you and your teen at risk.
Learn more about Instagram, Snapchat, Kik, and many more!
Learn about your smartphone options & considerations for your teen.
Learn some simple techniques to better connect with your teen.
Walk away with the tools to create a technology contract for your teen.
Bring your phone - you will need it!
Drop Off & Pick Up: Being More Efficient
As we prepare to have over 700 students at Sage Creek next year, I challenge our parents and students to maximize the efficiency of our drop off and pick up process. To be our B.E.S.T. at this daily ritual, I ask that parents and students hone in on the following tasks:

Parents - please pull up as far as possible when dropping off your child at the turn-about and be sure to avoid parking where the curb is painted yellow (this area is intended for drop of and pick up only)

Students - please transition in and out of the car as efficiently as possible by having all of your personal belongings staged and finishing up conversations as you approach the drop off zone
Theatre Night at Chipotle - April 2
Help support our Theatre program! Join us at Chipotle on Palomar Airport Road on April 2 from 5-8pm... download & bring the flyer and 50% of your purchase will go toward our program. See you there!

News from the Counseling Dept.
Friday, April 4th Deadline for Completing the 2014-2015 Course Selections

Step 1: Complete the Course Selection Form (CSF)

Step 2: Submit your Course Selections online through Aeries Portal

Step 3: Turn in your Completed CSF No later than Friday, April 4th at 3:00 p.m



For more information, please visit the

SCHS Counseling webpage

.
Bobcat Athletics Report
Congratulations to our Bobcat Athletes! We have had an amazing first year so far! The PTSA would like to send a special thank you and "high five" to our dedicated teams. Click here to view team highlights from girls and boys basketball, and wrestling. Current season sports are below:
Boys JV Lacrosse @ Mt. Carmel: 13-0 (Loss) on 3/27/2014
Boys Freshman Baseball vs. Vista: 7-0 (Loss) on 3/26/2014
Boys Freshman Baseball vs. Vista on 3/31/2014
Boys Varsity Tennis vs. Escondido- Upcoming on 4/4/2014
So You Want to Drive?


An April 16th Seminar for Students & Parents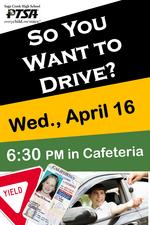 Date:
Wed., April 16
Time:
6:30-7:30 pm
Location:
SCHS Cafeteria
Click here for flyer
.
Learn from CHP and a Driving Safety Expert about:
Requirements & steps for getting your driving permit
Programs that the CHP offers students
What it takes to be safe on our roadways
Common mistakes made by teen drivers
What leads to injury & death seen by emergency responders
How to be aware & prevent driving dangers
How to reduce your chances of being involved in a collision
PTSA President's Letter
Click here to read Mrs. Eddie Buscher's April 2014 PTSA President's Letter on the topic of the new Local Control Funding Formula (LCFF).
Volunteer Opportunities
Contact PTSA Volunteer Coordinator Diane Gutierrez if you would like to be a volunteer: 760-518-5761 or digtrz@roadrunner.com.