tVoll

Dear Bobcat Nation,

I hope that you and your family are enjoying every last bit of your summer vacation. The academic year is upon us and I am excited to welcome our Sage Creek community that has more than doubled in a short 1-year period. Our teachers have been working diligently throughout the summer and we are prepared to continue to offer our students a second to none high school experience!

Please review the information below regarding the upcoming registration days.
I look forward to seeing you and your student soon,
J. César Morales
Proud Principal, Sage Creek High School
Volunteers Needed for Registration
You can help registration run quickly and smoothly by volunteering!


Volunteers are needed during the following times:
Tuesday, Aug 19
Wednesday, Aug 20
7:30 AM-10:30 AM
10:30 AM - 1:30 PM
7:30 AM-10:30 AM
10:30 AM - 1:30 PM
Volunteer Job Descriptions:
| | |
| --- | --- |
| Library: | Pass out textbooks to students. |
| Greeters: | Verify currently enrolled students for registration process (At the base of the stairs of Admin) |
| Office: | Assist office staff and direct to appropriate lines. |
| Cafeteria: | Assist where needed with PE clothes, Yearbook, etc. (Can be students) |
| Photo: | Organize line and assist photo staff. |
| Counselor: | Direct students that need to see couselors about schedules (Can be students) |
| Schedules: | Pass out student schedules |
Student Registration Details
Dates:
Tuesday, August 19, is for 10th grade students
Wednesday, August 20, is for 9th grade students
Time:
Begins at 8 a.m. on both days, using the following last name alpha order on both dates:
8a.m.-9a.m. F-K
9a.m.-10a.m. L-R
10a.m.-11a.m. S-Z
11a.m.-12p.m. A-E

Please bring the following four completed documents:
Annual Residency Verification with TWO original proofs of residency documents required. (English / Spanish)
Special Notes:
This registration process is only for students who attended a CUSD school in 2013-14 or new students to the district who have enrolled at Sage Creek by Monday, August 18.

Questions: Please contact Mrs. Ruby at 760-331-6650
Fast Pass at Registration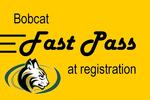 Bypass the Residency Verification line by bringing in your Required Registration Documents early.
Documents are accepted weekdays from now to Monday Aug 18th from 1 pm to 3 pm.
Save Time & Sign-up for PTSA Now
Students and Parents can
sign-up for PTSA online now
, so you have checked-it off your list before registration day!
Perks & Benefits of PTSA Membership
Drivers Ed Student Discounts
$5-10 Off Classroom Driver Education
$10 Off Package of Classroom Driver Ed & Behind the Wheel Training
​
Free Bobcat Spirit Card
With discounts to local merchants
*Only with purchase of Package A or Package B Membership
Free SCHS School Directory
One per PTSA member household
More PTA Member Benefits here
Download Complete List of SCHS PTSA Member Perks
School Directory Cover Art Contest
Students have the opportunity to have their Artwork grace the cover of our Sage Creek High School 2014-2015 School Directory.

► Click here for an official entry form



Submissions Due

Sept 17, 2014



More info about School Directory here.
Fall Sports at SCHS
For more information about our Bobcat Fall Athletics, please see the following links on sagecreekhs.carlsbadusd.net:

Sage Creek Performing Arts Center
The building of a Performing Arts Center is scheduled to begin during the Fall of 2015 and is expected to take up to 18 months. The CUSD School Board to action on July 6, 2014 and selected Rachlin Partners as the architecture team that will undertake the construction of the 350 seat Performing Art Center.