Dear BOBCAT Nation,

Student registration is taking place during these upcoming days. In order to ensure a smooth experience for everyone, please take a moment to review the dates, times, and documents needed to complete the registration process. Additionally,
CLICK HERE
to view the optional purchasing opportunities that will be available during the student registration days: ASB Sticker, Yearbook, Spiritwear, Donations to the Sage Creek Foundation, Become a PTSA Member.
See below for the Registration Information.
I look forward to seeing you during our registration days,
Sincerely,
Proud Principal, Sage Creek High School
Registration on Tue, Wed, Thu, Fri
Registration is 8 a.m. - 12 p.m.

daily by last name, as follows:

L-R 8:00-9:00 / S-Z 9:00-10:00 / A-E 10:00-11:00 / F-K 11:00-12:00

11th grade: Tuesday (8/25/15)
10th grade: Wednesday (8/26/15)
9th grade: Thursday (8/27/15)
Make Up Registration: Friday (8/28/15) - All Grades 12 pm - 2:45 pm



For more information on required documents and other info please click the following:

Registration Information
Save Time & Sign-up for PTSA Now
Parents and Students can sign-up for PTSA online now, so you have it checked off your list before registration day!
Perks & Benefits of PTSA Membership
Driver's Ed Student Discounts

$30 off Behind-the-Wheel Training or $5-$10 off package of Driver's Education plus Behind-the-Wheel Training

​ Free Bobcat Spirit Card that gives discounts to local merchants

*Only with purchase of Package A or Package B Membership

Free SCHS School Directory

One per PTSA member household
View a complete list of Membership Benefits at:
HELP - Volunteers Needed for Registration
We are still in need of volunteers for many shifts during the Registration Days this week.

Can you please help fill a shift? (Or is there someone else that you could encourage to help?)

To volunteer, either:
HELP! Below is a list of the volunteer spots that are still vacant:
| | | | |
| --- | --- | --- | --- |
| Day | Time | Volunteer Slots Filled | Volunteer Slots Vacant |
| Tues, Aug 25 | 7:30-10:30 | 11 | 7 |
| Tues, Aug 25 | 10:30-1:30 | 9 | 9 |
| Wed, Aug 26 | 7:30-10:30 | 4 | 14 |
| Wed, Aug 26 | 10:30-1:30 | 3 | 15 |
| Thur, Aug 27 | 7:30-10:30 | 7 | 11 |
| Thur, Aug 27 | 10:30-1:30 | 6 | 12 |
| Fri., Aug 28 | 12:00-2:45 | 2 | 9 |
Submit Your Info for School Directory
We hope that everyone in the Bobcat Nation submits their information so our directory can be complete! (Participation is optional). Here's how to input your directory data & preferences:

►► Logon through our secure link at sagecreekhs.carlsbadusd.net/schooldirectory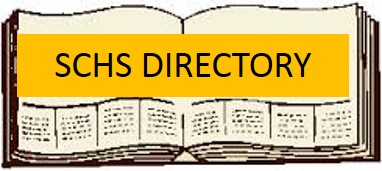 ►► Deadline is Friday, September 11.

Our School Directory will be available to all PTSA members for FREE (click to join PTSA), but other Bobcat families can get one for $20. This directory will put all the key info at your fingertips, from the school calendar to contact information for school families & more!

Questions? Contact Tania of the Sage Creek PTSA at SageCreekDirectory@gmail.com
School Directory Cover Art Contest
Students have the opportunity to have their Artwork grace the cover of our Sage Creek High School 2015-2016 School Directory.

Freshman Orientation Tues 9/1
SCHS participates in the nationwide Link Crew Program, an organization whose sole purpose is to help freshmen feel more comfortable as well as help them achieve success in their first year of high school.

We are looking forward to meeting our incoming freshmen at Freshman Orientation on Tuesday September 1, from 8:00 am to 12:00 pm in the BOBCAT Arena.
The "Big Night" Spaghetti Dinner 9/11
Join Sage Creek Athletics first of 3 "Big Night"... Spaghetti Dinners!

This is the largest fundraiser of the year to benefit ALL Team Sports.

First "Big Night" is Friday, September 11th
5pm - 9pm in the Bobcat Arena

Hot Italian bread, salad, spaghetti and drinks will be served "Family Style" by Athletes.

Tickets are $10 at the link below. There will also be Opportunity Drawings and a Live Auction.

Please come out to support ALL our Athletes.

Go to Big Night Info to buy tix & see more ways to support our Athletes
SCHS Foundation Legacy Pavers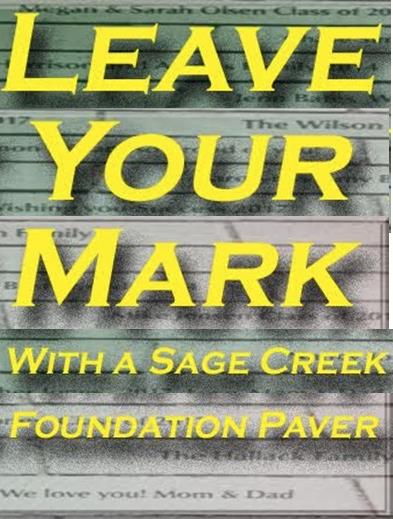 Paver Quick Facts:
All proceeds go to directly benefit each student at Sage Creek High School.

Limited offer, only 296 pavers available.

In 2014-15, the Sage Creek Foundation provided $24,500 in the areas of Academics, Athletics, and Visual and Performing Arts (see summary below).

CLICK HERE to purchase your paver and support our effort to ensure that our BOBCAT community offers each one of our students a second to none high school experience.
Sign-Up for Text Message Reminders
Be in the know about all of the exciting programs and opportunities at Sage Creek. Remind.com is a secure one way text communication. It is safe and easy. All parents, friends and students are encouraged to sign up now! Here's how:
Send a text to this number : 81010
With this text message: @schsptsa
Mira Costa Evening Classes
Evening Classes begin on Monday, August 24th. Click on Link to see the Fall Schedule: Mira Costa College Fall Schedule
New Traffic Flow
Mr. Morales and the Sage Creek Admin team worked with Carlsbad City Traffic Engineers, the Carlsbad Police Department, and CUSD Facilities team to design a traffic flow that would yield two outcomes: 1) maximize student safety, and 2) maximize the traffic flow. Please see the map to review the traffic flow patterns that will be in place for 2015-16.