It is hard to believe, but our trimester half-way point is this Friday, October 11. Teachers will use next week to finalize all grading and submit the necessary information for progress reports to be completed and then distributed during 5th period on Friday, October 18.
A theme that parents and students alike will be seeing in the upcoming weeks are the "a-g" course requirements. In short, these courses are prerequisites for admission to University of California and California State Universities AND, beginning with our current freshman class, they are also a requirement to graduate from a Carlsbad Unified School District high school.
Read additional information about the "a-g" courses below
.
J. César Morales
Principal, Sage Creek High School
---

"Power of Parents" Presentation on Alcohol & Your Teen: Oct 17

The PTSA is proud to present an important presentation for parents only, delivered by a keynote speaker from Mother's Against Drunk Driving (M.A.D.D.)
WHAT: M.A.D.D.'s Power to Parents Presentation
WHEN: October 17, 2013 at 6:30p.m.
---
Golfers Needed for Oct 25 Carlsbad Golf Classic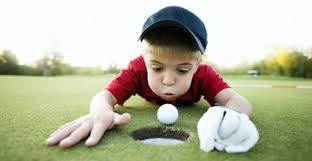 We are looking for three golfers to join Mr. Fieberg, SCHS science teacher, to bring home the first BOBCAT Golden Club Trophy from the Carlsbad Golf Classic. The tournament is sponsored by the Carlsbad Ed Foundation on Friday, October 25, 2013. Please view the flyer for details.
**Please contact Debra Shinto if you are interested in representing Sage Creek High School: 760-331-6695

Click here to view Event Sponsorship Opportunities
Not a golfer? Why not volunteer! Click here to sign up!
---
Reflections Art Contest Deadline Extended to Oct 18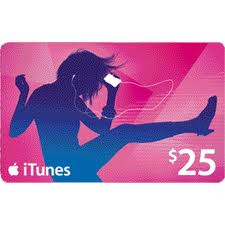 NEW INFO
: Reflections Entries will have a chance to win a $25 iTunes Gift Card!
Creative Bobcats, you have one extra week to submit your PTSA Reflections Art Contest entries (due Friday, October 18 at 3 PM to the SCHS front office).
Using the theme, "Believe, Dream, Inspire," s
howcase your creative and artistic talents in one of these categories:
Dance Choreography • Film Production • Literature •
Music Composition • Photography • Visual Arts
---
Judges Needed for Reflections Art
Please contact Laura Panter, PTSA Reflections Chair at
laurapanter99@gmail.com
, if you are a parent or community member who could help to help judge the artwork during the week of October 21-25.
---
Support PTSA Online with easy SDG&E fundraiser, Ralphs Card, or Direct Donation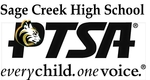 PTSA supports our Bobcat Community in many ways. See on the web:
sagecreekhs.carlsbadusd.net/ptsa
.
Did you know that PTSA provides programs such as career panels, substance abuse prevention, anti-bullying, financial planning for college, and much more?
Please click here
to support the PTSA with your Direct Donation, or by participating in our SDG&E fundraiser, and by registering your Ralphs Card.
You can help build a strong SCHS Community!
---
Why Did you Choose SCHS?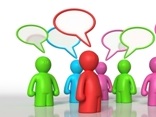 During our SCHS Dedication on October 25, 2013, we would like to share some of the reasons that our Bobcat Families chose to attend SCHS.
Please click here to share your 1-2 sentence answer on our online form
. THANK YOU!
---
SCHS Dedication: Friday, Oct 25
Don't miss the Sage Creek High School Dedication ceremony on Friday, October 25 beginning sharply at 9 AM! It
will be focused on celebrating Carlsbad's second great high school and its students.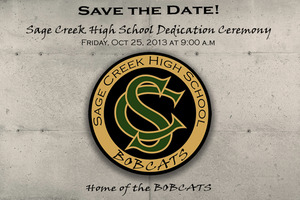 ---
College & Career: CUSD High School Gradution Requirements / A-G Courses
Students need to earn trimester grades of "C" or better in a pattern of high school courses commonly referred to as the "a-g requirements" to be considered for admission to the University of California (UC) and California State University (CSU) systems.

Specifically, students must complete 15 college preparatory courses drawn from the disciplines of history/social science, English, mathematics, science, world language, and visual and performing arts. At Sage Creek, 9th grade courses in these subject areas help students begin to meet the a-g requirements. Note that, beginning with this freshman class, this pattern of study also is required to satisfy CUSD graduation requirements and prepares students for admission to the vast majority of colleges and universities across the nation.

Click on the link below to compare the a-g requirements for the UC's and the CSU's.
http://www.calstate.edu/sas/publications/documents/csu-uc-a-gcomparisonmatrix.pdf
---
Campus Expectations: Tardy Policy
It is the intent of the Sage Creek teacher team to maximize the instructional minutes allotted for each period of instruction. We will work together to ensure that students are in their designated classrooms on time and ready to learn before the tardy bell rings. Below is the Sage Creek High School tardy policy:

Tardy Policy (by period per Trimester)
1st Tardy = Warning
2nd Tardy = Student Conference
3rd Tardy = 30 Min. Detention / Teacher Notifies Parent
4th Tardy = 60 Minute Detention
5th & 6th Tardy = 120 Minute Friday School
7+ Tardies = Referral and Friday School
---
---
Students Must Wear Helmets
Attention
parents and students, California Vehicle Code
21212 requires that anyone under 18 wear
a helmet when riding a bicycle, skateboard, scooter, and in-line or roller skates. Mr. Morales will be working with Officer Cobian to assure that all students are following the law.
---
Bell Schedules / Final Exam Schedules
1st Trimester
Classes: Aug 28-Nov 22
Finals: Nov 20, 21, 22
2nd Trimester
Classes: Dec 2-Mar 7
Finals: Mar 5, 6, 7
3rd Trimester
Classes: Mar 10-June 12
Finals: June 10, 11, 12