The end of Trimester 1 is upon us and Final Exams take place next week. Please note the special schedule used during the Final Exams Week by reviewing the following information or CLICK HERE:
Wednesday, November 16: School Day is 7:30 a.m.-2:30 p.m. and students take their Period 1 Final
Thursday, November 17: School Day is 8:00 a.m.-12:20 p.m. and students take their Period 2 and 3 Finals
Friday, November 18: School Day is 8:00 a.m.-12:20 p.m. and students take their Period 4 and 5 Finals
No early final examinations will be given, as noted on page 15 of the Student Handbook.

Sincerely,
J. César Morales
Proud Principal, Sage Creek High School
11/9 Stretch & Stress Reduction Session RSVP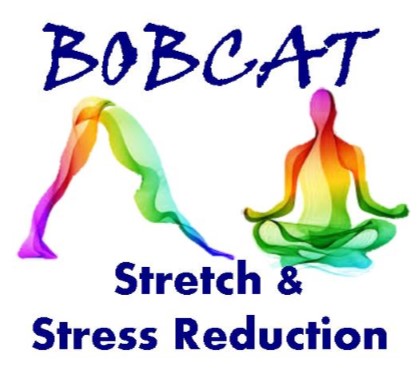 Only 15 spots left for this relaxing PTSA sponsored event - RSVP required!
Stretch & Stress Reduction
Wednesday, November 9, 2016
11:55-12:25 p.m.
SCHS Wrestling Room
Instructed by Professional Trainer

FREE LUNCH!

Limited to 30 students

RSVP is required to attend!
Benefit Mobile App - Raising school funds without fundraising! - Bonus donation contest ends 11/30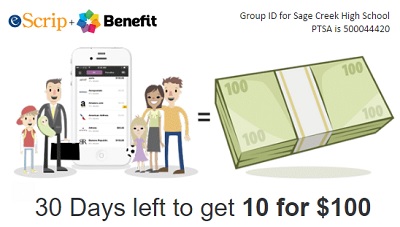 Download and register the Benefit Mobile app and SCHS can receive bonus donation funds!


Between now and November 30, 2016, every time the SCHS PTSA gains 10 new supporters through the Benefit Mobile app, Sage Creek will receive a $100 bonus donation in addition to the earned percentage rebates per app user purchase.

To qualify, please follow these steps:
1. Download the Benefit Mobile app
2. Select Sage Creek High School PTSA as the beneficiary during set up
3. Complete yourr first purchase through the app by Nov. 30, 2016.

Whether you start your holiday shopping or pay for your groceries, please give Benefit Mobile a try and help support our school!



Benefit Pays with Purpose.

Benefit is a digital gift card platform that funds the things that matter most through everyday transactions. Cards are purchased and delivered within seconds to the mobile app for immediate in-store redemption. Each purchase earns up to a 20% rebate that is sent to a school (Sage Creek High School PTSA), non-profit organization or a personal life expense of the users choice. Consumers Shop. Benefit Gives. Everyone wins.
Nov. 2016 CUSD Parent University Event
Carlsbad Unified's Parent University presents Unlocking Your Students Strengths, a three part presentation from the You School Team. For more information, CLICK HERE.

Please RSVP to: reshelman@carlsbadusd.net
11/16 PTSA Gen. Mtg. / Meet & Greet with CUSD Superintendent, Dr. Ben Churchill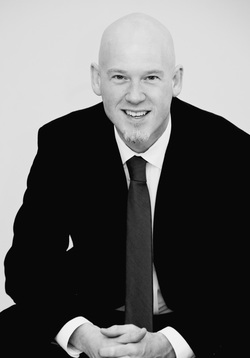 All parents & students are invited to a Meet & Greet / Q & A Session with the CUSD Superintendent, Dr. Ben Churchill, at the PTSA General Association Meeting
Wednesday, November 16, 2016
6:00-7:00 PM
SCHS Cafeteria
Agenda for PTSA meeting includes:
Adding Senior Grad Night Program
Adding a budget line item for Senior Grad Night Program
Stay Connected: SCBobcats
Join the SCHS PTSA today!
Anyone can join
- parents, teachers, students, grandparents, and community members.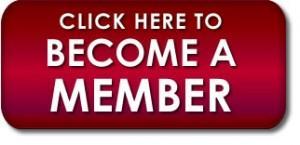 Annual memberships start at just $20 for SCHS parents, and $10 for SCHS students, teachers, and staff.
Sign up online
or
download a membership form.