Ti


Dear Bobcat Nation,
It is hard to believe that the we are approaching the final week of our Winter Trimester. Please review the FINALS SCHEDULE below and take note of the three unique changes they have when compared to the regular schedule:
Wednesday, March 5:
School begins at 7:30 a.m.
Period 5 final begins at 12:30 p.m.

Thursday, March 6, & Friday, March 7:
School begins at 8 a.m.

Thursday, March 6, & Friday, March 7:
School ends at 12:20 p.m.
I would also like to showcase the great work our ASB team and the Bobcat Nation accomplished in bringing in over 100 grocery bags of canned goods for the Freeze The Hunger campaign. Mrs. Evans and our ASB students will be taking over 1,000 cans and other goods to the Bread of Life.

This is just another example of the great things taking place on campus.

Go Bobcats!
J. César Morales
Proud Principal
Sage Creek High School
Finals Bell Schedule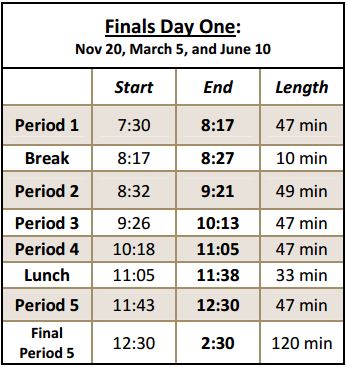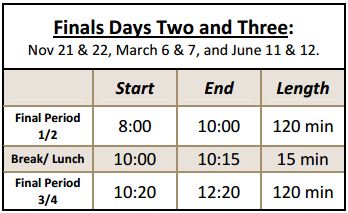 ---
Local Control Accountability Plan (LCAP) Videos & Surveys
Effective July 1, 2014, a new school accountability system and funding formula is being implemented across the State of California. As part of this new model, school districts are required to create a Local Control Accountability Plan (LCAP).
We encourage members of our community to watch a short video from Superintendent Lovely explaining the key elements of this new funding formula and accountability system. Following the video, we invite viewers to take a short on-line survey to hear your thoughts about CUSD's spending priorities as they relate to eight statewide goals in the LCAP plan.
Your input is important as we continue to create the best educational opportunities possible for every learner in Carlsbad.
Attachments:
LCAP Video - English
LCAP Video - Spanish
LCAP Survey - English
LCAP Survey - Spanish
---
3 spots left for CPR Class on Thurs, Feb 27: 6-8 PM
Students, Parents, and Teachers are invited to l
earn or update your CPR skills for only $25! This is a great opportunity organized by your
PTSA
.
This 2-hour adult, child and infant CPR class is taught by a certified instructor, Sue Lockhardt of Lockhardt Training (
www.lockhart-training.com
), on Thurs, Feb 27 from 6-8 PM in the SCHS Cafeteria.
To attend, you must register and pay in advance. Space is limited to the first 25 that sign-up.
►
Click here to register and for payment information
.
---
ASB Happenings
Valentine's Day Cards. Bobcats made 700 cards that were distributed between the Carlsbad Senior Center and Meals on Wheels. Next year, we want to double it and get more CUSD schools involved!

Senior Center. ASB would like to develop a program where students meet the seniors once a month during lunch to build relationships and bring smiles. We would like to work with Link Crew, Theater, Art and Music to create themes we can share.

Freeze Hunger. Ended Friday 2/21, but ASB students have been going to grocery stores to collect more from customers.

Optimist Club Coupon Books. $10 for coupons at Carlsbad Village eateries. Got yours?

Study and Grub for finals. Monday & Tuesday, March 3 & 4 after school to 4:00, Link Crew will facilitate study groups and provide snacks in the Cafeteria.

Survival Bags for finals. Parents can purchase Survival Bags and have a special note placed in their student's bag for $10.

"We Are Love" service learning project. Buy love buttons to help build a school with Free the Children

World Cup Soccer Tournament at lunch. Coached by girls and boys soccer teams on Wednesday, March 12. Lunch on the Athletic Mall decorated World Cup style.

St. Patricks Day spirit day and grams sold the previous week will be delivered by a wee leprechaun.

ASB and Link Crew students have been working on service learning programs & have been given an amazing opportunity to go to We Day in Oakland on March 26th, with a grant that they received for transportation.

All Clubs welcome to participate in Club Carnival on March 19 during Advisory period. This event will promote clubs and allow clubs to make money while building a strong club foundation on campus.
---
Volunteer Opportunities
Students:
Carlsbad 5000 Volunteers needed Mar 28, 29, 30
Parents:
---