Dear BOBCAT Nation,

Eleventh grade students will be taking the Smarter Balanced Assessments during the 3rd and 4th week of May. Please mark your calendars with information about the unique bell schedules that will take place on the following four days:

1. Monday, May 16
2. Tuesday, May 17
3. Monday, May 23
4. Tuesday, May 24

On these days, 11th grade students will begin at the regular 7:30 a.m. start time, while 9th and 10th grade students will begin at 10:05 a.m.
Principal, Sage Creek High School
Five Guys Restaurant Nite - Wed 5/4
Take a burger break from all of your studying and spend some time with your SCHS friends.
Wed, May 4 from 6:00-9:00,
join the Bobcat Track and Field team
at Five Guys on Palomar Airport Road for their resturant night fundraiser.
Please bring the
linked Five Guys flyer
or show it on your phone at the time of purchase and 15% of your total will be donated to our T&F team. Thank you for supporting our Bobcat athletes!
PTSA Needs Help Today for 2016-2017
Want to make a difference in your student's HS experience?

Volunteer for PTSA Open Positions 2016-2017:
Reflections Art Program Chairperson
Health & Safety Programs Coordinator
Many other opportunities too... let us know what you want to help with!
Send questions or express interest to
sagecreekptsa@gmail.com
May Lunch Menu
Sponsor SCHS's Pedal for Purpose Team
**Please Support our Sage Creek Pedal for a Purpose team!**
What is Pedal for a Purpose?
A stationary bike event where a team of riders trade off riding the bike from 10am to 1pm Saturday May 7th at the Omni La Costa Resort. Bring the family for a fun family day filled with music, exercise and science!
Help us pedal our way to raise funds for science,
music and innovation.
Click here to Sponsor our Sage Creek Pedal for Purpose Team!
Donations Needed for Staff Apprecitaion before Fri. 5/13 Event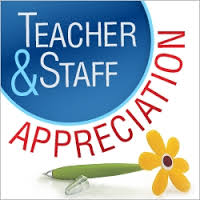 Please help show our SCHS Staff How Awesome they Are!

PTSA is sponsoring an amazing afternoon of great food & relaxation for our SCHS Staff on Friday, May 13 at The Presidio of La Costa Greens.

HOW YOU CAN HELP:
If you, or a company you know, can donate an item or a gift certificate for our Opportunity Drawing for our Staff during the 5/13 event, please contact PTSA as soon as possible at sagecreekptsa@gmail.com
Footloose Dance Tickets: Sat. May 14
Saturday, May 14, 2016 from 7-10 PM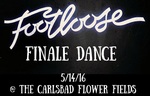 At Carlsbad Flower Fields

Dance Tickets:

$30 from 4/25-5/6
$35 from 5/9-5/13
$5-off with ASB Sticker


More info from ASB & purchase tickets online at: sagecreekhs.carlsbadusd.net/sagecreekbobcats

*Must have dance agreement on file to attend
Volunteers & Donations Needed for Dance
Parents, we need your help for the 5/14 Dance. Please sign-up on line to volunteer or to donate the following.
Online Sign-up for Dance Volunteers & Donations

Volunteers Needed:
Dance Set-Up 9:00 am - 1:00 pm
Entry Tickets 6:30 pm - 8:00 pm
Refreshments 6:30 - 10:30 pm (in shifts)
Food & Drink Donations Needed Too (see link above for details)

?s to Diane Gutierrez, Volunteer Coordinator: digtrz@roadrunner.com
Special Schedule May 16-17 & May 23-24
Grade
Level
School Start Time
May 16, 17, 23, & 24
11th
7:30 AM*
10th
10:05 AM
9th
10:05 AM

*11th grade students will participate in the English Language Arts and Mathematics Smarter Balanced Assessments these days.
Biggest Tech Career Event of the Year!
Fri. May 20 at SCHS
CUSD Students, Families, & Friends are invited to SCHS PTSA's biggest & most exciting tech career event of the year: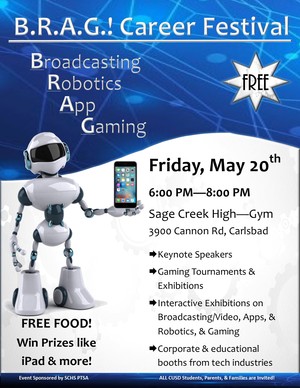 Go to
ptsa.sagecreekhs.com for complete exciting event details of the BRAG! Career Festival on
Friday, May 20, 2016 from 6-8 PM at SCHS.
Attn Bobcat Parents: May 21 SCHS Gala
Join us at the First Annual Gala on Saturday, May 21st to raise funds for all students at SCHS! (
see Gala flyer
).
Enjoy a fun evening filled with an incredible Italian buffet, cash bar, marvelous musical entertainment with a great DJ, a fabulous photo booth, a spectacular silent auction, live auction, and a rousing raffle! Seating is limited, secure your spot today!
Carlsbad Unified Council of PTAs Election
To all outgoing and incoming PTSA Executive Board members
(

Note: Any member of a Carlsbad Unified PTA is eligible to vote)




CUC PTA Annual Election & Training Lunch Meeting
Carlsbad District Office Resource Training Room
Monday, May 23rd, 2016 @ 11am


Please RSVP to Theresa Morris at tandtmorris@yahoo.com


Carlsbad Unified Council PTA Officers Slate 2016 - 2017
President: Amanda Ecoff
VP Membership: Brenda Beckett
VP Programs: Kym Szalkiewicz
Secretary: Theresa Morris
Treasurer: Joanne Hackett
Auditor: Raheela Bokhari
Summer HS Classess Available
Want to get ahead?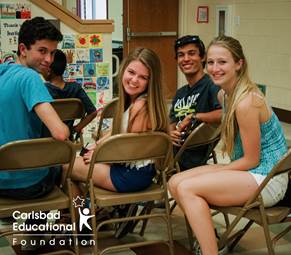 Register for CEF's High School Summer Academy and earn summer credits for more scheduling freedom during the school year!
Click
here
to learn more and register today to make more room in your schedule to take the classes you want!
www.Carlsbaded.org
---
Need Credit Recovery?
Carlsbad Unified School District will offer Summer School for credit recovery for CUSD high school students who earned
"F" or "D"
grades on their first or second semester report cards.
Click here for CUSD Summer School Form
Opportunity to Win a Vacation via CEF
Want a chance to get away to the beautiful and relaxing La Casa Del Zorro in Borrego Springs, California? Now is your chance!
CEF is hosting an opportunity drawing and ONLY have 250 tickets available. This trip includes a two-bedroom casita for two nights and $600 spa gift certificate. Tickets can be purchased for $25 each! Plan a girls trip or a couples' weekend! More tickets purchased means a higher chance of winning!
Click here for more information & to purchase your vacation tickets
!