October Calendar
---
17 M.A.D.D.'s Power to
Parents Presentation
6:30 PM

18 Progress Reports Sent

18 Reflections Art Contest
Entries Due 3 PM

25 SCHS School Dedication

25: CEF Carlsbad Golf Classic

25: Halloween Dance @ SCHS

28: Red Ribbon Week begins


---
Trimester Calendar
---
1st Trimester
2nd Trimester
3rd Trimester
---
District Calendar
---
Join PTSA

Fundraising

Donate

Volunteer

About PTSA
---
Key Bobcat Info
---
J. Cesar Morales, Principal
Eddie Buscher, PTSA Pres.

Staff Directory

School Loop Website

Mission of SCHS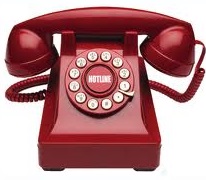 Attendance Hotline
760-331-6670

---
Like our page on Facebook: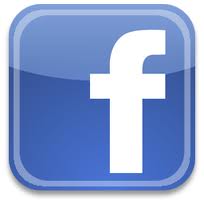 ---
---
District Links
---
Superintendent Message

Dr. Lovely Video on Common Core Standards


We are over the halfway mark of our first trimester and progress reports will be distributed this Friday during your student's 5th period class. As a direct link to the distribution of the progress reports, students began to define self-created goals for the 2013-14 academic year. Students used the S.M.A.R.T. goal format and used their advisory periods on Wednesday (10/9) and Wednesday (10/16) to work with their advisory teacher to understand the importance of writing down attainable goals.
I encourage you to discuss the goals with your student and to preview both the short video our students watched on the S.M.A.R.T. goal format along with the worksheet they used to formalize their goals.
J. César Morales
Principal, Sage Creek High School
---

"Power of Parents" Presentation on Alcohol & Your Teen: Oct 17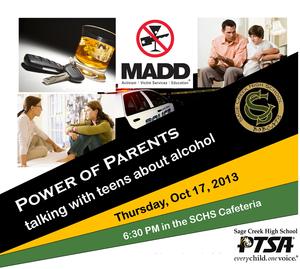 The PTSA is proud to present an important presentation for parents only, delivered by a keynote speaker from Mother's Against Drunk Driving (M.A.D.D.)
WHAT: M.A.D.D.'s Power to Parents Presentation
WHEN: October 17, 2013 at 6:30p.m.
Questions to Kimberly Huston -
kdhuston2003@yahoo.com
---
Mira Costa College to Offer Classes at SCHS
Carlsbad Unified School District students will have a great opportunity to take college courses at Sage Creek with the newly formed partnership with Mira Costa College. The goal is to offer a total of 5-6 classes beginning January 13, 2014, and the Mira Costa College administration is exploring courses in the areas of communications, English, mathematics, Spanish, music history (perhaps the history of rock 'n' roll), geology and film. Classes will not take place during the regular school day for Sage Creek students and will be programmed between 4-9 p.m.
Under the partnership agreement, MiraCosta College will waive enrollment fees for all concurrently enrolled Carlsbad Unified students taking courses from MiraCosta College, whether at Sage Creek or at MiraCosta College's campuses in Oceanside and San Elijo. Additionally, Mira Costa College will provide evening security and insurance costs while college courses are taking place.
---
2 More Golfers Needed for Carlsbad Golf Classic on Oct 25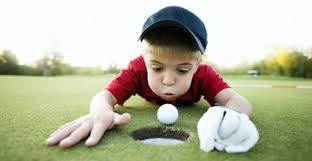 We are looking for two golfers to join our SCHS science teacher, Mr. Fieberg, and a SCHS parent to bring home the first BOBCAT Golden Club Trophy from the Carlsbad Golf Classic. The tournament is sponsored by the Carlsbad Educational Foundation on Friday, October 25, 2013. Please view the flyer for details.
**Please contact Debra Shinto if you are interested in representing Sage Creek High School: 760-331-6695

Click here to view Event Sponsorship Opportunities
Not a golfer? Why not volunteer! Click here to sign up!

---
Sage Creek High School Recognized as 2013 Best Project
Balfour Beatty Construction took the Sage Creek campus design from concept to reality and was awarded the Best Projects award in the K-12 category for 2013 by Engineering News-Record (ENS), a respected industry publication. Variables that were taken into account for this prestigious award include safety measures taken during the construction process, innovation and contribution to the industry and community, construction quality and craftsmanship, and function and aesthetic quality of design.
---
Reflections Art Contest Deadline Extended to Oct 18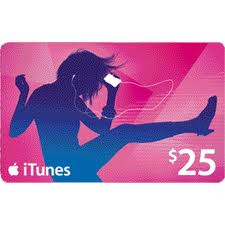 NEW INFO
: Reflections Entries will have a chance to win a $25 iTunes Gift Card!
Creative Bobcats, you have one extra week to submit your PTSA Reflections Art Contest entries (due Friday, October 18 at 3 PM to the SCHS front office).
Using the theme, "Believe, Dream, Inspire," s
howcase your creative and artistic talents in one of these categories:
Dance Choreography • Film Production • Literature •
Music Composition • Photography • Visual Arts
---
Judges Needed for Reflections Art
Please contact Laura Panter, PTSA Reflections Chair at
laurapanter99@gmail.com
, if you are a parent or community member who could help to help judge the artwork during the week of October 21-25.
---
SCHS Dedication: Friday, Oct 25
Don't miss the Sage Creek High School Dedication ceremony on Friday, October 25 beginning sharply at 9 AM! It
will be focused on celebrating Carlsbad's second great high school and its students.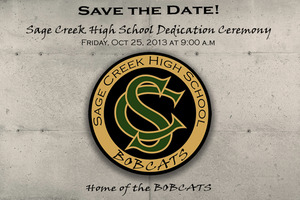 ---
College & Career: The "a" Requirement
The "a" requirement is two years of History or Social Science courses. However, three years of study is required to graduate high school. So, students will exceed the minimum "a" requirement by taking World History in 10th grade, U.S. History in 11th grade and one trimester each of U. S. Government and Economics in 12th grade.

Click on the link below to compare the a-g requirements for the UC's and the CSU's.
http://www.calstate.edu/sas/publications/documents/csu-uc-a-gcomparisonmatrix.pdf
---
Campus Expectations: Emergency Contacts
It is important to have your student's emergency contact information up to date as school personnel will only release students to those listed as emergency contacts. To be clear, the Sage Creek staff will not release a student to anyone not listed on the emergence contact list, even if a parent or adult who is listed as an emergency contact calls is in trying to designate someone else (who is not on the emergency contact list) to pick up.
STUDENTS WILL ONLY BE RELEASED TO THOSE LISTED AS AN EMERGENCY CONTACT
Please contact Glenda Harris, Attendance & Health Tech, to update your student's designated contacts: 760-331-6660
---
Be a part of the historic first SCHS Yearbook by submitting your panoramic photo!

Click here to upload a photo directly to our SCHS Yearbook site.
---
Support PTSA Online with easy SDG&E fundraiser, Ralphs Card, or Direct Donation
PTSA supports our Bobcat Community in many ways. See on the web:
sagecreekhs.carlsbadusd.net/ptsa
.
Did you know that PTSA provides programs such as career panels, substance abuse prevention, anti-bullying, financial planning for college, and much more?
Please click here
to support the PTSA with your Direct Donation, or by participating in our SDG&E fundraiser, and by registering your Ralphs Card.
You can help build a strong SCHS Community!
---
Students Must Wear Helmets
Attention
parents and students, California Vehicle Code
21212 requires that anyone under 18 wear
a helmet when riding a bicycle, skateboard, scooter, and in-line or roller skates. Mr. Morales will be working with Officer Cobian to assure that all students are following the law.
---
Why Did you Choose SCHS?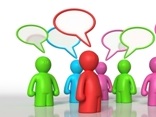 During our SCHS Dedication on October 25, 2013, we would like to share some of the reasons that our Bobcat Families chose to attend SCHS.
Please click here to share your 1-2 sentence answer on our online form
. THANK YOU!
---
CUSD Needs Parent Volunteers to Help with Districtwide Bulk Mailing
On the following dates from 9:00-11:30 a.m:
Wednesday, October 16
Friday, October 18
Monday-Friday, October 21-25
Tuesday-Wednesday, October 29-30

•
Affix labels and stuff letters - 11,150 envelopes
•
Sort and count by zip code for bulk mailing
•
In the Resource Training Room at the District Office (6225 El Camino Real, Carlsbad, CA 92009)
Please contact Trudy and let her know if you will be able to volunteer.

Trudy Thompson
Executive Assistant, Instructional Services
(760) 331-5011
Thank you very much for your assistance.