SCHS Newsletter Sept 24, 2017
Dear BOBCAT Nation,

Please take note that our front office will be closed this upcoming Wednesday from 7 a.m. - 8:20 a.m.

Our staff will be engaging in what we are calling Wednesday Innovation Networks (W.I.N.s) The purpose of the W.I.N.s is to bring staff from various departments together to identify and implement innovations in the areas of Campus Climate, the Advisory Period, Senior Activities, the Genius Project, School Policy, and among other areas, Public Relations.

Additional front office closures are listed below. Thank you for your understanding.
Sincerely,
Principal, Sage Creek High School
Wednesday Innovation Networks & Front Office Closures
Short front office closures will take place on the following dates and times:
9/27 7 a.m. - 8:20 a.m.
11/1 2:45 p.m. - 3:30 p.m.
1/10 2:45 p.m. - 3:30 p.m.
2/7 7 a.m. - 8:20 a.m.
2/28 7 a.m. - 8:20 a.m.
3/28 7 a.m. - 8:20 a.m.
4/25 7 a.m. - 8:20 a.m.
5/23 7 a.m. - 8:20 a.m.
Cooking Class for Students - 9/28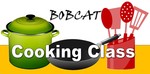 Thursday, Sept 28, 2017
From 3:00-5:00 PM
Room: 3207
*Class is currently full, but email to be placed on waitinglist:
sagecreekptsa@gmail.com
In this hands-on cooking class taught by Certified Dietician, Anne Metzger, students will work with raw and prepared ingredients, meats and vegetables, to create a delicious, Vietnamese-style Chicken Sandwiches (banh mi). Afterward, students get to keep the recipe and they can impress family and friends when they recreate the delicious dish.
*This PTSA-sponsored class is Limited to 12 students.
PTSA Member Perk - Discount SAT Prep
College Success Network offers a $15 Discount
to all Members of SCHS PTSA**!

The following 2 separate Saturday SAT Prep Events at the Dove Library are eligible for the disount (view flyer):
September 23, from 9 a.m. to 12 p.m.:SAT Reading & Writing Workshop to work on difficult passages and essay improvement
September 30, from 1-5 p.m., SAT Boot Camp, which is an intense, four-hour crash course touching on all areas of the SAT.
Pre-registration is necessary. Register at www.CollegeSuccessNetwork.com. Call (619) 713-0806 for
questions, or e-mail coach@CollegeSuccessNetwork.com.
Student Leadership Council -
Apply by 9/25

Join the CEF Student Leadership Council today! Build lifelong leadership skills, learn about nonprofits in your community and meet professionals from some of the largest and most successful businesses in Carlsbad!

Learn more today by visiting
CarlsbadEd.org
for an application.
Deadline to apply has been extended to Sept 25!
Earn $ for SCHS thru Everyday Shopping
Learn exactly how you can earn money for SCHS through your every day shopping at sagecreekhs.carlsbadusd.net/fundraising

Benefit Mobile Phone App
Download & use the Benefit App during checkout at 100s of retail stores or online and a percentage of your purchase is donated to SCHS PTSA!



Ralph's Reward Card can be linked to SCHS with Ralph's Community Contribution Program, and Ralph's will donate 1-4% of purchases to SCHS PTSA. Must re-regsiter your card every Sept.



​Amazon.com Shopping Rewards
To shop and earn money for SCHS PTSA using Amazon.com, simply access Amazon through this specially encoded link: Amazon.com for SCHS PTSA
PTSA Fall Membership Due - Sept 29
Did you attend and enjoy the "Secrets of Success" program or the Military Career Chat last week? PTSA will continue providing these wonderful programs with your support of memberships and donations!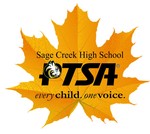 Fall Memberships for PTSA are due Friday, September 29. Parents, student and faculty members that sign up for a membership by this due date will receive special coupons, giveaways, and the first printing of the Sage Creek PTSA directory in their membership packets.

Please visit

ptsa.sagecreekhs.com

to join online, or download and print out the form and turn it in with a check or cash to the office. Packages are available to make joining easy!
SAT Prep Bootcamp - Sept 30 & Oct 1

SAT Bootcamp at Sage Creek HS is coming up on Saturday, Sept. 30 & Sunday, Oct 1 (both days 9am-1pm)!

These momentum-building weekend seminars by Catalyst Prep give students the insight and confidence they need on the day of the test. Students take home self-study materials for sustained practice right up until the test. Tuition for each Bootcamp is just $175. DEADLINE TO ENROLL IS 9/27!

Enroll Here: catalystprep.com/bootcamp_su or call us at 800-235-0056
Cafe Bobcat - VAPA Fundraiser 10/6
Cafe Bobcat will be Friday, October 6th in the cafeteria! We will sing, dance, laugh, and announce the winter musical! Halloween costumes encouraged. $5 donation suggested.
Volunteers for Bobcat Benefit Needed by 10/6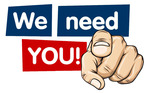 A group of Parent Volunteers is needed to organize the Sage Creek Foundation's Bobcat Benefit Spring Gala. This exciting fundraiser event is planned for April 2018 and will feature dinner, entertainment and numerous auction and raffle opportunities.

Volunteers will serve together on a committee create invitations and Décor to fit the event theme, design the program, hire entertainment, secure auction/raffle items, organize the auction/raffle, and promote the event and sell tickets.

► To volunteer, please contact Scott Welle by Friday, October 6, 2017 at goforrestgo@yahoo.com
Get Book Now for Parent-Saff Book Club on 10/19
SCHS PTSA is continuing with its very popular
Bobcat Parent-Staff Book Club!

Thursday, October 19 from 6:30-7:30 is our next meeting

Start reading the book now:
Grit: The Power of Passion and Perseverance
by Angela Duckworth (click book title above to order)
More info at sagecreekhs.carlsbadusd.net/bookclub


College Visits @ SCHS - Now through Nov
Juniors & Seniors can meet representatives from Colleges across the nation right on our SCHS Campus!

Just logon to Naviance to sign up & reserve your spot.

Click here to view list of Visiting Colleges from now through November. During this week of Sept 25-29 alone, you can meet:
University of San Francisco

Georgia Institute of Technology

The University of Oklahoma

University of San Diego

Marist College

Washington State University
College Apps Academy for Seniors

Join the Carlsbad Educational Foundation (CEF) for their College Apps Academy to learn more about looming UC, Cal State and Common App deadlines and how to get into the school of your dreams! Visit www.carlsbaded.org/college-apps-academy to register today, or for more info about this program that runs on Thursdays at 2:45 in SCHS Library.
Science Olympiad - Get Involved
Want to share your love of science, math, or engineering? Carlsbad Educational Foundation (CEF) has an opportunity for you! Join Science Olympiad - a national program that promotes learning through hands-on, competitive, and fun science and math events. To learn more about it, check out the attached links: For (students/parents) and (coaching/volunteer opportunities). If you have any questions or would like to discuss coaching opportunities, please contact Karen Lopez at karen@carlsbaded.org.
Parent Webinars from College Board
Paying for College: FAFSA, Applying for Financial Aid, & Scholarships
Monday, October 2, 2017 @ 4 p.m.

College Applications 101
Thursday, October 12, 2017 @ 4 p.m.