Dear BOBCAT Nation,

After Spring Break, we will be changing a portion of our drop-off/pick-up traffic logistics as a direct response to the growing number of student drivers, projected increase in student enrollment next academic year, and preparing for the construction of our Performing Arts Center expected to begin on June 20, 2016.

As seen on the illustration below, traffic flow to the drop-off/pick-up circle will remain the same, but drop-off/pick-up traffic to the student parking lot will now be re-directed to the lower parking lot and students will access campus through the athletic field visitor entrance. This change will make the student parking lot, which is now at capacity, safer and allow us to make our overall traffic flow more efficient. How does this change impact travel time? There is a one minute thirty two second travel time difference when we compare the walking distance from the athletic field visitor entrance to the student parking lot.

This traffic flow change will take effect on Monday, April 18, 2016. Please read the summary of changes and reveiw the maps in the sections below.
Principal, Sage Creek High School
Dessert with Principal Wed. Apr 13
*Mark your calendars for this event the week after Spring Break!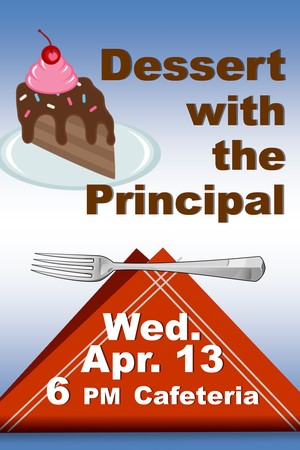 The PTSA is hosting "Dessert with the Principal" where you can join Mr. Morales for conversation & dessert on:
Wed., April 13
at 6:00 PM
in SCHS Cafeteria
*General Assembly Meeting with Election of the SCHS PTSA Board to proceed this event.
View the nominees of the:
2016-17 PTSA Executive Board Slate
here.
Few Spots Open for Thu 3/31 CPR Class
WHO:
All Bobcat students and parents are invited to learn or update your CPR skills, but space is limited & registration is required.
*Just a few spots remain available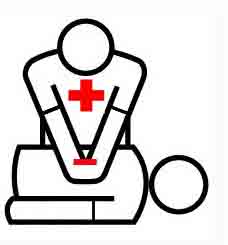 WHERE:
SCHS Cafeteria

WHEN: Thursday, 3/31/16 fm 6:30-8:30 PM

COST: $20 per individual
[*Scholarships are available. To inquire, please contact emmybythesea@gmail.com.]

DETAILS: This PTSA-Sponsored 2-hour adult, child and infant CPR class is taught by a certified instructor, Sue Lockhardt of Lockhardt Training (www.lockhart-training.com)
.
►
CLICK HERE TO SIGN-UP
"Upon successful completion of this two hour CPR class, each participant will receive their Infant, Child, Adult Certification. (Certificate will be emailed by instructor)."
Campus Clean Up Continues thru Mar 31st
Attention Students, Staff and Parents:

Join Club Interact and our Athletes and Clubs in a campus clean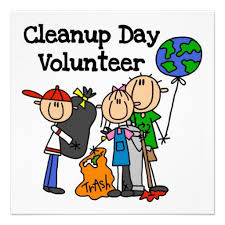 up on March 30 & 31st.

Commit to one day/one hour after school, or join us for all days. Volunteer your time to keep Sage Creek beautiful.

Students will earn community service hours. See link below for full schedule.

Traffic Flow Change Summary
Effective Monday, April 18, drop-off/pick-up traffic that is currently flowing through the student parking lot will be directed to the bottom parking lot.
The "pros" of this change:

Student parking lot will be safer.
Overall traffic will flow more efficiently.

The "cons" of this change:

Students being dropped off or picked up at the lower parking lot will need to walk a minute and a half longer.

Please preview Traffic Flow and Walking Time maps provided.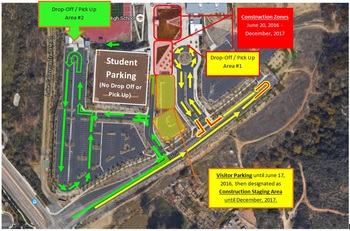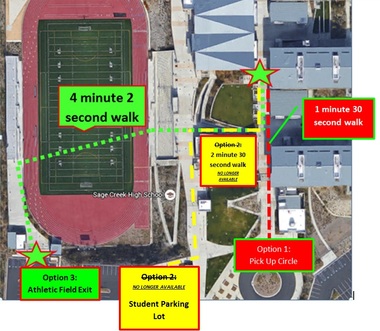 eBlast Needs You!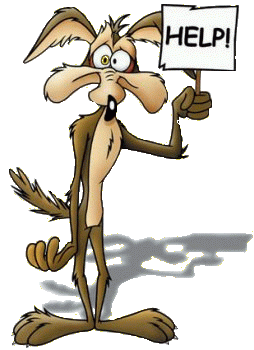 Sage Creek PTSA is looking for a person to fill our Board position of Communications VP for 2016-2017!

It's a really fun way to get involved!

If you are interested or just want to learn more about it, please email us ASAP at sagecreekptsa@gmail.com.
Celebrate Carlsbad Day@ Legoland 4/23
Discounted Celebrate Carlsbad Day™ LEGOLAND® and SEA LIFE Aquarium® tickets are now on sale for a discounted rate.

Celebrate Carlsbad on April 23!
Purchase your $35 LEGOLAND tickets at any CUSD elementary school or click here to purchase online. $9 SEA LIFE tickets can be purchased online at CEF's events page.
Park hours for these specially-priced tickets are 1 p.m. to 8 p.m.
Summer HS Classes Available
Do you need credits?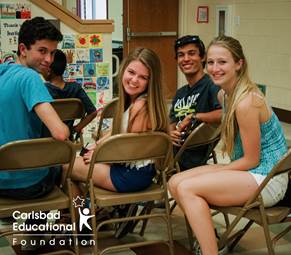 Register for CEF's High School Summer Academy and earn summer credits for more scheduling freedom during the school year!
Click
here
to learn more and register today to make more room in your schedule to take the classes you want!
www.Carlsbaded.org
1st Ever SCHS
Foundation Gala - May 21
Saturday, May 21st 5-9 pm
Crush Restaurant in Solana Beach
*Save the date on your calendars and plan to join the fun!