10: Secrets of Success at
Sage Creek Seminar &
PTSA Mtg 6 PM

12: ASB Dance

15: Deadline for submitting
School Directory Info

17: Art Contest for School
Directory Due

19: Dismissal 1:20 PM

23: Picture Make-up Day

24: PSAT Registration &
Payment Deadline

6: College & Career Fair
at CHS for all students

18: PSAT Test
1st Trimester
2nd Trimester
3rd Trimester
SageCreekPTSA@ gmail.com

Volunteer
J. Cesar Morales, Principal
Bill Lord, Asst. Principal
Eddie Buscher, PTSA Pres.

Staff Directory

School Loop Website

Mission of SCHS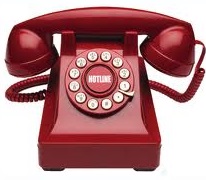 Attendance Hotline
760-331-6670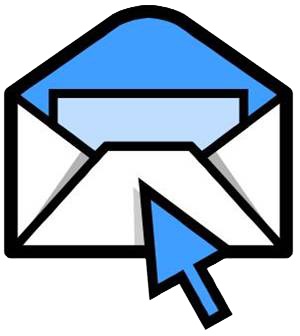 Register additonal email addresses for eBlast newsletter
Superintendent Message

CUSD Website


► Community Service Opportunity
Dear BOBCAT Nation,

Thank you for joining us last week for our 2014-15 Back To School Night. As communicated during our Advisory Period, we have two school-wide initiatives:

1. Organized Binders
2. Cornell Note Taking

Our ambition is to teach students how to maintain their academic materials in an orderly fashion and how to organize information when taking notes. Please review the Organized Binders and Cornell Notes sections below.

Additionally, I look forward to seeing you at this afternoon's PTSA sponsored Secrets of Success at Sage Creek. Sage Creek teachers, Mrs. Payne and Mr. Simon will be joined by Mr. Curtis Adney, a Study Skills expert from MiraCosta College. The purpose of the parent and student workshop is to inform our community on some key study habits to support our goal of high academic achievement at Sage Creek High School (see flyer below)

I look forward to seeing you tomorrow at 6 p.m. for our Secrets of Success at Sage Creek parent and student workshop.
Sincerely,
J. César Morales
Organized Binders
Sage Creek High School students will maintain an organized binder. Following is the baseline definition of an organized BOBCAT binder:
One Section Per Subject (a notes section and a section for handouts)

Notes will be organized in chronological order with the oldest being on top and most recent on the bottom.
​
A supplies pouch or backpack pouch will have the following tools:

2 pencils, 2 pens, 2 highlighters, 1 ruler, and a calculator
Cornell Notes
The purpose of Cornell Notes is to help students organized information when taking notes. All Sage Creek teachers will utilize this note-taking strategy and incorporate the following 6 elements as part of the note-taking process: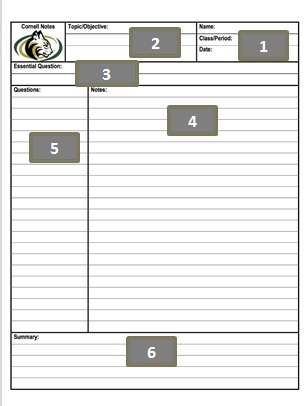 1.
The Heading:
Includes name, class, period, and date.
2.
A Topic:
The topic/learning objective of the day.
3.
An Essential Question:
What is the lesson going to answer?
4.
The Note-Making Section:
Students use this space to take notes during class about the lecture, Power Point, video, speech, lab, …etc.
5.
The Note-Interaction Section:
After class, students generate questions on the left-hand column about the content written in the Note-Making section.
6. T
he Summary:
After class, students synthesize information. The synthesis should answer the Essential Question and questions written on the Note-Interaction.
Secrets of Success at Sage Creek

Parent & Student Seminar - Wed., Sept 10
Submit Your Info for Student Directory
We hope that everyone in the Bobcat Nation submits their information
so our directory can be complete!
(Participation is optional).
Here's how to send your info:
►►
Click the secure link to submit your family's contact info for the directory:
School Directory Online Form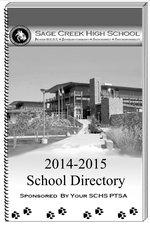 ►►
Deadline is
Monday, September 15
.
Our School Directory will be available to all PTSA members for FREE (
click to join PTSA
), but
any other Bobcat family can get one for $20. This directory will put all the key info at your fingertips, from the school calendar to contact information for your school friends, teachers, staff, and district personnel.
School Directory Cover Art Contest - Entries Due 9/17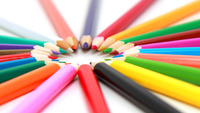 Students have the opportunity to have their Artwork grace the cover of our Sage Creek High School 2014-2015 School Directory.
► Click here for an official entry form
Submissions Due
Sept 17, 2014
Sign-up and more info about School Directory here.
Student Drop-Off & Pick-Up Reminders
Thank you to our BOBCAT parent community for being patient as the drop-off and pick-up logistics were adjusted. We ask that each parent practice these strategies to ensure a safe and efficient traffic flow:
Pull up as far as possible when dropping-off or picking up in the drop-off / pick-up zones.
Be sure to pull up as far as possible when dropping-off or picking up in the drop-off / pick-up zones. (Repetition was added for emphasis)
Have all conversations and goodbyes take place prior to arriving to the drop-off zones.
Be sure that students have all of their belonging organized prior to drop off.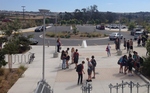 The following picture was taken at 2:46 p.m. on Friday, September 5, and demonstrates how our adjustments have helped to ensure a safe and efficient pick up.
School Dance - Friday, Sept 12
Click here
for details of our exciting first dance of the year!
Sage Creek Advisory Period
The Sage Creek Advisory period is a unique period with 3 defined purposes:
Develop a strong sense of community: staff to student, student to student, and staff to home.
Provide students resources to prepare them for college and career.
Take care of the business of doing business (i.e. campus communications, emergency response drills, and campus-wide programmatic activities).
I encourage you click here to watch this 8-minute TED Talk
that touches on what seek to accomplish as it relates to developing strong relationships between our students and teachers.
Purpose of PSAT / Online Payment Option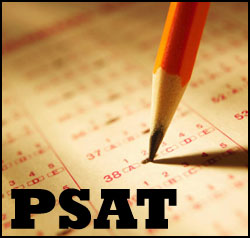 Purpose of The PSAT
Students receive feedback of their college readiness strengths and weaknesses.
Compare students' performance on an admissions test to others applying to college.
Become familiar with the SAT format and questions.
Important Dates/Information:
$25 payment is due by

Wednesday, September 24

Pay by check or cash to Business Office located in Admin Offices OR see below for on-line payment option. Students will get a study guide with payment.
The PSAT will be administered at Sage Creek High School on

Saturday, October 18
► CLICK HERE

to use the online payment option.



*A $1.75 processing fee will be applied to the purchase. Cash or check payments can be turned in to the Business Office located in the Administration offices.

Carlsbad Educational Foundation Golf Tounament - Oct 10
Join us for the 14th Annual Carlsbad Golf Classic. The event takes place on Friday, October 10, with an 11:30 a.m. Shotgun Start.

Please contact Mr. Morales at 760.331.6695 if you would like to create a team representing Sage Creek High School or would like to sponsor an individual or a team.

Prices are as follows:
Individual - $195 One player - golf fees, lunch, dinner and tournament tee prize package
Foursome - $780 Four players - golf fees, lunch, dinner and tournament tee prize package
VIP Foursome - $1,000 Four players –golf fees, lunch dinner, tournament tee prize package
VIP reception and tour of the exclusive TaylorMade Kingdom
Dinner Only - $45 Dinner and Silent Auction
Click here for more info.
College & Career Fair: Save-the-Date
Monday, October 6, 2014
6-8 PM at Carlsbad High School
An exciting event with over 100 organizations present!
All SCHS students are encouraged to attend.