Dear
BOBCAT
Nation,
I want to give a huge THANK YOU to our Sage Creek Foundation and school community for a great BIG NIGHT event this past Friday. With the help of Sage Creek Foundation and BOBCAT athletic teams, the three BIG NIGHT events raised over $25,000 for our 18 athletic programs!
In addition to supporting our athletic programs, the Sage Creek Foundation has also provided resources this academic year to ensure our students have a second to none high school experience:
$7,500 for Academics
Chromebooks and Computer Software
$15,000 for Visual and Performing Arts
Art Supplies, Musical Director, Choreographers, Co-Director, Dance Materials and Supplies, and Costume Designer.
Thank you to all who have donated, be it with your time or your treasure, you are making an impact!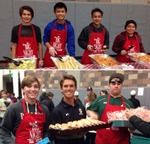 Principal,
Sage Creek High School
CUSD Combined Area Concert 3/16
TONIGHT, WEDNESDAY, MARCH 16th

in the CHS OLD GYM at 6:00pm.

THE COMBINED AREA CONCERT

Cost is FREE!
This Concert will feature over 250 musical performers from all (5) secondary schools:
Valley, Aviara Oaks, Calavera Middle Schools

Sage Creek and Carlsbad High Schools!


Each school will perform individually, and all (5) schools will join together to perform a few numbers as one giant musical ensemble!


Come and enjoy! Show your support for music in Carlsbad!
Restaurant Night 3/16
Join the Sage Creek Track and Field team tonight, March 16 from 5:30-8:30, at CYO Pizza in the Palomar Commons Shopping Center. Bring the attached flyer or mention Sage Creek and 20% of sales will come back to the Track and Field team. Enjoy a custom pizza or salad or maybe some pasta while earning a little money for our athletes.
New CPR Class added for 3/31
CPR Class - Thur. March 31 - 6:30 PM - 8:30 PM
Due to High Demand - New Class Date Added!
*Thur, 3/24/16 class is FULL

WHO: All Bobcat students and parents are invited to learn or update your CPR skills, but space is limited & registration is required.
WHERE: SCHS Cafeteria
WHEN: Thursday, 3/31/16
from 6:30-8:30 PM
COST: $20 per individual
[*Scholarships are available. To inquire, please contact emmybythesea@gmail.com.]
DETAILS: This PTSA-Sponsored 2-hour adult, child and infant CPR class is taught by a certified instructor, Sue Lockhardt of Lockhardt Training (www.lockhart-training.com). ► CLICK HERE TO SIGN-UP

"Upon successful completion of this two hour CPR class, each participant will receive their Infant, Child, Adult Certification. (Certificate will be emailed by instructor)."
Financial Life Skills for Teens
3/30, 4/21 & 5/3
Teen Financial Smarts Program
3 Free Seminars for Teens on Smart Finances!
Come to 1, 2, or 3 of the seminars
DELICIOUS FREE FOOD for all attendees!!
Each is 45 minutes of interactive fun
2:45-3:30 PM at SCHS in
Classroom 3201
CLICK HERE to SIGN-UP... coming soon
| | |
| --- | --- |
| Date of Seminar | Topic |
| Wed, March 30: | Want to save to buy something cool? Create a Spending Plan to Reach Your Goals! |
| Thurs, April 21: | Credit cards - a good or bad idea? How to use them in a smart way! |
| Tues, May 3: | How do taxes work and how can I get the most money in my pocket? |
You can still join PTSA!
PTSA Membership
It's not too late to join the Sage Creek PTSA. We accept members all year long.

PTSA families will receive a School Directory and those who purchase either Package A or Package B will also receive Bobcat Spirit Cards with discounts at many local venors. We still have many exciting programs this year! Click on the link to access the Membership Toolkit so that you can easily complete your transaction.
Dessert with the Principal 4/13
Join Mr. Morales for Dessert on

Wednesday, 4/13/2016 at 6:00 PM
General Assembly Meeting with Election of the SCHS PTSA
Board to proceed this event.

Click here to view the
2016-17 Executive Board Slate

Do you know anyone in Video's, App or Gaming Development or Robotics?
We need your help!

"Do you or anyone you know have experience in: Video's, App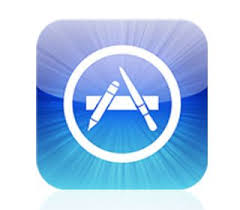 Development, Gaming Development or Robotics?

We are seeking mentors, participants, and specialists to participate in our

Video, App, Gaming and Robotics Festival on Friday, May 20th!

This is going to be a FUN-filled event and we need your help! Please contact Mary Ellen Reulein at emmybythesea@gmail.com or call 949.244.8330, if you have a connection in any of these industries!"
Reflections Reception for County 4/7
Take this opportunity to see all of the talented multimedia entries for the Reflections "Let Your Imagination Fly" program, including entries from our own Sage Creek students.

Ninth District PTA open gallery on
Thursday, April 7th 2016 from

6:00pm - 8:00pm

at the

San Diego County Office of Education.

Come and enjoy the exhibits.
Celebrate Carlsbad Day @ Legoland 4/23
Discounted Celebrate Carlsbad Day™ LEGOLAND® and SEA LIFE Aquarium® tickets are now on sale! Save $58 and celebrate Carlsbad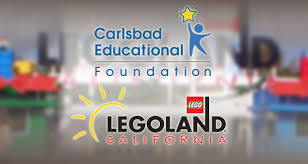 on April 23!

Purchase your $35 LEGOLAND tickets at any CUSD elementary school or click here to purchase online. $9 SEA LIFE tickets can be purchased online at our events page. Park hours for these specially-priced tickets is 1 p.m. to 8 p.m. Tickets will be emailed directly to you!

CEF Summer Academy
Do you need credits?
Register for High School Summer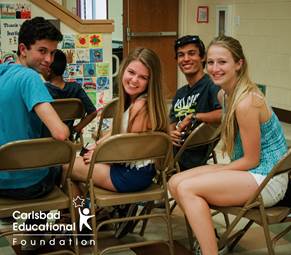 Academy and earn summer credits for more scheduling freedom during the school year!
Click
here
to learn more and register today to make more room in your schedule to take the classes you want!
www.Carlsbaded.org