September Calendar
---
20 Spirit Wear Friday

20 Lancer Day - Early Release
1:20 PM

25 Medical Career Panel &
PTSA Gen. Assoc Mtg

27 Spirit Wear Friday

27 Glow Dance 8-10 PM

---
October Calendar
---
01 Cyber Safety Forum

11 Reflections Art Contest
Entries Due

17 M.A.D.D.'s Power to
Parents Presentation
6:30 PM

25 SCHS School Dedication
---
District Calendar
---
---
Key Bobcat Info
---
J. Cesar Morales, Principal
Eddie Buscher, PTSA Pres.

SCHS Staff Directory
SCHS School Loop Website
SCHS Mission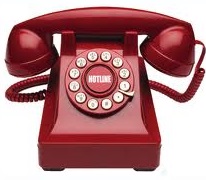 Attendance Hotline
760-331-6670

---
Like our page on Facebook: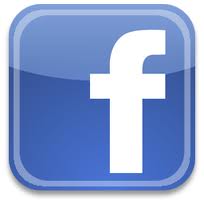 ---
---
District Links
---
Superintendent Message

Dr. Lovely Video on Common Core Standards


Dear Bobcat Nation,

I hope that you will join us for our first of four evening panels focused on college and career. This Wednesday (9/25) at 6 p.m., our PTSA has organized a career panel focused on Medical Careers and we will have the following presenters:
DNA Forensic Specialist

Internal Medicine Physician

Hospitalist

Veterinarian

Nurse
The event is open to parents and students and will take place in our cafeteria. I look forward to seeing you then.
J. César Morales
Principal, Sage Creek High School
---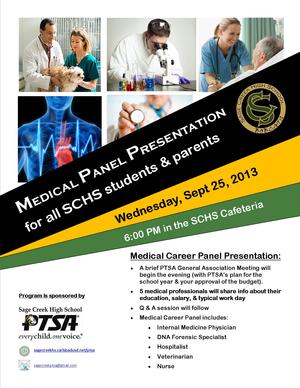 Click image above to view flyer
---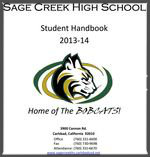 Student Handbook
Please view the Student Handbook by
clicking on the following link
. The handbook contains important information regarding attendance, extra-curricular activities, graduation requirements, and among other things, campus expectations.
---
Bell Schedules / Final Exam Schedules
1st Trimester
Classes: Aug 28-Nov 22
Finals: Nov 20, 21, 22
2nd Trimester
Classes: Dec 2-Mar 7
Finals: Mar 5, 6, 7
3rd Trimester
Classes: Mar 10-June 12
Finals: June 10, 11, 12
Click here for complete Bell Schedule for SCHS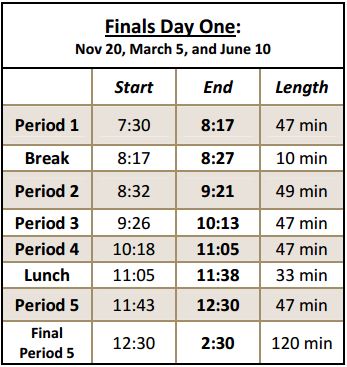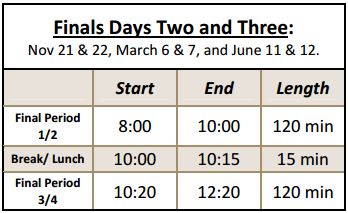 ---
Glow Dance - Fri, Sept 27, 8-10 PM
Please remind your student that if they want to attend the SCHS Glow Dance on Friday, Sept 27, they must turn-in their parent signed "Dance Agreement" by Thursday, Sept 26.

See School LoopNews for details & to download the Dance Agreement: http://sagecreekhs.carlsbadusd.net/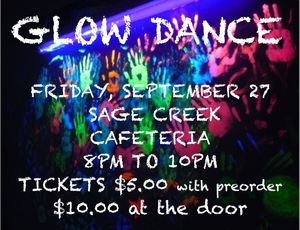 ---
Cybersafety Online Forum: Tue Oct 1
Sage Creek High School is teaming up with local technology company ViaSat to present a live, interactive forum with the Federal Communications Commission's (FCC) in Washington, DC.
Purpose of Forum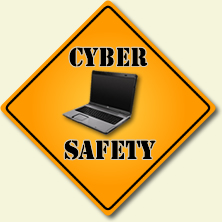 A panel of experts will discuss the prevention of risky online behavior and provide tips to protect consumers. Additionally, cybersecurity as it relates to social media, identity theft, and mobile security will be reviewed.
Quick Facts
When: 7:00 – 9:00 a.m. on Tuesday, October 1
Who: The forum is sponsored by the (FCC) Consumer and Governmental Affairs Bureau. ViaSat is providing a satellite terminal to extend online communications.
If you are a parent and would like to join us in our library for this interactive webcast, please contact Debra Shinto at 760-331-6695 to reserve your spot. We have limited space.
---
Reflections Art Contest Entries Due Oct 11
Sage Creek High School PTSA is proud to sponsor the first annual Reflections art contest. This year's theme is "Believe, Dream, Inspire." Explore the arts and showcase your creative and artistic talents with several categories:

Dance Choreography • Film Production • Literature •
Music Composition • Photography • Visual Arts
Entry forms and guidelines are available at
sagecreekhs.carlsbadusd.net/ptsa
. All work must be
original.
Deadline for entries is Friday, October 11 by 3:00 PM to the SCHS front office.
---
Judges for Reflections Art Contest
Parent and community volunteers are needed to help judge the artwork during the week of October 14-18.
Community service hours will also be available to students that help with the Reflections contest, for more information please contact Laura Panter, PTSA Reflections Chair at
laurapanter99@gmail.com
---
SCHS PTSA Membership Now Available Online!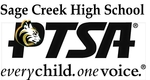 If you haven't had a chance to join the PTSA at Sage Creek, you can now do so easily online, and pay securely via PayPal. Just click the "Join Now" button when you visit us at:
sagecreekhs.carlsbadusd.net/ptsa
.
---
Save The Date: Sage Creek High School Dedication Oct 25
We will have the Sage Creek High School Dedication ceremony on Friday, October 25. The event will begin sharply at 9 AM,
and will be focused on celebrating Carlsbad's second great high school and its students.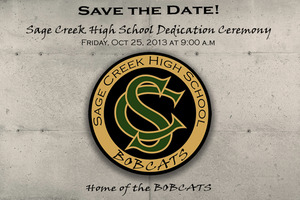 ---
Adult Volunteers Needed for SCHS Dedication Oct 25