Dear BOBCAT Nation,
On Tuesday, October 21, Dr. Suzette Lovelly, CUSD Superintendent, held the inaugural
State of the District Event
to inform our community partners about CUSD's new mission and vision as well shared our academic milestones from the 2013-14 academic-year. The theme of the State of the District event was EXCELLENT SCHOOLS ARE EVERYONE'S BUSINESS.
The purpose of the event was to showcase how well teachers and staff are preparing students for success. It was geared to inform our external partners – e.g. members of the business community, elected officials, leaders of non-profits, and representatives from local colleges and universities - how education looks and sounds in CUSD.
Sage Creek had several students engaging community leaders in table top discussions and demonstrating first-hand the great education they are receiving. Additionally, many complemented our orchestra students for their great performance.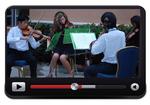 GREAT COMMUNITY – GREAT DISTRICT – GREAT SCHOOL!
Principal
Sage Creek High School
Counseling News
Our First College Admissions Rep
The Counseling Department is excited to welcome our first college admission representative to our campus. Gia Ballash from the University of San Diego Admissions Office will be in the Counseling Center Tuesday, October 28th, during student lunch from 11:30 to 12 Noon to introduce interested students to USD.

To attend this presentation, students need to sign on the sign up list available at the Counseling Office Reception Desk. Because seating is limited, 10th graders will be given priority.

---
PSAT Recap
On Saturday, 268 Bobcats out of 284 who had signed up took the PSAT in the Bobcat Arena. Another 21 students took the test at Carlsbad High on Wednesday. To have 305 or over 40% of our students sign up for the PSAT is impressive.

---
Counselor Assignments
We wanted to remind you that all Sage Creek students have been assigned to a counselor by the first letter of their last names. Student assignments are:

Counselor Student Last Names Beginning with
Roger Brown A – N
Kate Dendy O – Z
Yearbook Needs Your Summer Pictures
Hey Bobcats! Yearbook needs your summer pictures! Upload those fun summer pics with the info below:
♦ Go to
hjeshare.com
♦
Our school code password is
sagecreek
♦
No posed photos please!
Healthcare Career Panel Presentation -

Wed., Nov 5 @ 6:30 PM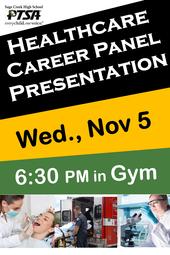 All SCHS Students & Parents are Invited (download flyer):
Wednesday, Nov. 5, 2014
6:30 PM in the Bobcat Arena
Six healthcare professionals will present info about their
education,
salary, and
typical work day
Q & A session will follow
Healthcare Panel includes the following professionals
(
download panelist bios
):
Dental Hygienist
Medical Technologist
Naval Trauma Surgeon

Paramedic Fireman
Pharmacist
Physical Therapist
​

Event starts with a 5 min PTSA General Association Meeting
Training for Working Concessions 10/23
Parents who want to earn money for their student's sport by working concessions need a attend a Food Handler's Training Session on

Thursday, Oct 23 at 3:00 PM in the Cafeteria.
School Directories from PTSA Delivered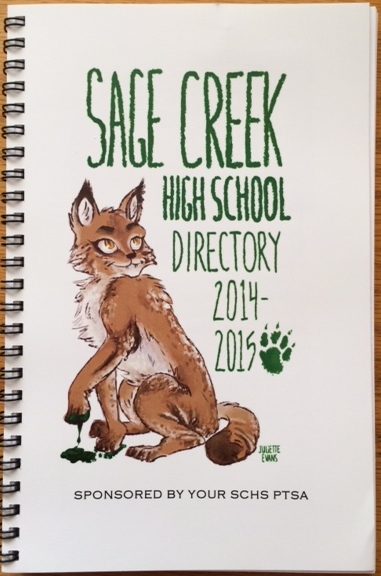 On Wednesday, Oct 22, during advisory and at lunch, manila envelopes containing School Directories and other PTSA Membership materials were delivered to students whose families joined the PTSA.



If your student did not pick up their manila envelope today

, please have them pick it up from Ms. Padilla in the office as soon as possible. Send questions to SageCreekPTSA@gmail.com, or to join go to sagecreekhs.carlsbadusd.net/ptsa.

Thank you for supporting PTSA at Sage Creek!
Parents Invited to Oct 29th Assembly
SCHS parents are invited to the Bobcat Arena on Wednesday, October 29 from 11:15 am to 12:10 pm

to attend our special Red Ribbon Week Assembly with guest speakers from Natural High and musical entertainment by Cody Lovass.


Natural High is a substance abuse prevention organization that inspires young people to say yes to their passions, and no to drugs and alcohol.

Natural High provides a research-based curriculum for youth, educators, and parents using the stories influential drug-free celebrity role models. The organization

engages young people in a dialogue about their passions, and inspires them to say yes to a "natural high" but no to drugs.

Natural High's message works because of its partnership with these celebrity role models, such as USMNT Goalkeeper Tim Howard, World Champion Gymnast Jordyn Wieber, NBC's The Voice Winner Cassadee Pope, Pro-Surfer Rob Machado, Grammy Award Winning Musicians Switchfoot, and more,

If you are a parent that plans to attend on 10/29, please email Kimberly Huston, PTSA Red Ribbon Week Chair (

kdhuston2003@yahoo.com

) so we can get a headcount.
Bocats - Get New FREE "Smart" Thermostat from SDG&E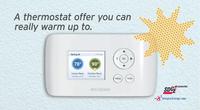 Warm up to this cool offer!
SDG&E is offering
free
ecobee programmable thermostats
that can be controlled remotely from your smart devices. On Reduce Your Use days, you can earn an even higher credit by allowing your air conditioner to cycle or be raised 4 degrees. That's cool! Act now because this thermostat offer if available in limited numbers.
To see if your home qualifies for this offer, visit
sdge.com/thermoenroll
.
Use promo code "SageCreek" and our school will receive $20 for each completed interest form.
Not eligible for the thermostat?
Sign up for a Reduce Your Use notification to be eligible for bill credits for conservation on hot days:
Click here
. After you enroll,
complete this quick questionnaire
to earn $$$ for Sage Creek High PTSA.
Do you get SCHS Foundation's Newsletter?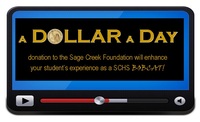 The Sage Creek Foundation has been doing wonderful work to help the students of Sage Creek High School. To date, the foundation has provided grants of over $20,000 to benefit all of the students at Sage Creek High School. To be successful in its mission, the foundation needs the participation of all of our community.

If you did not get the newsletter, please go to http://www.sagecreekfoundation.org and sign up on the right side of the page. Also, please click the video screen to watch the short video to see what the foundation is doing to help your student.
Parent Volunteers for Campus Tours
Our campus tours for prospective families have begun.

In order to capture all perspectives, we are hoping to have two volunteer parents on each tour to provide the invaluable insight you have regarding the BOBCAT Experience.

The schedule of tours is listed below. If you are interested and available, please contact Debra Shinto, Mr. Morales' administrative assistant, at 760-331-6695 to sign up.


Thursday, Oct 30
Tuesday, Nov 4
Thursday, Nov 13
Wednesday, Dec 3
Tuesday, Dec 9
Tuesday, Dec16
Thursday, Jan 8
Tuesday, Jan 13
Thursday, Jan 22
Tuesday, Jan 27
Thursday, Jan 29
CUSD Parent University Oct 28

Click here for flyer
with more info.
Tuesday, October 28, 2014 @ 6-8pm Valley Middle School:
"Internet Safety & Social Media Trends" – Jon Moffat, Cyber Educator/Consultant