Dear Bobcat Nation,
It is an absolutely exciting time to be a Bobcat!
I am proud to announce that the Bobcat Nation will at least double in size as we will grow to a student body of over 700 students for the 2014-15 academic year! The word is out about the great Sage Creek Experience and I look forward to our continued journey together as we welcome our incoming students and their families.
Equally exciting is that the
CUSD Board of Trustees will be reviewing the schematic designs for the Performing Arts Center
presented by three different architect groups. The Performing Arts Center is scheduled to break ground on December of 2015. The meeting will take place on Wednesday, March 19, at the District Office and will begin at 6 p.m.
I hope that you've also saved the date for our students' first full-length production, Stuart Little.
There are two shows scheduled to take place at the Carlsbad Cultural Arts Center. See details below.
Go Bobcats!

J. César Morales
Proud Principal
Sage Creek High School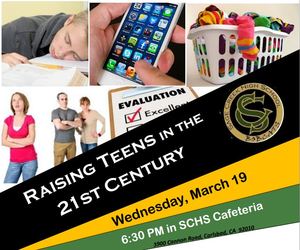 Raising Teens in the 21st Century -

Free Parenting Seminar: Wed, Mar 19 @ 6:30
Parenting expert, Fred Becker will present an informative seminar covering the biggest issues facing parents today when raising their teens.

Click here for flyer • Click her for Mr. Becker's Bio
---
Stuart Little - SCHS Theater Production: Thur & Fri, Mar 21 & 22
Sage Creek High School Theatre has quite a show in store for you!

Our first full length production, Stuart Little, will be at the Carlsbad Cultural Arts Center on March 21 at 7:00 pm and March 22 at 2:00 pm. Pre-sale tickets can be purchased at lunch March 17-21 for $7.00 or on our website: sagecreekhs.carlsbadusd.net/theater. Tickets may be purchased at the door for $10. Hope to see you there!
---
News from Counseling

10th Grade Course Selections: Mr. Brown, counselor, will meet with all 9th graders during the week of March 17th to instruct them on requesting 10th grade courses through Aeries Portal.

For more information, please visit the SCHS Counseling webpage.
---
Bobcat Den Tutoring after School
Tutoring By Credentialed Teachers
Monday-Thursday 2:45pm-3:45pm
Available In the Sage Creek High School Library
Click here for schedule
---
New School Funding Town Hall Forum March 25
CUSD Superintendent and School Board Members will present information related to the new funding and accountability model for California public schools:
Local Control Funding Formula (LCFF)
Local Control Accountability Plan (LCAP)
Please join our Superintendent and School Board on:
Tuesday, March 25 fm 6:30-8 p.m.
at Valley Middle School Multi-Purpose Room (Spanish Translation provided), 1645 Magnolia Ave, Carlsbad Ca 92008.
Click here to download the event flyer
or for more detailed information go to:
www.carlsbadusd.k12.ca.us/lcap
---
College Preparation & Admissions Seminar Wednesday, Mar 26 @ 6:30 PM in Gym

Representatives & alumni from UCSD, CSUSM, USD, MiraCosta College and "It's Academic Tutoring Center and SAT Academy"
will present insider information on:
Admission Criteria
The Application Process: What it entails - deadlines - review process
Eligibility vs Selection
SAT or ACT
AP or Not AP
Impacted campuses or majors
Transfer (and Honors Program)
BA/ AA degree
Certification (career training)
Math and English Placement tests
and more!
---
ASB Happenings
1st Annual World Cup Soccer Tournament
Team England with the win and was coached by Carlos Navarro. Team England went on to play the staff at lunch and walked away with a 3-0 loss.
Bobcats Care...Service Learning
Bobcats Care celebrated St. Patrick's day with the seniors at the Carlsbad Senior Center. It was a great afternoon with some oldies but goodies of the Beatles and Three Dog Night performed by Spencer Layne, Stephanie Souza and Sarah Pouleddeji. Theater II brought their mouse in the house and performed a scene from Stuart Little. ASB handed out St. Patty's day notes and beads to help get the party started.

Bobcats Care will be returning each month to expand our community and show that they care.
Pi Day...3.14
In honor of Pi Day Math Department and ASB has a pie eating contest at lunch. We crowned our very own "Cutie Pi" of Sage Creek.
"We Day" Conference for Bobcats Care
Students that have been the helping create change within our community have been given an honor and been requested to attend We Day by Free the Children Organization. Sage CReek is being recognized for the service learning with socks for the military, food for Bread of Life, children's books for Brother Benno's and Valentines and St Patrick's Day with the Seniors of Carlsbad. Free the Children have also sponsored the transportation for the students that were nominated by teachers, parents and peers for We Day. Bobcats Care will be leaving on March 25th to attend the conference on the 26th in Oakland, California.
---
Bobcat Athletics Report
2-1 (Win) - SCHS Boys JV Volleyball @ Granite Hills
Played on 3/11/2014

15-3 (Loss) - SCHS Boys Varsity Tennis @ Ramona
Played on 3/4/2014
---
Volunteer Opportunities
Students:
Carlsbad 5000 Volunteers needed Mar 28, 29, 30
Parents:
---
Nominees for Officers of the 2014-2015 PTSA Executive Board at Sage Creek HS
President:
Eddie Buscher
Membership VP
: Brenda Beckett
Communications VP:
Liz Lichtenberger
Programs VP
: Mary Ellen Reulein
Ways & Means VP
: Christine Ryan
Secretary
: Alyssa Trask
Treasurer:
Moira Jones
Auditor:
Beth Nelson
Historian
: Nora George
Parliamentarian
: Risa Sybrandy
*Elections will be held at the April 2, 2014 PTSA General Assembly Meeting at 6:00 p.m. in the SCHS Cafeteria. All PTSA members are encouraged to attend.
---
Free Parent Presentations on Cyber Safety & Drugs: Mar 25 & Apr 1 @ Carlsbad Senior Center
On March 25,
Cyber-educator Jon Moffat will present to parents about the current social networking issues that face our children and what you as a parent can do about it.
On April 1,
Police Officer Malcom Warfield, a resource officer in Carlsbad Unified School District, will present to parents about current trends related to drug use, prescription drugs, cell phone use, runaways and more.
Both presentations are open to the public and are
7-9 PM at the Carlsbad Senior Center
(799 Pine Ave).
Click here for flyer
.
To RSVP or ask questions, please contact Penny Velazquez at 760-931-2167 or
Penny.Velazquez@carlsbadca.gov
.
---