Dear BOBCAT Nation,

Students embarked on a great opportunity to make history on the BOBCAT Nation image-
the selection of the Sage Creek High School letterman jacket design
! On Monday, January 26, all Sage Creek students received an e-mail via School Loop containing a link to three letterman jacket designs and a survey to make their selection.
The letterman jacket designs include the following options: green body with gold sleeves, green body with black sleeves, and green body with green sleeves (see below).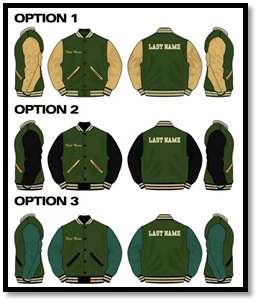 The survey will close this Friday at 4 p.m.
Please encourage your student to cast their vote.
Sincerely,
Principal,
Sage Creek High School
Parent Volunteers Needed: Feb 4, 6, 7
11:30 - 12:30 parents needed for pep rally to assist food services monitor food - cafeteria
Friday Feb 6: Hoopcoming Parade, Tailgate & Game Half-Time
2:30 parent to check in vendors time 2:30
3-9 PM (1-hr shifts) parent cashier at spirit wear tables, concession bbq food prep
7:00 - 8:00- keep performers on schedule @ half time show
Saturday Feb 7: Arabian Nights Dance
8:00am - noon decorations - cafeteria
7:30 - 8:30 tickets
7:30-11 (1-hr shifts) monitor food service – cafeteria
11:00 - 12:00 clean up - cafeteria
Student Community Service Opportunities
Great Kindness Challenge Week (Jan 26-30) is a great time to focus on making a difference in lives around us. Sage Creek Bobcats have the opportunity to help both our campus and our community through volunteerism.

Click on the following links to sign-up to volunteer for the upcoming ASB-organized Community Service Activities: *Once you sign up for these activities, an ASB leader will contact you with further details.
Freeze Hunger - Canned Food Drive
SCHS Bobcats are trying to "Freeze Hunger" during the Great Kindess Challenge Week (Jan 26-30) by collecting canned food that will be distributed to the less fortunate in our community. If you would like to help, collection bags will be distributed by ASB after school or you can use your own and create your own note:
Click here to download flyer, print it, write the day and time you will return, and sign your name. Then attach it to each bag.
Please take to five friends or neighbors and put on door
Give five days
Return on the day you said to pick up bag
Leave a note of thanks
Bring bags to school to your advisory classroom
Advisory classes will be having a competition & can win prizes.

Bags of food will be delivered to Bread of Life Rescue Mission.
Volunteers Needed

for

1/29 Campus Tour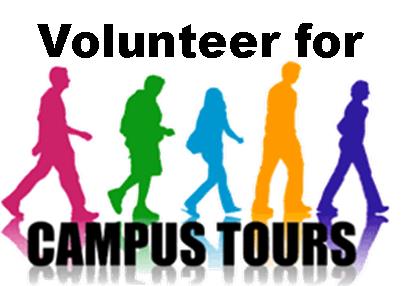 3-5 students and 1-2 parents are needed to join our final
Campus tour on
Thursday, January 29th.
The tour
provides our prospective Bobcat families various perspectives about our great school.
►
Click here to sign up as a volunteer
.
Click here
for FAQ about how to sign-up.
Hoopcoming Parade: Fri., Feb 6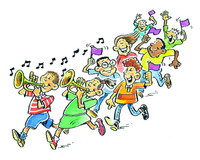 Save the Date for our SCHS Hoopcoming Parade
Friday, February 6
3:30 PM Start Time
At the SCHS Roundabout
Followed by Bobcat Boys Basketball game at 5:30
and Girls Basketball Game at 7 pm.
Food vendors will be on site
Event theme is Arabian Nights
Hoopcoming Dance: Sat., Feb 7
Saturday, February 7 is SCHS Hoopcoming Dance
7:30 - 11:00 PM
SCHS Cafeteria - Arabian Nights Theme

Tickets $15 with ASB Sticker / $30 without sticker

More info coming soon from ASB!

New Mexican Restaurant: 1/28 Fundraiser
Wednesday, January 28 from 5-9 PM
Carlsbad's NEW Hacienda de Vega Mexican Restaurant will donate 50% of all proceeds (excluding alcoholic beverages)
to the Carlsbad Educational Foundation.
click here for more info
[Restaurant address: 5806 Van Allen Way, @ corner of Faraday & College]
HS Open Enrollment Until Friday, Jan 30
Current 8th grade students (and 9th or 10th graders that want to switch HS) must declare their High School selection for 2015-2016 via the High School Selection Survey during the filing period beginning January 5, 2015 and ending on January 30, 2015 at 4:00 p.m.

If you are currently a 9th or 10th grader and want to remain at Sage Creek, no action needs to be taken.

Please go to www.carlsbadusd.k12.ca.us/hs-window

f

or further information.
Criminal Justice Career Panel: Feb 24
​Mark your calendars for the next exciting PTSA-sponsored Career Panel presentation on Criminal Justice and Social Science Careers:
Tuesday, Feb 24 at 6:30 PM in the Cafeteria

You can learn the ins-and-outs of what it takes (and what you can make) in careers like:
Boys Volleyball Tryouts & Practices
Boys Volleyball Tryouts at Sage Creek's Bobcat Arena begin Saturday Feb 21 all levels 9am-12pm.
And Monday-Friday Feb 23-27 3:00-5:15 for Junior Varsity
and 5:15-7:15 for Freshman.
Athletes are expected to come to all tryouts. If you can not attend all tryouts please contact Coach Savage and arrangements will be made.
J.V. Practices will be 3:00-5:15 M-F
Freshman Practices will be from 5:15-7:15 M-F
Go to sagecreekhs.carlsbadusd.net/boysvolleyball for more
Art Students Helping Community
On March 21, Sage Creek art students will be creating environmental art with our Carlsbad community at the "Neighborhoods Empowerment Conference - Carlsbad Love It! "

'Working Together to Build Healthy, Sustainable Neighborhoods' is the theme for this 2015 conference that focuses on engaging Carlsbad residents in their community.

Housing & Neighborhood Services is hosting the event, and they would like us to lead a hands-on art making activity for youth and families at this event. Thus, Sage Creek High School art students will lead two interactive art-making activities at the conference.

We are excited to showcase our great school at this community event and show how Sage Creek High School is committed to civic responsibility.
"Target" the Arts
1% of your shopping at TARGET will go to the Sage Creek Art Department when you sign up for Target RED card, enroll it in Target's Take Charge of Education program, select Sage Creek High School (insert name or school i.d. #153280).

ALSO, as a RED card holder YOU get a 5% discount on your all your purchases in addition to free shipping at Target.com. It's a win-win! Visit Target.com to sign up for a RED card or for more information.