Week of January 1st, 2017

Message from the Principal

Happy New Year BOBCAT Nation!
I hope you winter break was filled with memorable moments with family and friends.

Following are details for necessary adjustments to the traffic flow pattern at the drop-off circle. The Temporary Restricted Access to Drop-Off Circle is expected to last through Friday, January 6, and is a result of the heavy rains experienced during the winter break.

Please review the illustration below to see how the Temporary Restricted Access to Drop-Off Circle will impact vehicle and pedestrian traffic flow. In addition to the construction taking place on campus, there is also roadwork taking place on College Blvd.

Thank you very much for your understanding and flexibility,
J. César Morales
Principal, Sage Creek High School

Drop-Off Circle Temporary Restricted Access
Temporary Access Illustration
Blue dotted line with arrow
identifies pedestrian flow -
click for larger image
.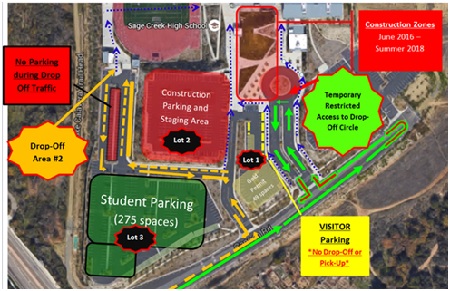 Thurs., Jan. 12 - Engineering Career Chat
Bobcat Students & Parents - sign-up for an exciting
after-school
Career Panel with engineering professionals.
Thursday, January 12, 2017

2:45-3:30 PM

SCHS Cafeteria
What engineering jobs are like

What you can do

NOW

to get started in this field!!
** Enjoy complimentary food and drinks! **
Wed., Jan. 25 - Concussion Training & PTSA General Association Meeting
All Parents, Students, Coaches, & Staff are Invited!
Wednesday, January 25, 2017
6:00 - 7:30 PM
SCHS Cafeteria
Concussion Seminar
PTSA General Association Meeting:
All parent, teacher, & student members are invited - you get to vote at each meeting!
Agenda is forthcoming
Thurs., Jan. 26 - SCHS Parent-Staff Book Club
Thurs., Jan. 26, 2017 (Discussion of Part 2 of How to Raise an Adult)
6:30-7:30 PM
Sage Creek High School Cafeteria
For more details and to RSVP, go to
​sagecreekhs.carlsbadusd.net/bookclub
Sun., Jan. 15 - Community Service Opportunity
Tri-City Medical Center is looking for volunteers for the Carlsbad Marathon 2017!
Click here for event flyer.
Campus Tours/High School Selection Window
Current 8th Grade District Students: All District students entering 9th grade must declare which high school they wish to attend in the Fall of 2017 by submitting their high school selection online during the filing period beginning January 1, 2017 and ending on January 26, 2017.

BOBCAT students and staff lead tours at 3:30 p.m. on designated weekdays. There is no need to sign up, just show up at the specified time and location.
Upcoming Tour Schedule

DATE
TOUR LEADERS
Thursday, Jan. 5, 2016
3:30-4:40 p.m.

Mr. Morales, Principal

Mr. Schuveiller, Assistant Principal

Mr. Fieberg, Science Teacher

Mrs. Alberts, English Teacher

Mrs. Park, Biomedical Science Teacher

Tuesday, Jan 10, 2016

The Sage Creek Showcase at 6 p.m.
Save the date!
Feb. 26th Save a Life Cardiac Screening
Prevent Fatal Cardiac Arrest in Youth
FREE Heart Screening for ages 12-25

Sunday, February 26
9:00am - 3:00pm
Sage Creek High School
SCHS invites you to screen your teen.
Simply register at EPSaveaLife.org/register

Every year thousands of our kids die when their heart suddenly and unexpectedly stops beating. Known as Sudden Cardiac Arrest (SCA), this syndrome can happen without symptoms or warning signs. San Diego alone loses three to five teens annually.

The biggest misconception about SCA isthat it won't happen to your teen. You have no family history...your child has no symptoms...your doctor has not indicated a screening was needed. But there is a dangerously low awareness of SCA among parents and the medical community, even though it's a leading cause of death in the U.S. for youth under 25 and #1 killer of student athletes.

The screening is completely non-invasive (no needles or x-ray exposure), painless and takes about a half hour to complete a health history, EKG and echocardiogram if indicated.You are notified of the results for follow-up with your own family doctor. Click here for event flyer.