First Day of School Schedule
School will begin at 7:30 a.m. on Wednesday, August 28. We ask that students arrive early so that we can begin our activities promptly at 7:30 a.m. with a Pep Rally in our Bobcat Arena (gymnasium). Students will then follow our regular Late Start Wednesday Schedule (see below).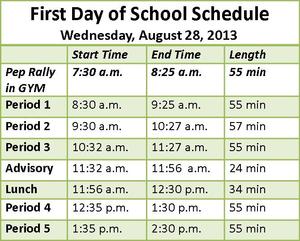 ---
Student Class Schedule Update
Our counseling department has been working all summer on scheduling your students into their 2013-14 classes. Following are some of the variables taken into account as our staff continues to build the master schedule:

Courses that students need to take (i.e. English, Mathematics, Science, and Physical Education).

Electives that students want to take (i.e. Art, Instrumental Music, CAD, Theater …etc.).

The level of the course (i.e. College Prep vs. Honors and the Various Levels of an Elective or Language Course).

Teacher Credentials, which dictate which courses a teacher can teach.

Availability of teachers to teach courses, particularly if there is only one teacher for the subject or we share the teacher with another CUSD school.
In working through these variables, we have successfully scheduled nearly 85% of our enrolled students. The goal is to ensure each student meets or exceeds: 1) the CUSD High School Graduation Requirements and 2) the UC and CSU Course Requirements to make them attractive college and career candidates when they graduate Sage Creek High School in June of 2017.

Even with the constraints of our Master Schedule, Sage Creek High School is committed to providing the same course offerings as other comprehensive high schools. Some of these courses include:
College Prep and Honors Courses in English, Mathematics, and Science

Three world language classes (Mandarin I and II, Spanish I, II, and III, and ASL I)

Elective Courses in Biomedical Sciences, ASB, AVID, Theater, Art, Instrumental Music, and Architectural Design

Physical Education
It is important to note that many of these scheduling challenges are temporary and that our course offerings will increase next academic year as Sage Creek High School grows in student enrollment and our teacher team increases in size.

Beginning Tuesday (8/13), our counseling staff will be contacting you and your child directly to work through any potential conflicts between course requests and course availability. We appreciate all of your support. Go Bobcats!!
---
Annual Residency Verification Process
As noted on Section C of the ANNUAL RESIDENCY VERIFICATION form, please have TWO of the following ORIGINAL DOCUMENTS with the parent/guardian name and address, PLUS copies:

Final Escrow papers – requires SDG&E bill (entire first page or online copy of "detailed bill") or City water bill or online copy within 30 days

Current Lease Agreement with Management/Landlord contact information (If the lease has expired and is now month-to-month, a letter on company letterhead from the manager/landlord indicating the parents are current residents is required.)

City water bill, entire first page within the last 30 days or a copy from the City website

SDG&E bill, entire first page within the last 30 days or a copy of the "detailed bill" from the SDG&E website.
Post office boxes do not meet residency requirements; only street addresses are acceptable.


* Please go to www.carlsbadusd.k12.ca.us to access all of the necessary Registration documents.

-------------------------------------------------------------------------

Verificación Anual de Residencia


Favor de proveer

DOS

de los siguientes

DOCUMENTOS ORIGINALES

con el nombre y dirección del padre/guardián, MAS copias:

http://www.carlsbadusd.k12.ca.us/reg-hs-sp.html


---
Supply List
A Focus on Student Organization Skills
A campus focus this academic year is to exact that our students are organized and ready to actively participate in all instructional activities. In order to accomplish this, all students need to organize their materials in a single 2-3" three-ring binder that has the items highlighted in the Student Supply List enclosed in this e-mail.
Additionally, all departments will implement the use of Cornell notes as their note taking strategy.
Student Supply List
For All Students:
2-3" 3-ring binder

Dividers

Loose-leaf paper (college-ruled)

Pens (blue or black ball point)

Pencils (Ticonderoga recommended)

Erasers

Pencil pouch

Personal computing device with internet access at home (e.g. PC, Mac, laptop, tablet, smartphone, etc)
English Class:
Mathematics Class:
Science Class: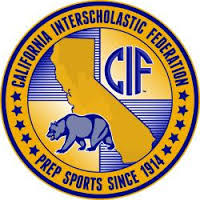 Please go to our Fall Sports homepage to get information about our coaches and upcoming athletic activities:
sagecreekhs.carlsbadusd.net/athletics