---
Visual & Performing Arts Career Panel - Thursday, January 30 @ 6:30 PM in Gym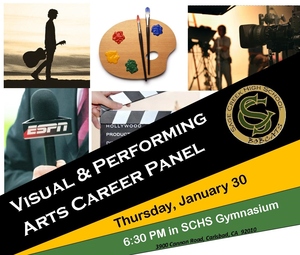 Don't miss this exciting
PTSA-sponsored
event which will showcase a panel of professional singers, actors, film makers, artists and broadcasters. These talented professionals will tell you all about what it takes to have a career in singing, acting, film, art, & broadcasting.
You'll also be dazzled with a
LIVE musical performance
by one of our presenters
Cody Lovaas
, and get to see the work of some of our other panelists too!
---
ASB Needs Parent Volunteers in Class
Our ASB teacher, Mrs. Evans, needs parent's help during classroom time on Wednesdays,Thursdays, and Fridays from 10-11 AM in her ASB classroom #2107. Any time you can volunteer would be appreciated - it doesn't have to be a weekly commitment.

ASB students need guidance and help as they plan several big projects including the Hoopcoming Events, the Great Kindness Challenge and more!

Please contact our PTSA Volunteer Coordinator Diane Gutierrez if you can help or for questions: 760-518-5761 or digtrz@roadrunner.com.

Certain paper work is required before volunteering in the classroom.
---
Naviance Parent Workshops Are Back
In December, the Counseling Department introduced all students to Naviance, a premier, web-based college and career planning tool, through a career exploration lesson. For those parents not able to attend a December workshop that introduced Naviance and explained how to create a parent account, more workshops are here!
What: Naviance Parent Workshops
Where: Sage Creek Counseling Center
How Many: 7
Dates: From January 23rd – February 11th
Times: 7:45-8:45 a.m., 1:30-2:30 p.m., 6:30-7:30 p.m.
►►
To sign up for a workshop convenient for you,

click here.
Space is limited to 30 parents per workshop. So don't delay and miss this important opportunity to learn about Naviance, a vital planning tool for your student's college and career preparation.
---
Mark your calendars for Hoopcoming Feb 3-8
SCHS will be celebrating Hoop-coming from February 3-8! The week will be filled with many day time activities and will conclude with our Hoop-coming dance on Saturday, February 8th. We will also have tailgate and half time show for our basketball match against La Costa Canyon on Wednesday, February 5th. More information is forthcoming.
---
CPR Class - Thurs, Feb 27: 6-8 PM
Students, Parents, and Teachers are invited to l
earn or update your CPR skills for only $25! This is a great opportunity organized by your
PTSA
.
This 2-hour adult, child and infant CPR class is taught by a certified instructor, Sue Lockhardt of Lockhardt Training (
www.lockhart-training.com
), on Thurs, Feb 27 from 6-8 PM in the SCHS Cafeteria.
To attend, you must register and pay in advance. Space is limited to the first 25 that sign-up.
►
Click here to register and for payment information
.
---
Bobcat Athletics Report
Wrestling:
Sage Creek freshman wrestling team has a non-conference meet "Poway" on Saturday, Jan 18.
Basketball:
Sage Creek Boys beat Pacific Ridge 47-36 on 1/13/14
Sage Creek Girls beat San Marcos 52-37 on 1/11/14.

Congratulations to #10 Taylor Garcia for being selected as the Player of the Game!
Soccer:
Sage Creek Boys tied La Costa Canyon 2-2 on 1/14/14
Sage Creek Girls soccer team has a home non-conference game vs. Santa Fe Christian on Wed, Jan 15. The girls soccer team has a record of 1 win & 3 losses so far this season.
All athletics details, players of the games, rosters and schedules can be found at:
www.maxpreps.com
---
Mandatory Spring Sports Meeting: Feb 6
SCHS Athletics will hold a MANDATORY Spring Sports Meeting on
Thurs, Feb 6 at 6:00 P.M.
in the SCHS Cafeteria. All students and their parent/guardian who are interested in playing a Spring sport MUST attend. We will hold a
make-up session on Saturday February 8th at 10 A.M.
for those who can not attend the meeting on Feb. 6th.
---
Do You Shop at Ralphs? We ask one favor...
If you shop at Ralphs, you can earn money for SCHS PTSA by simpy
downloading this letter
and having the clerk scan it at check out the next time you buy groceries. After that, you don't need to do anything, but Ralphs will donate a portion of your bill to SCHS PTSA every time you shop!
If you prefer, you can enroll your Ralphs Rewards card online by
clicking here
.