SEPTEMBER
19: Deadline to submit school directory contact information
20-21: Freshman Parent Night
21: PTSA Gen. Assoc. Mtg, 6pm

OCTOBER
11-12: Sr. Parent Night
19: Bobcat WOW! Day
19: Senior Self Defense
24-28: Red Ribbon Week
Classes: Nov 28-Mar 9
Finals: Mar 7, 8, 9

Classes: Mar 13-June 15
Finals: June 13, 14, 15
Sr Finals: Jun 8, 9, 12


Dear BOBCAT Nation,
The purpose of this article is to provide an update on the construction of our Performing Arts Center (PAC).
All scheduled work for this past summer, which included underground work and utilities and network installations, went as planned and was successfully completed. Our District staff is now working with Erickson-Hall Construction to mitigate recent unexpected fluctuations in the construction market conditions that have increased the PAC construction budget beyond the Preliminary Guaranteed Maximum Price of $11 million.
In an effort to reduce the cost of the project, staff has been working with contractors, architects, Gafcon, and members from the original design team to create revised plans to build a fully functioning Performing Arts Center at a cost more in line with the original budget.
I will update our community as we progress through this process. The key takeaways at this point are as follows:
• The Sage Creek High School Performing Arts Center is moving forward and we are working through unexpected fluctuations in the construction market.
• The new expected date of completion is the summer of 2018, instead of December 2017.

Sincerely,
J. César Morales
Proud Principal, Sage Creek High School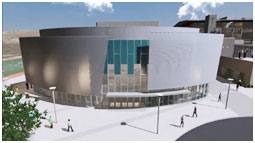 The Sage Creek Performing Arts Center (YouTube)
- Naturally with the need to mitigate the increased budget, there will be some modifications made, but it will still be a 350 seat theater with an orchestra pit.
9/19 - SCHS Directory Information Deadline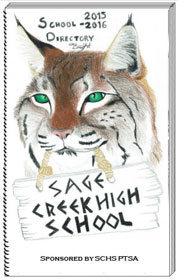 SCHS parents!

Monday, September 19, is the FINAL DAY to enter new or updated contact information for the 2016-2017 SCHS School Directory.



►►To update or enter contact information, login to your account at sagecreekhs.carlsbadusd.net/schooldirectory

Questions?

Contact Tania of the Sage Creek PTSA at

SageCreekDirectory@gmail.com.
9/19 - Bobcat WOW! Day Needs Presenters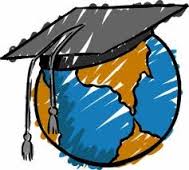 The Bobcat WOW! Day (World of Work) event is recruiting professionals in the following four industries:
Healthcare, Clean Energy, Information & Communication Technology, and Life Sciences.

Bobcat WOW! Day
Wednesday, October 19, 8-10 a.m.
We need 24 career professionals for two 25-minute career presentations.
If you would like to present, please contact Eddie Buscher, PTSA programs chair, by Monday, September 19 at ebuscher@roadrunner.com.
9/20 - College & Career Fair at CHS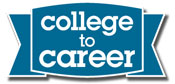 College & Career Fair
6:00 p.m.-8:00 p.m.
Carlsbad High School Gym
Come and plan your future - meet with over 80 colleges, universities, trade schools, military, and other institutes of

higher learning.

Taco trucks will be on campus!

All SCHS parents & students are invited.
9/21 - SCHS PTSA General Assoc. Meeting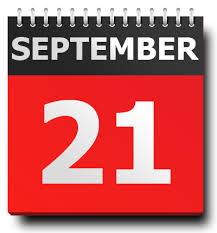 Sage Creek High School parents, students, teachers are invited to attend the PTSA General Association Meeting on:
Wednesday, September 21, 2016

6:00-6:30 p.m.

SCHS Cafeteria
Enjoy complimentary snacks and learn what the PTSA will do for the community this year. CLICK HERE for more details.

Note: Freshman Parent Night, presented by the SCHS Counseling Department, immediately follows the PTSA Meeting.
9/26 - Superintendent's Student Advisory Council Application Deadline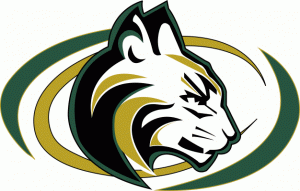 Would you like to serve as a BOBCAT representative to the Superintendent?
The Superintendent's Student Advisory Council (SSAC) is your opportunity to help make SCHS the very BEST we can be.
CLICK HERE for more information.

Please return completed applications by Sept. 26 to Mrs. Eshelman at reshelman@carlsbadusd.net.
9/27 - Military Career Chat - RSVP required
Students - be sure to RSVP for the PTSA sponsored Career Chat!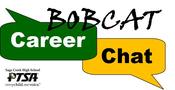 Military Career Chat
Tuesday, September 27th
11:25 a.m. (during lunch)
Room 3207
Speaker: Lieutenant Colonel David L. Lane, US Marine Corps
*Limited to 40 students and students are required to RSVP.
*Includes free pizza and drinks!
Earn money 365 days a year for SCHS through your everyday shopping!

Benefit Mobile Phone App
Use the Benefit App during checkout at retail stores or online and a percentage of your purchase is donated to SCHS PTSA!
Download the Benefit Mobile app from iTunes or Google Play
Search for Sage Creek High School PTSA
Select SCHS PTSA as your Beneficiary
Download the Benefit App by 9/21 for a chance to win a weekend
beach cottage
vacation!
Download and register the Benefit app by Wednesday, September 21st, and your name will be entered into an "opportunity drawing" for the chance to win a weekend stay at a charming Carlsbad beach cottage. The 2 BD/1 BTH home sleeps up to 6 and is 1/2 block from the beach. For more information, contact Mimi Kim at schsrewardclubs@gmail.com.

The SCHS PTSA will draw the name of one person during the PTSA General Association meeting this Wed., Sept. 21, from 6-6:30 p.m.
. . . . . . . . . . . . . . . . . .

Ralphs Rewards Card
Support SCHS PTSA programs by linking your Ralph's Reward Card with Ralph's Community Contribution Program, and Ralph's will donate 1-4% of purchases to SCHS PTSA.
CLICK HERE for Ralphs Community Contribution Program registration instructions.
If your Rewards account is currently linked to SCHS, you must re-register your account each school year to continue participating in the program. Check today and be certain it is linked up!
Go to Ralphs.com and login to your Rewards account

Click on your name in top right hand corner of Welcome page

Go to Community Rewards section at bottom of page,click "Edit"

Search for Sage Creek High School PTSA, or look up by the SCHS PTSA Group ID #94635 - then select!
. . . . . . . . . . . . . . . . . .


Amazon.com Shopping Rewards
To shop and earn using Amazon.com, visit the PTSA fundraising page at https://sagecreek-cusd-ca.schoolloop.com/fundraising.
Click on the Amazon link, and shop, shop, shop!

No codes are required.

The Amazon website may look the same, but the encoded link informs Amazon to benefit SCHS PTSA!
CLICK HERE for more information on SCHS PTSA fundraising.
Sage Creek Foundation Legacy Pavers

There is a limited time to take advantage of the Sage Creek Foundation paver sale!

This short-term opportunity allows you and your family to support Sage Creek Academic, Athletic, and Visual and Performing Arts programs and leave your mark on campus.
All proceeds go directly to benefit each student at Sage Creek High School.

Limited offer, only 150 pavers available.
In 2015-16, the Sage Creek Foundation provided over $70,000 in direct support to the areas of Academics, Athletics, and Visual and Performing Arts.
CLICK HERE for more information.
Stay Connected: SCBobcats
Join the SCHS PTSA today!
Anyone can join
- parents, teachers, students, grandparents, and community members.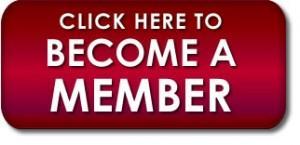 Annual memberships start at just $20 for SCHS parents, and $10 for SCHS students, teachers, and staff.
Sign up online
or
download a membership form.