Dear Bobcat Nation,
I hope that you are all returning from a great break! It is hard to believe that there are less than
9 weeks of school remaining.
Campus life is active: we have theater competitions, seven spring sports in session, a music concert coming up, and many academic activities taking place. It is a great time to be a BOBCAT!
Is it with great pleasure that I formally announce that
The Sage Creek Foundation
is working alongside the Sage Creek staff to provide resources for our students. Please review the information below and take a look at the
Foundation homepage
.
Welcome back and have a great week,
J. César Morales
Proud Principal, Sage Creek High School
So You Want to Drive?


An April 16th Seminar for Students & Parents
*Attendees will be entered in an opportunity drawing for Gift Cards from iTunes, Starbucks, & Menchies Frozen Yogurt and a free round of golf at Rancho Carlsbad Golf Course!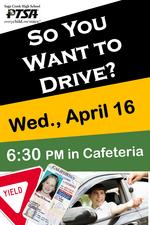 Date:
Wed., April 16
Time:
6:30-7:30 pm
Location:
SCHS Cafeteria
Click here for flyer
.
Learn from CHP and a Driving Safety Expert about:
Requirements & steps for getting your driving permit
Programs that CHP offers students
What it takes to be safe on our roadways
Common mistakes made by teen drivers & much more!
The first 10 min. include a special PTSA General Assembly Mtg to elect the 2014/15 PTSA Board of Executive Officers, to vote on revised bylaws, & revised budget.
The Sage Creek Foundation
The scope and purpose of the Sage Creek Foundation, a 501(c)3 corporation, is to support all Bobcat Nation students. As highlighted by the Foundation's Mission and Vision, the Foundation's ambition is to provide the necessary resources and experiences so that Sage Creek High School students have a second to none high school experience preparing them for college and career success!

Made up of parent volunteers, the Sage Creek Foundation is endorsed by the Carlsbad Unified School District and works collaboratively with the Sage Creek staff, but functions as an independent entity from the District.

Go to sagecreekfoundation.org to read about the Mission & Vision of The Sage Creek Foundation and to learn more.

Music for Hope Concert: May 3 @ 5 PM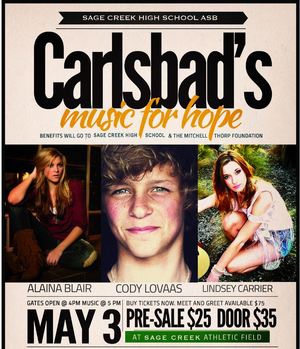 SCHS ASB is hosting a benefit concert with the Mitchell Thorp Foundation on May 3, 2014 at 5 PM.

Working with MTF, Sage Creek ASB will help Kassandra Longoria, who is a CHS student with non-Hodgkins Lymphoma.

The concert features our own Carlsbad performers: Alaina Blair, Cody Lovass and Lindsey Carrier.

Click here to buy your ticket today! Pre-Sale $25, Door $35, Meet and Greet available for $75.

Gates Open at 5 p.m., Music at 6 p.m., and hamburgers, hot dogs, concessions, Flippin Pizza, & Kona-Ice treats will be sold onsite!
SCHS Job & Volunteer Fair Needs You!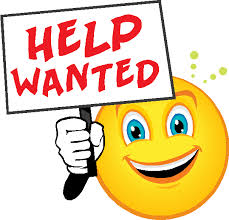 Do you own or work for a business that needs help this summer? Why not consider an enthusiastic teen helper!

SCHS PTSA is holding its first Job/Volunteer Fair in early May.

We are looking for prospective employers and volunteer organizations to meet with students to discuss summer job and volunteer positions.

Students need to earn volunteer hours and/or make some extra money over the summer. Did you know that 15 year olds can be employed in the food service and retail industries? Duties can include office/clerical work, cashiering, packing, shelving, price marking, bagging and carrying out customer orders, errand & delivery work by foot, bike, or public transportation, clean-up work, prepping and serving food, cleaning/labeling/stocking food, babysitting, & more.

Please contact Mimi Kim at mimi@oliveusfarms.com by April 30 if you would like to offer any job or volunteer positions for May's fair.
Bobcat Athletics Report
Boys Freshman Baseball vs. Ramona 5-4 (W) on 4/10/14
Boys Freshman Baseball @ Ramona 9-1 (W) on 4/8/14
Boys Freshman Baseball @ Calvin Christian 13-3 (W) on 4/7/14
Boys Freshman Baseball vs. Vista 8-1 (W) on 4/4/14
Boys Varsity Tennis vs. Escondido 9-9 (W) on 4/4/14
San Diego National College Fair 4/23
The San Diego Convention Center is the site for National College Fairs in San Diego Wednesday, April 23, 9:00a.m.-12:00 p.m. and 6:00-8:30 p.m. For details and information on how to register for the event, visit
www.nacacnet.org
.