Our SCHS trimester schedule involves a textbook exchange at the changing of trimesters (instead of keeping the same textbooks all year long).

From 12:20-2:30, on March 6 & 7, students should bring in the textbooks that they will not need for the upcoming trimester and exchange them for their 3rd Trimester books.
---
Teen Tech Week @ Sage Creek Library - March 10-14
An innovative student-run event in the library at lunchtime that showcases how we use technology in our learning at Sage Creek
Mon., March 10
: Digital Arts Club Showcase & eBook (bring your own device) workshops
Tue., March 11
: Minecraft gaming event & tournament
Wed., March 12
: Minecraft gaming continues & eBook (bring your own device) workshops
Thu., March 13
: Explore Google Glasses & Programming demonstration
Fri., March 14
: Robotics Club Demonstration & drawing for eBook checkouts
---
Raising Teens in the 21st Century - A free Seminar - Wed., Mar 19 @ 6:30 pm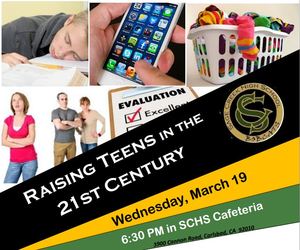 Parenting expert, Fred Becker, will present an informative seminar covering the biggest issues facing parents today when raising their teens.
At 6:30 p.m. on Wed., March 19 in the SCHS cafeteria you will learn the keys to:
How to stay out of power struggles
How to make your child responsible and self-reliant
How to stop entitlement
How to get your child motivated
How to be more positive
How to do less work and have your child do more
Click here to download a flyer
about this PTSA-sponsored event.
---
Student Drop Off and Pick Up
We ask that parents assist with ensuring a smooth drop off and pick up process by following these procedures:
Pull up as far as possible when dropping off your student(s).
Avoid parking at the turn-about when picking up your student(s).
---
Student Dress Code
The purpose of defining and enforcing a dress code is to ensure that each Sage Creek High School student participates in a positive environment focused on learning and student achievement. The school dress code applies to all school activities, including off-campus activities such as fieldtrips and dances.
Please
click here
to review the two areas of concern for the Sage Creek administration and the consequences for dress code violations.
---
Sage Creek Hosts CIF Division 5 Basketball Championship - Thu Mar 6
Sage Creek will be hosting the CIF Division 5 Basketball Championships Thursday, March 6. There will be a burger/hot dog combo meal available for $5 and admission is $14 for adults and $10 for students and senior citizens. Sorry, CIF does not accept ASB stickers.
The match ups (click the hyperlinks to learn more about these teams):
5 p.m.
Liberty Charter High School
vs.
Foothills Christian High School
7 p.m.
Escondido Adventist Academy
vs.
Health Sciences High School
---
New School Funding Town Hall Forums March 13 & 14
CUSD Superintendent and School Board Members will present information related to the new funding and accountability model for California public schools:
Local Control Funding Formula (LCFF)
Local Control Accountability Plan (LCAP)
Please join our Superintendent and School Board on:
Thursday, March 13 fm 6:30-8 p.m. at Sage Creek HS Gym
Tuesday, March 25 fm 6:30-8 p.m. at Valley Middle School Multi-Purpose Room (Spanish Translation provided), 1645 Magnolia Ave, Carlsbad Ca 92008.
Click here to download the event flyer
or for more detailed information go to:
www.carlsbadusd.k12.ca.us/lcap
---
Nominees for Officers of the 2014-2015 PTSA Executive Board at Sage Creek HS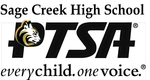 President:
Eddie Buscher
Membership VP
: Brenda Beckett
Communications VP:
Liz Lichtenberger
Programs VP
: Mary Ellen Reulein
Ways & Means VP
: Christine Ryan
Secretary
: Alyssa Trask
Treasurer:
Moira Jones
Auditor:
Beth Nelson
Historian
: Nora George
Parliamentarian
: Risa Sybrandy
*Elections will be held at the April 2, 2014 PTSA General Assembly Meeting at 6:00 p.m. in the SCHS Cafeteria. All PTSA members are encouraged to attend.
---
March Lunch Menu
Click here to view the menu
---
ASB Happenings
Survival Bags for finals. Parents can purchase Survival Bags and have a special note placed in their student's bag for $10.
"We Are Love" service learning project. Buy love buttons to help build a school with Free the Children

World Cup Soccer Tournament at lunch. Coached by girls and boys soccer teams on Wednesday, March 12. Lunch on the Athletic Mall decorated World Cup style.

St. Patricks Day spirit day and grams sold the previous week will be delivered by a wee leprechaun.

ASB and Link Crew students have been working on service learning programs & have been given an amazing opportunity to go to We Day in Oakland on March 26th, with a grant that they received for transportation.

All Clubs welcome to participate in Club Carnival on March 19 during Advisory period. This event will promote clubs and allow clubs to make money while building a strong club foundation on campus.
---
SDSU Science & Engineering "Sampler" March 15
On Saturday, March 15, 9am to 2pm, The College of Sciences and College of Engineering at San Diego State University opens their doors to K-12 students, families, and the community to showcase interactive experiments and exhibits such as: telescopes, planetarium showings, laser demonstrations, Electron Microscope Facility, making ice cream using liquid nitrogen, and much more!
The event and parking are free. No registration required. Go to
www.sci.sdsu.edu/sampler
for details.