tVoll

Good Afternoon Bobcat Nation,
I am excited to announce that our Sage Creek Foundation is providing the opportunity for our founding families to commemorate their experience at Sage Creek High School by purchasing a Foundation Paver. Each paver costs $175 and includes a personal message of up to 50 characters. Pavers purchased for students currently attending Sage Creek will include the "Founding Class of 2017" banner on it.
All proceeds raised will go to the Sage Creek Foundation to carry out its mission, which is to "
generate resources to provide each Sage Creek High School student with cutting-edge Academic, Athletics, and VAPA programs, technologies, and experiences, preparing them to succeed in their college and career aspirations
".
LEAVE YOUR LEGACY and visit the
Sage Creek High School homepage
to purchase your Foundation Paver.
I look forward to seeing you this Thursday for our Sage Creek Showcase. Read below for further information on the event.
J. César Morales
Proud Principal, Sage Creek High School
Leave Your Mark


with a Sage Creek Foundation Paver
The pavers will be located next to the administration building at the entrance of Sage Creek High School
Quantities are limited
Orders are due no later than June 6, 2014
Due to construction schedules, no late orders will be accepted.
Payment for $175 can be made via PayPal with credit or debit card or PayPal Account (You do not need a PayPal Account to purchase)
SCHS Showcase: Thurs., May 29: 6-8 PM
We expect to have over 1,300 BOBCAT Nation team members come together this Thursday, May 29, for our second annual Sage Creek Showcase.
The event will kick off at 6 p.m. in our BOBCAT Arena, and will be followed by light appetizers, student performances, and visits to our new classroom building. The evening will conclude with a team picture on the athletic field at 8:05 p.m.
Building community is a big part of who we are and what better way to demonstrate this than by welcoming our over 400 incoming 9th grade students and their families.
Click below for event flyer: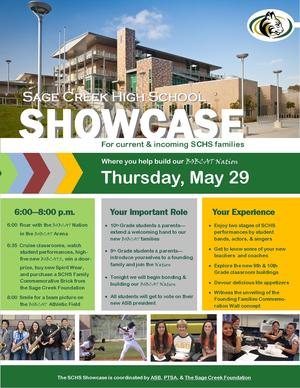 Preview some of the exciting door prizes for May 29th

:
Gift Cards from: Islands, Starbucks, iTunes, Barnes & Noble, GameStop, and Regal Cinema
Kona Ice for $125-150
6- month YMCA membership

Chrome Notebook

and More!
Student Volunteer Opportunities
►
CA State Parks Education Volunteer
►
Summer Arts Camp Counselor
►
List of Local Nonprofit Agencies
►
Required SCHS Community Service Verification Form
Spring Fling Dance: Fri, May 30
Our Spring Fling Dance has been rescheduled!
Friday, May 30, 2014 from 8-11 PM
Download a Dance Agreement Here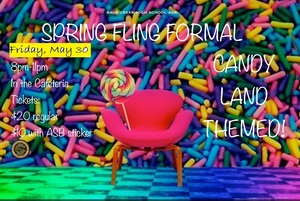 Library & Textbooks Due by Thu, Jun 12
All library books and textbooks must be returned to the library by 3:30 on the last day of school, Thursday, June 12.

If you need to check on which titles are checked out to you, please log-in at the library catalog page: destiny.mycusd.org
Click on Sage Creek High School
Log –in (upper right hand corner)
Use your student ID twice (as User Name AND Password)
Questions? Contact Mrs. Asker, SCHS Librarian (760.331.6625)
Summer Math Help Opportunities
For students who would like to review and prepare ahead during the summer for success in the 2014-15 school year:

Click here for flyer with info on:
Class transitions, dates and times, cost, & teachers.
PTSA Wants Your Opinion
The PTSA strives to build programs that supplement and support our student, family, and staff in the Bobcat community.

We would like your opinion by taking a survey about the programs that we provided this year, to help us plan for next year.

Click here to take the 10 minute survey.
Carlsbad Commununity Appreciation Day
Saturday, May 31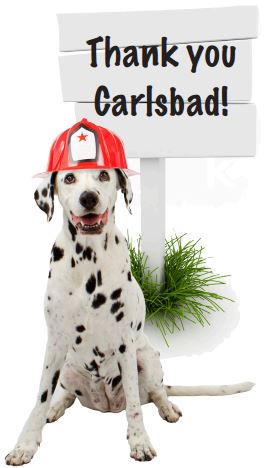 The City of Carlsbad is hosting a day of appreciation for all who were involved in the Poinsettia Fire. The event will take place this Saturday, May 31, from 10 a.m. to 2 p.m., at the City of Carlsbad Safety Training Center, 5750 Orion St., which served as the base camp during the fire. Join your neighbors at this Carlsbad Community Event to recognize all those involved in the Poinsettia Fire.

Click here for info.
$25 Legoland Tickets for June 7
The Carlsbad Educational Foundation has a limited amounf of $25 LEGOLAND tickets available for purchase that are for park entrance on Saturday, June 7th only. These $25 tickets (reissued Celebrate Carlsbad Day tickets that did not get sold) will be sold on a first come, first served basis and must be purchased at the Carlsbad Educational Foundation office at 5631 Palmer Way, Suite L by June 6th.

These tickets are going to go fast so call Cheryl Freeman at (760) 929-1555 to reserve your tickets today!
CEF High School Summer Academy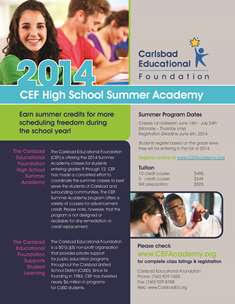 Registration is now open for the Carlsbad Education Foundation's High School Summer Academy.

Information and registration details on all CEF programs can be accessed at:

www.CEFAcademy.org