---
Wed, Dec 4th Presentation: "Pay Less for College - Strategies to Reduce your Families College Expenses"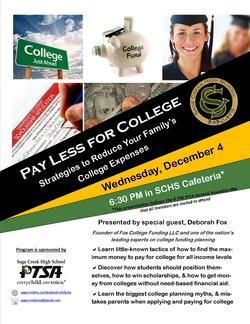 Wed., December 4, 2013
in the SCHS Cafeteria
6:00 PM PTSA General
Association Mtg

6:30 PM "Pay Less for College"
Presentation
Presented by special guest, Deborah Fox
Founder of Fox College Funding LLC & one of the nation's leading experts on college funding planning
Download the flyer for more info
about what you will learn in this College Funding Seminar & click
here for Ms. Fox's bio
---
Sage Creek High Student Directory Needs Your Info!
The PTSA is creating a school-wide Student Directory which will be available to all members for free (all Bobcat families can get one by
joining the PTSA
). This directory will put all the key info at your fingertips, from the school calendar to contact information for your school friends, teachers, staff, and district personnel.

Submitting your contact information is optional, but we hope that everyone in the Bobcat Nation participates, so our directory can be complete! Here's how:

Questions? Contact Theresa Morris at
SageCreekDirectory@gmail.com
---
Student Artwork Contest for Cover of Student Directory
Have your artwork immortalized on the cover of our first-ever SCHS Student Directory!
Artwork is DUE Wednesday, December 18th to the main office.
---
Want to Advertise in our Student Directory?
Parents, do you have a business that you would like to advertise in the student directory? If so, contact our PTSA Ways and Means VP, Christine Ryan, to obtain a rate sheet and more information. Advertisements due Wed, Dec 18.
---
The Bobcat Den: Tutoring by Credentialed Teachers
Monday-Thursday 2:45-3:45pm
Available In the Sage Creek High School Library
Monday

Tuesday

Wednesday

Thursday

English
Algebra 1
Geometry / H
Spanish 1 & 2
Physics / H
English
Spanish 1 & 2
English
Spanish 1
Algebra 1
Geometry / H
Algebra 2H
Physics / H
English
Algebra 1
Geometry / H
Algebra 2H
Physics / H
---
---
December Events from ASB!

Dec 4
: Souplantation Fundraiser from 5 PM-8pm at the Marron Rd site in Carlsbad.
Please click to download the Souplantation Flyer
, and bring it with you so that our ASB will receive 15% of the proceeds from the sales!
Dec 5
:
Throwback Thursday
. Wear your favorite era clothing and submit your favorite "oldie but goodie" song to be played at lunch.
​
Dec 6
:
Battle of the Bands
. Get your band and your music ready. If you want to play your "gig", let ASB know so they can get your time slot ready. If not...just hang out and watch the show.
Dec 9-18
:
Jingle Grams
will be on sell during lunch in the Academic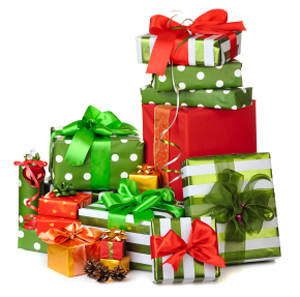 Mall for $1. Your note of appreciation and smiles will be delivered during 3rd period on December 20th.
Dec 15
:
Sage Creek gift wrapping
at Barnes and Noble in Encinitas from 10-3 to raise money for Bobcat activities, dances and sports.
Dec 16-20:
Elf Week:
Monday: Scarf Yourself Tuesday--Christmas Hats Wed--Ugly Sweater Day Thursday--Candy cane day Friday--Elf Day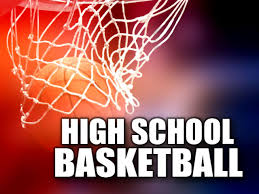 Dec 20
:
Basketball Tailgate
: from 6-7 before the 7:00 game. Hamburger/Hotdogs, chips and a drink for $5, plus snacks for $1. Spirit wear will also be available.
---
Report Cards
Report cards will be mailed Friday, December 6. You should expect to receive them on Saturday or Monday.
---
December Lunch Menu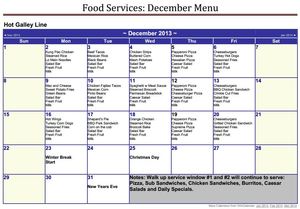 Click to download menu
---
CUSD Cookbooks for Sale
Order your copy today
This special cookbook is loaded with recipes for appetizers, main dishes, side dishes, desserts and so much more. All are from the friends and families of Carlsbad Unified Schools!
Cookbooks that are ordered and paid for
by Dec. 16
will be delivered before Friday, December 20 your school or to your home (additional shipping fees apply if sending to your home).
Books are $15 and proceeds support the PTAs in Carlsbad.
Click here to download order form
.