7: High School Open
Enrollment Continues

9: Frosted Formal Dance

13: Sage Creek Showcase
for 8th Gr Families

15: PTSA General Assembly Meeting 6 PM

15: Business & Marketing
Career Panel 6 PM

19: No School

23: No School

30: High School Open
Enrollment Ends 4 PM
1st Trimester
2nd Trimester
3rd Trimester
SageCreekPTSA@ gmail.com

Volunteer
J. Cesar Morales, Principal
Bill Lord, Asst. Principal
Eddie Buscher, PTSA Pres.

Staff Directory

School Loop Website

Mission of SCHS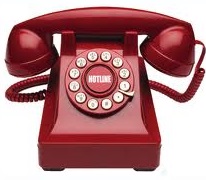 Attendance Hotline
760-331-6670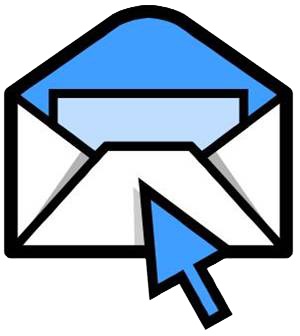 Register additonal email addresses for eBlast newsletter
Click links below before you start shopping & SCHS gets credit:
Superintendent Message

CUSD Website


Dear
BOBCAT
Nation,
I hope that you and your family shared an enjoyable holiday season!
This past Monday, January 5, marked the first day of the high school selection window. The BOBCAT Staff is excited about the extraordinary work we've accomplished with our great students and parent community and expect this high school selection window to be nothing less than another success!
Students who are currently enrolled at Sage Creek High School and wish to remain at Sage Creek for the 2015-16 academic year,

DO NOT

need to participate in the selection process.
They will automatically be enrolled in their current school for the following year.
Students who wish to attend CHS must declare their change via the High School Selection Survey during the filing period beginning January 5, 2015 and ending on January 30, 2015 at 4:00 p.m. For those interested, please go to
www.carlsbadusd.k12.ca.us/hs-window
for further information.
I look forward to our continued success together and to a phenomenal 2015!
Sincerely,
Principal
Sage Creek High School
Business, Finance & Marketing Career Panel: Thurs, Jan 15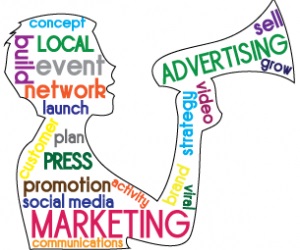 Date:
Thursday, Jan 15, 2015
Time:
6 PM
Where:
SCHS Cafeteria
What:
Four professionals will share key info about their
education, salary, & typical work day.
Click here for flyer
Panelists Include:
Chief Technology Officer, Web Developer, & CUSD Trustee
CPA & Chief Financial Officer at a local private school
Digital and brand marketing executive
Executive from Qualcomm
*Event begins with a brief PTSA General Association Mtg (Agenda)
Frosted Formal - Friday, January 9
Sage Creek HS Frosted Formal will be held on Friday, January 9, 2015 from 8-11 PM at Agua Hediona Lagoon's Discovery Center located at 1580 Cannon Road at the corner of Cannon Road and Faraday.
(Please direct questions to ASB.)

Tickets will cost:
Purchase Date
With ASB
Without ASB or guest
Dec 1-5
Dec 8-12
Dec 15-19
Jan 5-9
$20
$25
$30
$35
$35
$40
$45
$50
*Tickets will NOT be available at the door.

Formal attire recommended:
Long Dresses for Ladies & Suits or Tux for Gentlemen

Appetizers and drinks will be available at dance.


Buy Tickets in ASB Student Store Room 1211 or Online:

Dance Agreements Must be Completed with the appropriate signatures for Student (and/or Guest) to Purchase Tickets:
Parents Needed: Jan 9th Frosted Formal
HELP!
Parent volunteers are needed to decorate, take tickets, chaperone, and more for the Frosted Formal on Friday, January 9th at Agua Hedionda Discovery Center. The event is from 8-11 PM, but volunteers are needed to help setp earlier in the day too.
To volunteer, sign up in the Google Doc link that follows:
http://goo.gl/B9eG25
Thanks for your consideration, Diane Gutierrez, SCHS Volunteer Coordinator
<
digtrz@roadrunner.com
>
.
Reflections Art Contestants Honored
The Sage Creek High School PTSA would like to honor our student contestants for their creativity and talent displayed in their entries for the 2014-2015 Reflections art contest. This year's theme was "The world would be a better place if…" and we had 7 students participate with entries in the following categories:
Dance-Katherine Potz (9th grade)
Literature- Grace McGuire (10th grade)
Photography- Hansle Goh (9th grade),
Visual Arts- Pixel Clark (9th grade), Jhanna Shaghaghi (10th grade), Jonah Varelli (9th grade)
Photography- Fabiola Sanchez (10th grade)
All entries were advanced to Carlsbad Unified School District for further judging. Thank all of our student participants for the efforts and creativity! The SCHS PTSA will be presenting awards to these students at 6 PM on January 15, 2015 at the PTSA General Assembly meeting.
January Lunch Menu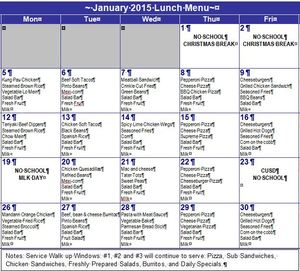 click to view menu
PTSA President Letter
Happy New Year Bobcat Families! I hope you all had a delightful holiday celebration with your family and friends.

In 2015, your Sage Creek High School PTSA will continue to provide programs for you and your student. Our mission is to supplement your student's education and assistant in college and career readiness. We are looking forward to seeing you on January 15... click here to read Mrs. Eddie Buscher's complete letter

.
PTSA Nominating Committee Forming
On Jan 15, 2015 at the SCHS PTSA General Association Meeting, we will be asking for 3 volunteers (and one alternate) to serve on the nominating committee to find candidates for the PTSA officers and committee chairs for the 2015-2016 school year. You must be a PTSA member to serve on the nominating committee. The committee with have until March 2015 to formulate nominations for the April 2015 PTSA Board Election. Contact the PTSA parliamentarian with questions (Risa Sybrandy:
rlsybrandy@yahoo.com
).
Parent University: Tues Jan 20
​
Session 2 of the Parent University "parent Empowerment Program" (PEP) will be heald on Tuesday January 20, 2015 from 6 pm to 8 pm at Valley Middle School. Click here for Parent University flyer for details.
Parent

&

Student Volunteers Needed

for

Campus Tours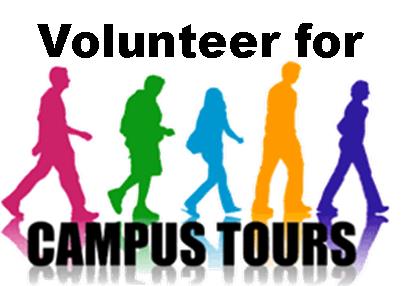 3-5 students and 1-2 parents are needed to join each Campus tour in order to provide our prospective Bobcat families various perspectives about our great school.
►
Click here to sign up as a volunteer
.
The schedule of tour dates is listed below.
Click here
for FAQ about how to sign-up.
Thursday, Jan 8




Tuesday, Jan 13

Thursday, Jan 22




Tuesday, Jan 27

Thursday, Jan 29
Summer Opportunities Fair on Th. Jan 29
Pacific Ridge School will host a Summer Opportunities Fair on
Thursday, January 29, 2015 from 6 to 8 pm at Pacific Ridge School,
6269 El Fuerte Street Carlsbad. This is a free event and open to the public.
The fair is an opportunity for students and parents to speak with exhibitors about summer travel programs, internships, research opportunities and camps for middle and high school students.
Click for 1/29 event flyer
.
email questions to: collegeguidance@pacificridge.org.