Dear Bobcat Nation,

I hope that this communication finds you and your loved ones well. We encountered a very difficult experience with the recent fires and my prayers go out to our team members who have been displaced from their homes.

I cannot overemphasize the great job that our staff and students did on Wednesday during our Shelter in Place and reunification process. Students were calm and responsible and our staff was diligent and well poised.

As an update, this weekend's dance has been cancelled and we will not have any practices or games taking place on Saturday.

We will return to a regular school schedule this upcoming Monday, May 19.

Have a safe weekend and I look forward to seeing you on Monday morning.
J. César Morales
Proud Principal, Sage Creek High School
Resources for Fire Vicitms
The link below lists organizations and government agencies that provide assistance, resources and information to help those affected by emergencies:
Up-to-Date Fire information from City of Carlsbad:
SCHS Showcase: Thurs., May 29: 6-8 PM
Click below for event flyer: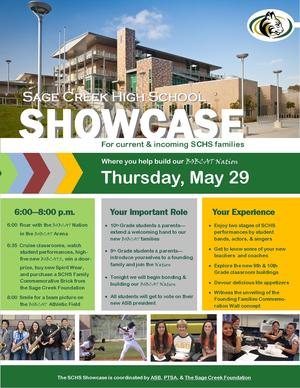 Preview some of the exciting door prizes for May 29th

:
Gift Cards from: Islands, Starbucks, iTunes, Barnes & Noble, GameStop, and Regal Cinema
Kona Ice for $125-150
6- month YMCA membership

A Chrome Notebook

and More!
Bobcat Athletics Report
Athletic practices and games have been cancelled Wed, Thur, Fri, Sat (May 14-17) due to the Fires in Carlsbad.

View all Bobcat teams' scores on MaxPreps.com

Spring Fling Dance Cancelled
Due to the fires, the Spring Fling Dance on Saturday, May 17 has been cancelled.
New: SCHS Bobcats on Twitter

PTSA President Letter
Dear Sage Creek High Families,

Twenty days and counting -- only a few short days left before our first year legacy comes to a close. Our students are excited for the up-coming events which will seal their freshman year. The Annual Sage Creek Showcase on May 29th will be hosted by SCHS PTSA, The Sage Creek Foundation, and ASB. Read the complete letter from our President, Mrs. Eddie Buscher, here...

PTSA Wants Your Opinion
The PTSA strives to build programs that supplement and support our student, family, and staff in the Bobcat community.

We would like your opinion by taking a survey about the programs that we provided this year, to help us plan for next year.

Click here to take the 10 minute survey.
Volunteers Needed for May 29 Showcase
Click here to volunteer to help for a 30 minute shift during the Thursday, May 29, SCHS Showcase.

Contact Diane for questions: digtrz@roadrunner.com
CEF High School Summer Academy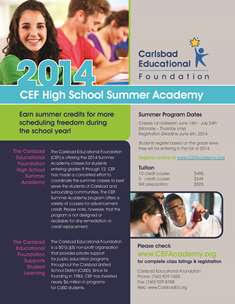 Registration is now open for the Carlsbad Education Foundation's High School Summer Academy.

Information and registration details on all CEF programs can be accessed at:

www.CEFAcademy.org