Dear Bobcat Nation,

While it is difficult to fathom that there are five short weeks of school left, it is nothing less than exciting to know that an exciting chapter two of our short history is upon us.

On Thursday, May 29, we will come together as one united BOBCAT Nation to celebrate our second annual Sage Creek Showcase. The goal of this event is to have 100% of our current students and parents attend to welcome the over 400 incoming freshman families. Having a strong sense of community is at the cornerstone of who we are and it is upon to continue to foster this with our new team members.

We are expecting over 1,400 proud BOBCAT Nation members for an evening of student performances, door prizes, the unveiling of our Founding Team Commemoration Wall concept, and finishing with a team picture on the athletic field at 8:05 p.m.

I am proud and fortunate to be surrounded by such a great community and look forward to seeing all of current students and families on Thursday, May 29.
Go Bobcats!
J. César Morales
Proud Principal, Sage Creek High School
SCHS Showcase: Thurs., May 29: 6-8 PM
Click below for event flyer: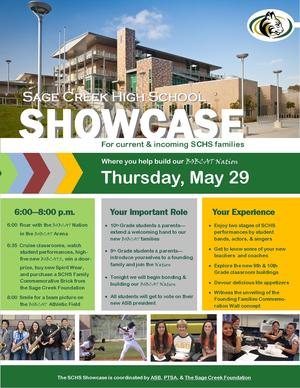 Preview some of the exciting door prizes for May 29th

:
Gift Cards from: Islands, Starbucks, iTunes, Barnes & Noble, GameStop, and Regal Cinema
Kona Ice for $125-150
6- month YMCA membership

A Chrome Notebook

and More!
Bobcat Athletics Report
2-1 (L) - Boys Freshman Volleyball vs. Pacific Ridge on 5/6/2014
0-0 (W*) - Boys Freshman Baseball vs. Valley Center on 5/6/2014
*win by forfeit
3-2 (W) - Boys Freshman Baseball @ Oceanside on 5/3/2014
18-8 (W) - Boys Freshman Baseball @ Oceanside on 5/3/2014
2-0 (W) - Boys Freshman Volleyball vs. El Camino on 5/2/2014
16-9 (W) - Boys Freshman Baseball vs. Mission Vista on 5/1/2014
2-1 (W) - Boys Freshman Volleyball vs. La Costa Canyon on 4/30/2014

View all Bobcat teams' scores on MaxPreps.com

Carlsbad Unified Council of PTAs
On Wednesday, May 14 at 9:30 a.m. in the Carlsbad Cultural Arts Center, all parents are welcome to attend The Council's final meeting for the year. Plans for next year will be presented. Click for flyer.

A special premier of the CHSTV Film production "Invisible Threat" begins at 10:00 a.m. (click here for info) This critically acclaimed film offers a comprehensive look at the issue of childhood vaccinations. A question and answer session with doctors in attendance will take place immediately after the screening.
Teen Open Studios - Jon Cederquist
Create your own masterpiece while learning about the artwork currently on display at the Cannon Art Gallery—John Cederquist: Illusions in Wood exhibit. Learn more about Cederquist's media, art-making techniques and the term trompe l'oeil ("to fool the eye"). Have fun spending time with friends and snacking on treats!
Wednesday, May 14, 3:30-4:30 p.m. in the community room of the Georgina Cole Library, 1250 Carlsbad Village Drive, 92008. The event is free, but sign ups are required. Sign up at the library's reference desk or email angie.stava@carlsbadca.gov.
Dine-4-Kids:

Exclusive Restaurant Coupons
Dine-4-Kinds, The Exclusive Restaurant Coupon Booklet is for sale for $10.00 at the SCHS Student Store.

Proceeds will help ASB fund ASB activities, lunch time activities, pep rallies, dances, special events, awards, retreats for leadership, conferences.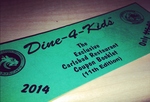 Some Restaurants Included:
Hennessey's
The Daily News
Hunter STeak House
Dini's Bistro
Fresco Trattoria & Bar
Mas Fina Cantina
Pollos Maria
Linda's Yogurt
Pronto's
Oversea's
Grand Deli
Community Service Opportunities
Jefferson Elementary is looking for volunteers for their "Multicultural Festival" on May 17th. Contact Jennifer Harris at 760-412-0585 or email at Jennifer_harris05@yahoo.com
CEF High School Summer Academy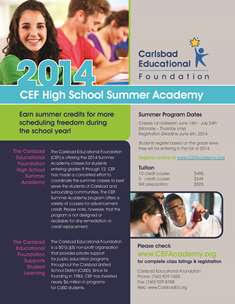 Registration is now open for the Carlsbad Education Foundation's High School Summer Academy.

Information and registration details on all CEF programs can be accessed at:

www.CEFAcademy.org