Dear
BOBCAT
Nation,
Today kicks off several weeks of testing for a large portion of our student population. Some of the tests are class or grade specific and they take place both on and off campus. Please review the following information to get an understanding of the span of assessments that our students are engaged in during the upcoming weeks:
Wed. April 27:
Tue., May 3:
Thu., May 5:
Fri., May 6:
Mon., May 9:
Wed., May 11:
10th Gr. Science California Standards Test
AP Spanish Exam
AP Calculus Exam
AP US and European History Exams
AP Biology Exam


AP English Language Exam
**Please review the special schedule below for the following English Language Arts and Mathematics SBA assessments:
Mon. (5/16) & Tues. (5/17): 11th Gr. English Language Arts SBA
Mon. (5/23) & Tues. (5/24): 11th Gr. Mathematics SBA
Principal, Sage Creek High School
Baseball Crosstown Classic: Sat. 4/30
2nd Annual SCHS v. CHS
Baseball Cross Town Classic
Double Header
Saturday, April 30
@ SCHS
10:30 AM Game
1:30 PM Game
FREE ADMISSSION
$5 Combo Meals!
"Mayor's Cup" will be awarded to winner after last Saturday game, so come support our Bobcat Teams!
PTSA Needs Help for 2016-2017
Want to make a difference in your student's HS experience?
Volunteer for PTSA Open Positions 2016-2017:
Reflections Art Program Chairperson
Health & Safety Programs Coordinator
Many other opportunities too... let us know what you want to help with!
Send questions or interest to
sagecreekptsa@gmail.com
Interested in a STEM Career? Event on 5/2
Monday, May 2nd, from 6:30 to 7:30 p.m. in Room 5101, Ms. Cindy Welch from Missouri University of Science and Technology will present:
the outlook for the kinds of STEM jobs you could do
the companies where you could work
the starting salaries you could earn
See attached flyer for more information.
Sponsor our Sage Creek Team for CEF Pedal for Purpose - May 7
**Please Support our Sage Creek Pedal for a Purpose team!**
What is Pedal for a Purpose?
A stationary bike event where a team of riders trade off riding the bike from 10am to 1pm Saturday May 7th at the Omni La Costa Resort, bring the family for a fun family day filled with music, exercise and science!
Help us pedal our way to raise funds for science,
music and innovation.
Click here to Sponsor our Sage Creek Pedal for Purpose Team!
Staff Appreciation- Donations Needed before Fri. 5/13 Event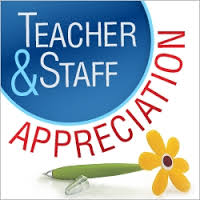 Please help show our SCHS Staff How Awesome they Are!

PTSA is sponsoring an amazing afternoon of great food & relaxation for our SCHS Staff on Friday, May 13 at The Presidio of La Costa Greens.

HOW YOU CAN HELP:
If you, or a company you know, can donate an item or a gift certificate for our Opportunity Drawing for our Staff during the 5/13 event, please contact PTSA as soon as possible at sagecreekptsa@gmail.com
Footloose Dance Tickets: Sat. May 14
Saturday, May 14, 2016 from 7-10 PM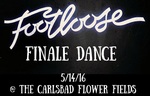 At Carlsbad Flower Fields

Dance Tickets:

$30 from 4/25-5/6
$35 from 5/9-5/13
$5-off with ASB Sticker


More info from ASB & purchase tickets online at: sagecreekhs.carlsbadusd.net/sagecreekbobcats

*Must have dance agreement on file to attend
Volunteers & Donations Needed for Dance
Parents, we need your help for the 5/14 Dance. Please sign-up on line to volunteer or to donate the following.
Online Sign-up for Dance Volunteers & Donations

Volunteers Needed:
Dance Set-Up 9:00 am - 1:00 pm
Entry Tickets 6:30 pm - 8:00 pm
Refreshments 6:30 - 10:30 pm (in shifts)
Donations Needed:
Vegetable Oil
Bag of Popcorn Kernels
Popcorn Sleeves
Cupcake Liners

Sprinkles or Colored Sugar Sprinkles
Bag of Chocolate Chips
Soda 12 packs
Water - 8 oz bottles cases
Special Schedule May 16-17 & May 23-24
Students in grades 9 and 10 will start school at 10:05 a.m. on these four days: May 16, 17, 23, 24.

11th grade students will report at the regular 7:30 a.m. start time and participate in the English Language Arts and Mathematics Smarter Balanced Assessments.
Broadcasting, Robotics, Apps, & Gaming Festival (BRAG!): Fri. May 20

Students, Families, Friends, & Community Members of all ages are invited to PTSA's biggest & most exciting career event of the year:
Friday, May 20, 2016
6:30 PM to 8:00 PM
In SCHS Bobcat Arena (gym)
Highlights of the BRAG! Festival
(ptsa.sagecreekhs.com for more event details):
Key Note Speakers

High Moon Studios (maker of games like Call of Duty: Advanced Warfare, Darkwatch, and more)
Channel 10 newscaster and San Diego news celebrity, Joe Little
App Developer from Robots & Pencils, Michael Sikorsky

Gaming Tournaments & Exhibitions Projected onto Large Screens
Interactive Exhibitions on Apps, Robotics, & Broadcasting/Video
Corporate & Educational Booths from tech industries
FREE FOOD!
Prizes & Opportunity Drawings
SCHS
Foundation Gala - May 21
Crush Restaurant in Solana Beach

You are cordially invited attend our first annual Sage Creek Foundation Gala, which has a simple purpose:
Bring the BOBCAT parent community together for an evening of great food with great people.
Raise $30,000 to fund programs within the 3 pillars of the Sage Creek Foundation: Academics, Arts, and Athletics.
Help us continue to offer our students a second-to-none high school experience by joining us on Saturday, May 21. Seating is limited to only 50 VIP tickets and 250 general admission tickets (
see Gala flyer
).
Summer HS Classess Available
Want to get ahead?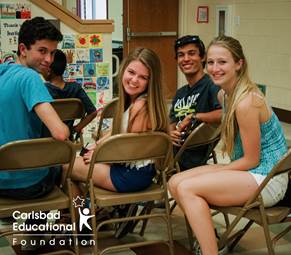 Register for CEF's High School Summer Academy and earn summer credits for more scheduling freedom during the school year!
Click
here
to learn more and register today to make more room in your schedule to take the classes you want!
www.Carlsbaded.org
---
Need Credit Recovery?
Carlsbad Unified School District will offer Summer School for credit recovery for CUSD high school students who earned
"F" or "D"
grades on their first or second semester report cards.
Click here for CUSD Summer School Form
Opportunity to Win a Vacation via CEF
Want a chance to get away to the beautiful and relaxing La Casa Del Zorro in Borrego Springs, California? Now is your chance!
CEF is hosting an opportunity drawing and ONLY have 250 tickets available. This trip includes a two-bedroom casita for two nights and $600 spa gift certificate. Tickets can be purchased for $25 each! Plan a girls trip or a couples' weekend! More tickets purchased means a higher chance of winning!
Click here for more information & to purchase your vacation tickets
!