Hoopcoming Dance - Saturday, Feb 8 from 8-11 PM at SCHS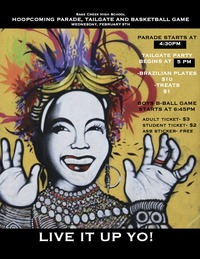 Our Hoopcoming activities
will conclude with our Hoop-coming dance on Saturday, Feb 8. Remember to complete your dance agreement (see below)!
HOOP-COMING DANCE DETAILS:
Sat., Feb 8 @ 8 PM
$10 with ASB $20 w/o
*Must have signed dance agreement
See
ASB's School Loop
page for details!
---
Sign Up Today for CPR Class on Thurs, Feb 27: 6-8 PM
Students, Parents, and Teachers are invited to l
earn or update your CPR skills for only $25! This is a great opportunity organized by your
PTSA
.
This 2-hour adult, child and infant CPR class is taught by a certified instructor, Sue Lockhardt of Lockhardt Training (
www.lockhart-training.com
), on Thurs, Feb 27 from 6-8 PM in the SCHS Cafeteria.
To attend, you must register and pay in advance. Space is limited to the first 25 that sign-up.
►
Click here to register and for payment information
.
---
Mandatory Spring Sports Meeting: Feb 6
SCHS Athletics will hold a MANDATORY Spring Sports Meeting on
Thurs, Feb 6 at 6:00 P.M.
in the SCHS Cafeteria. All students and their parent/guardian who are interested in playing a Spring sport MUST attend. We will hold a
make-up session on Saturday February 8th at 10 A.M.
for those who can not attend the meeting on Feb. 6th. Click for more info.
---
Visual & Performing Arts Career Panel - A Huge Success
Thank you to all that attended the PTSA's 3rd career panel presentation on Thurs, Jan 30th, with professionals including a musican, filmmaker, performing artist, restoration artist, and broadcaster. View photos from the event at:
sagecreekhs.carlsbadusd.net/ptsa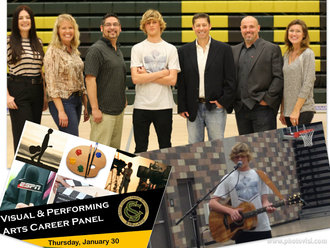 Special thanks to our wonderful panelists!
---
"An Evening in Paris" to support the SCHS Visual and Performing Arts Department - Thursday, Feb 13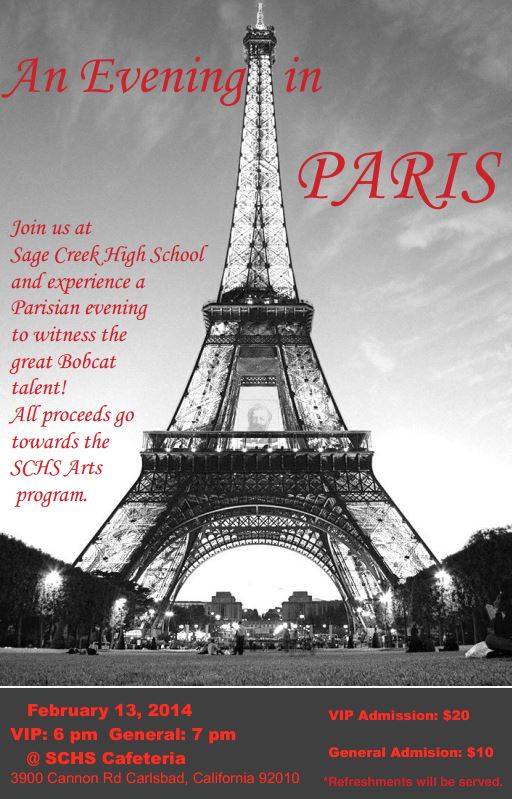 For $20, enjoy a VIP Reception from 6:00-6:45 pm
Priority Seating
Hors d'oeuvre
Door Prizes
Pastries
(plus the perks of General Admission too)
For $10, get the perks of General Admission from 7:00-9:00 pm
Entertainment
Student Performances
Art Displays
Raffles
Silent Auction
---
Bobcat Athletics Report
Basketball:
Girls beat Oceanside 38-32 on 2/1/14
Boys beat Ramona 49-43 on 2/1/14
Boys beat Valley Center 55-42 on 2/1/14
Soccer:
Girls beat San Dieguito Academy 5-1 on 1/30/14
Boys played San Dieguito Academy on 1/30/14
All athletics details, players of the games, rosters and schedules can be found at:
www.maxpreps.com
---
February Lunch Menu
Click here to download the menu.
---
Parents - Sign Up for Naviance Workshops Until Feb 11
SCHS Counseling Department has parent workshops to introduce parents to Naviance, a premier, web-based college and career planning tool. Please sign up for these space-limited workshops below.
Where: Sage Creek Counseling Center
Dates: Now – February 11th
Times: 7:45-8:45 a.m., 1:30-2:30 p.m., 6:30-7:30 p.m.
►►
To sign up for a workshop convenient for you,

click here.
---
Parent Volunteer Opportunities
Wednesdays,Thursdays, and Fridays from 10-11 AM in Mrs. Evans ASB classroom #2107. Any time you can volunteer in the ASB class is appreciated - it doesn't have to be a weekly commitment. Contact PTSA Volunteer Coordinator Diane Gutierrez: 760-518-5761 or digtrz@roadrunner.com.
---
SCHS Student Directories Are Here!
SCHS Student Directory is Free with PTSA Membership or may be purchased separately for $15.