8: Knockout Pizza 5-9 PM

10: CEF Golf Tournament

10: PSAT Registration &
Payment Deadline

17: Reflections Contest
Entries Due by 3 PM

18: PSAT Test

27-31: Red Ribbon Week

31: Freshmen Elections
5: Healthcare Career Panel
Presentation 6:30 PM

10: No School

11: No School

19: Finals Day 1

20: Finals Day 2

21: Finals Day 3

21: End Trimester 1

24-28: Thanksgiving Break
1st Trimester
2nd Trimester
3rd Trimester
SageCreekPTSA@ gmail.com

Volunteer
J. Cesar Morales, Principal
Bill Lord, Asst. Principal
Eddie Buscher, PTSA Pres.

Staff Directory

School Loop Website

Mission of SCHS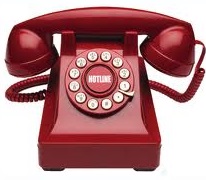 Attendance Hotline
760-331-6670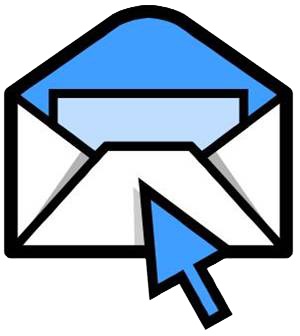 Register additonal email addresses for eBlast newsletter
*NEW Superintendent Message

CUSD Website


►
October ACT Prep Workshop
Dear BOBCAT Nation,

Wow, can you believe it? We are over the half way mark of the Fall trimester. Please note that teachers will be generating progress reports for our students based on work submitted on or before October 10 and we will distribute student progress reports on Friday, October 17. It is imperative that students who need additional academic support take advantage of our after school tutoring program.

Please CLICK HERE to view our after school tutoring schedule.

After this Friday, there are only 6 weeks left in the Fall trimester.
Principal
Sage Creek High School
Knockout Pizza Fundraiser: Wed 10/8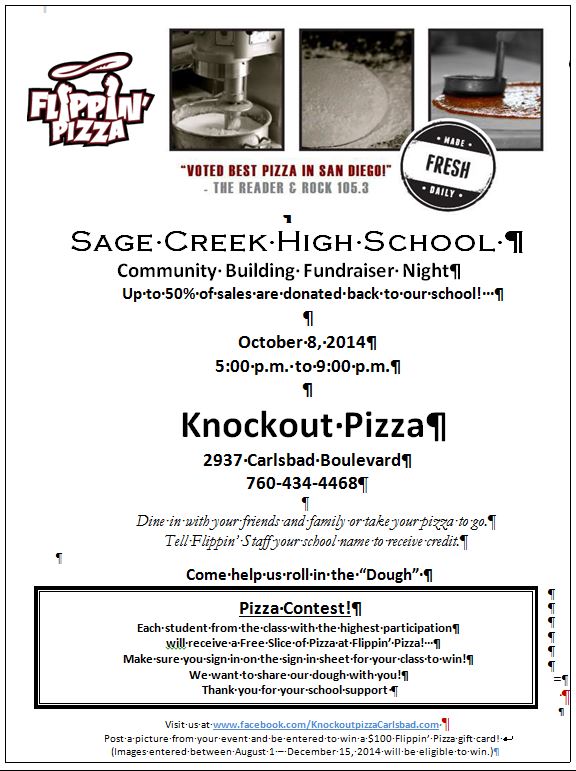 Up to 50% of sales are donated back to our school when you dine-in our take-out from Knockout Pizza tonight!


October 8, 2014
5:00 p.m. to 9:00 p.m.

Knockout Pizza
2937 Carlsbad Boulevard
760-434-4468


Tell the Pizza Staff your school name to receive credit.

Come help us roll in the "Dough"
Reflections Art Contest -
Entries Due 10/17
PTSA is proud to sponsor the Reflections Art Contest. This year's theme is "The world would be a better place if…," so showcase your creative and artistic talents with several categories:

​
We want to have many Bobcat students showcase their talents in this national competition. Prizes will be awarded for the winning entry in each category, so get inspired and create your vision of this year's theme!
Entry forms and guidelines are available online on the
PTSA Reflections Art Contest
link on SchoolLoop.
All work must be original
Deadline for entries is Friday, October 17th by 3:00 p.m,
Turn entries into the SCHS front office.
For questions or more information please contact Laura Panter, PTSA Reflections Chair at laurapanter99@gmail.com

PSAT Registration Extended to Oct 10
The registration deadline for the October 18th administration of the PSAT exam at Sage Creek High School has been extended until FRIDAY, OCTOBER 10th
or until all available seats have been taken.



Click here
to view the PowerPoint presentation that 10th graders viewed on the PSAT during Advisory Period.
Seats are limited and will be filled on a first-paid, first-in basis.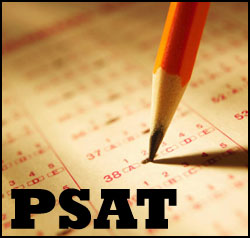 3 ways to Register & Pay:
Bring $25 cash or check made out to SCHS ASB to the Student Store during lunch.

Bring $25 cash or check made out to SCHS ASB to the Business Office in the Admin. Building after school

Pay online by clicking here.
Tutoring Schedule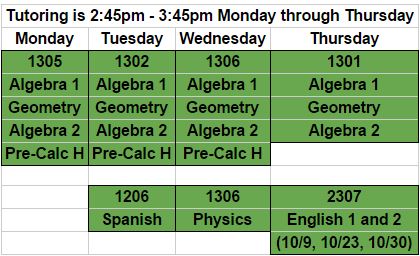 Support our School when you Shop
If you shop at the following stores, you can earn free money for our PTSA's programs. It's easy -- simply click the links below before you start shopping:

?s - Contact SCHS PTSA Rewards Clubs Coordinator, Claudia Felix at
schsrewardclubs@gmail.com
CEF Golf Tournament - Oct 10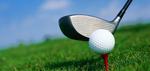 The 14
th
Annual Carlsbad Golf Classic is Friday, October 10, with an 11:30 a.m. Shotgun Start.
Click here for more info or to donate to the CEF.
The CEF has generously provided funding for Sage Creek's Stem Professional Development program for our teachers, as well as a lab tech, they're underwriting the Science Olympiad for all Carlsbad high schools (including Sage) and middle schools. And along with Project Lead the Way, they are contributing $30K toward Sage Creek's Engineering and BioMed programs.
Click here to Volunteer at this Golf Event
Volunteer Opportunities for Parents
Parents - we have several volunteer opportunities available. Please check our PTSA Volunteer webpage to see if you can help.
CUSD Parent University Oct 14, 21, & 28

Click here for flyer
with more info.
Tuesday, Oct. 14, 2014 @ 6–8pm Valley Middle School:
"Promoting Effective Family Communication" – Penny Velazquez, Carlsbad Police Dept.
Tuesday, Oct. 21, 2014 @ 6–8pm Valley Middle School:
"What to Know: Substance Abuse & E-Cigs" – Malcolm Warfield, School Resource Officer & Gena Knutson, Vista Community Clinic Tobacco Control
Tuesday, October 28, 2014 @ 6-8pm Valley Middle School:
"Internet Safety & Social Media Trends" – Jon Moffat, Cyber Educator/Consultant